Sustainable Woodstock News
JANUARY 2020
Hope you've all had a peaceful, healthy and happy Christmas and New Year holiday with friends and family and if you've had to be at work for the holiday then we hope it wasn't too stressful.
I am really pleased to say that we feature the Time magazine Person of the Year, Greta Thunberg who was asked to be guest editor for the Today Programme on Radio 4. If you didn't hear before, I am sure you will be moved by Greta's wisdom and the interview with her own father and also with David Attenborough. This item includes the link to BBC Sounds and I recommend listening to short chunks of all 1 hour and 9 minutes of the BBC edited version.
We make a request for volunteers for the Community Woodland to get in touch....if you haven't already; we feature James Price's blog on how December felt at Perdiswell Farm; we remind town businesses, etc that we are still trying to be a Plastic-Free Community; we recommend an ethical consumer magazine and also offer Extinction Rebellion information to those who have not viewed or supported them already.
So it's a new year, a new decade and as you've no doubt heard from others we have 10 years to make a big change to help our ailing planet. Attitudes are changing and we should get more involved by changing our habits, engaging more with the
politicians
and companies and saying no to large expansions such as the Oxford Expressway and the 3rd runway expansion at Heathrow.
We wish you all a Happy, Sustainable and Active 2020 to One and All.
Hilary Brown Chair
Our small actions are really part of a bigger picture.
Best of Today
Greta Thunberg, the young activist who
has become the voice of a generation
Recommended Listening BBC Sounds
The Today Programme on Radio 4 is an early-morning news and current affairs programme and during the Christmas holidays they usually ask guests to edit the programme. I was encouraged to hear that Greta Thunberg had been asked and BBC Sounds have edited their programme to include the guests only and is 1 hour 9 mins in total; the time in brackets informs you where to pick up the different speakers.
The programme starts with an interesting and thoughtful conversation with Greta and goes on to have a conversation with Sir David Attenborough (12mins:18) and Greta's father's own challenge (20:14); Greta suggests interviews with several people including Mark Carney, Governor of the Bank of England who will soon move to a new position as UN Climate Envoy (29:18 mins). He discusses the factoring of climate crisis into thinking for the financial sector. Other suggestions include interviews with the band Massive Attack who are reviewing their touring programme and are trying to create responsible corporate partnerships (40:19); interview with Joanna Sustento in the Philippines after typhoon devastation pushed her to be an environmentalist (44:40); Martin Wetselaar the gas and new energy director for Shell (49:32); Tom Fielden talks of Antartica (55:51); Prof. Kevin Anderson (1:01); Matt Shardlow CEO of Bugslife (1:06).
If you missed the programme you can CLICK HERE or on IMAGE ABOVE to listen to the climate discussions/views.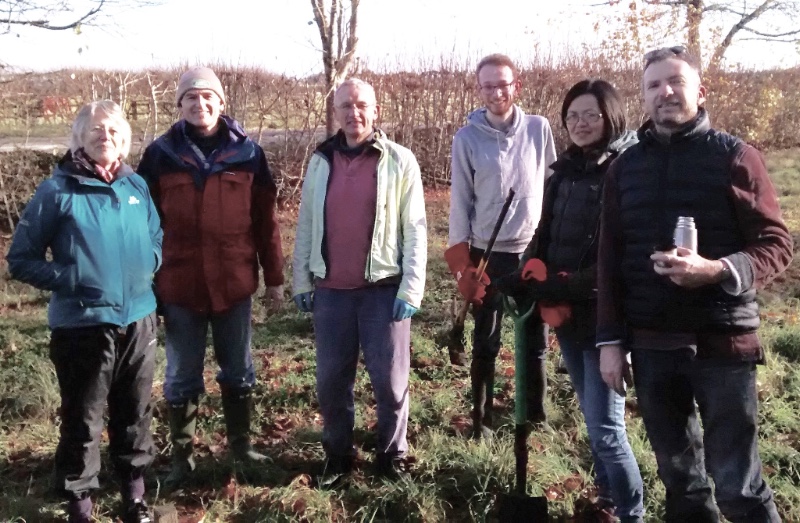 Wanted - Occasional Volunteers
for the Community Woodland
Opportunity to socialise, exercise, feel better,
learn and have fun.
All are welcome to join us but children under 16 must be accompanied.
Would you like to add your name to a list of occasional volunteers?
Please email us or send your mobile so we can invite you to a WhatsApp Group (or both).
Now the weather seems a little settled .. we have a number of jobs
we'd like help to complete before the Spring.
Up to 2 hours on some Saturdays (to be announced) 10 am -12 noon . You can attend
as many
sessions as you feel up to/able to offer.
What to Wear and Bring
Wellies, walking boots or stout shoes and gardening gloves are a must and suitable clothing for work and the weather.

We have some tools but if you wish to bring along secateurs or loppers of your own that would be great.

Reducing Woodstock's Single-use Plastics ....
How are Things Going ?
Reducing single-use plastics is one of the easier things for us to try in order to help combat the climate emergency ....... so hopefully most have started reducing.


Soon Sustainable Woodstock will be returning to find out just how we've all been doing with the challenge for schools and businesses to remove or reduce single-use plastic from our lives. We want the town to join others around the country to become Plastic Free Champions/Schools/Businesses and Community. This year, we hope Woodstock Live can reduce their plastic significantly or at the very least really improve the recycling at these events. Some of our pubs still give out what look like plastic straws but say they are biodegradable.... we think they could do better....these straws still take a long time to degrade and into what? There really are solutions so why not challenge landlords, bosses and colleagues to work together with you on this.

But what about you? Have you made changes at home during past year ....if so what? For some the challenge may seem more difficult so don't forget to ask for ideas and help from friends and colleagues in finding alternatives.
Nature is Our Life Support System
Healthy soil and ecosystems are

needed to combat the Climate and Ecological Emergency. Nature is our life support system and farmers will be key to help create solutions. To give you some insights, here is our monthly blog from James, our most local of farmers.


December at
Perdiswell Farm
A very Happy New Year to you all and wasn't it nice to have some sunshine over the festive period? I will try not to start every update with the weather, but I fear it is bred into me to bring it up at the earliest opportunity.

December was a quiet month this year with nothing that has caused us to be working very late or early. We had a number of lorries collecting our grain as we took advantage of a recent small rise in the price of wheat. Here at Woodstock the majority of our wheat is a milling variety called Skyfall that is grown for Warburtons, the family of bakers from Bolton. The wheat is collected by lorry throughout the year and taken to a mill, usually Whitworths at Wellingborough, where it is ground before heading to a bakery. Warburtons have bakeries all over the country and the nearest one to here is probably Enfield in London. As a grower I have been able to visit a selection of their bakeries and it is always fascinating to see how bread it made on such a large scale. The 100ft long crumpet machines at Enfield and Eastwood in Nottinghamshire are particular favourites as I have eaten fresh crumpets right off the line. I've also been privileged to work closely on some projects with them that included having my own loaves of bread baked just from wheat grown on my farm. Most of their bread is a 50/50 mix of Canadian and British wheat as they need the high protein grains that are easily grown in Canada. My loaves were surprisingly good considering!

Our 40 new cattle residents have settled well into their shed and have been busily munching their way through some lovely smelling silage and hay. Not being used to stock I'm quite surprised just how much they eat and drink, having said that they do weigh considerably more than me, even after Christmas. You may have noticed the sheep out in the fields and they are working their way rapidly through the turnips now, another month and they will be heading back home to have their lambs.

The rain has continued to fall up until the last week so we haven't made any progress with field work, the ground water has been as high again as I have ever seen it with waterlogging in many areas. Sam has had some much-needed time off and I have been banned from work over the festive period. I did attend the benchmarking meeting that I wrote about last month and I'm pleased to say I wasn't bottom of the leader board but I did learn some things from those who were at the top.

We were lucky to have a couple from the British Trust for Ornithology spend a few hours here this week and they have recorded all the birds they saw across the farm and into the OWL reserve. The most noticeable were the 330 Fieldfares and 85 Redwings that were on one field, but there was a good range of other species as well. In addition whilst out walking at the weekend I saw three Woodcock, which is a rare privilege.

I'm now looking forward to getting on with preparation for spring planting, it seems a long time since anything wanted to grow on the farm.

James Perdiswell Farm
www.perdiswellfarm.co.uk
Ideas for 2020, this magazine can help you make better choices for you and the planet..... take a look online.
CLICK HERE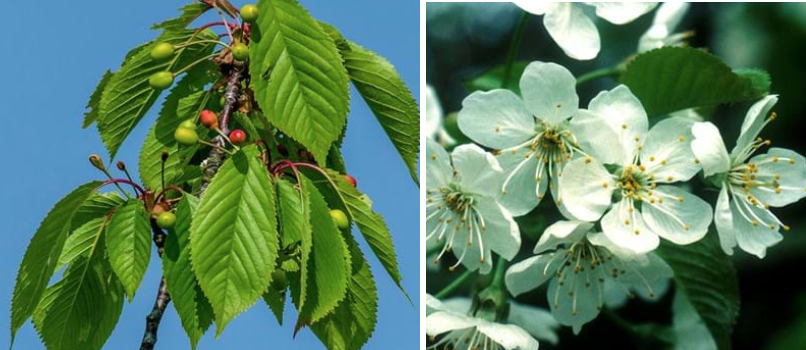 Woodstock's Community Orchard
Thanks to our recent sponsors
81.7% of trees have now been sponsored ...
only 15 trees left.
To read more about community orchard benefits and where is Woodstock's Community Woodland & Community Orchard?
Click here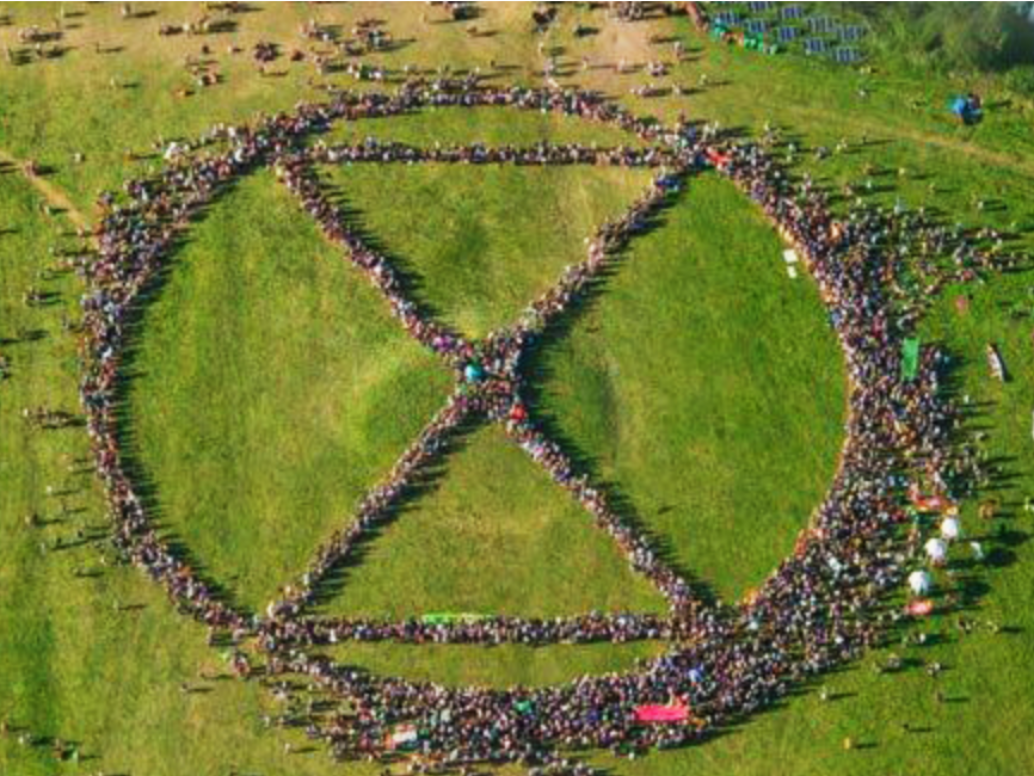 We support the aims of the Extinction Rebellion XR to compel government action on climate breakdown, biodiversity loss, and the risk of social and ecological collapse.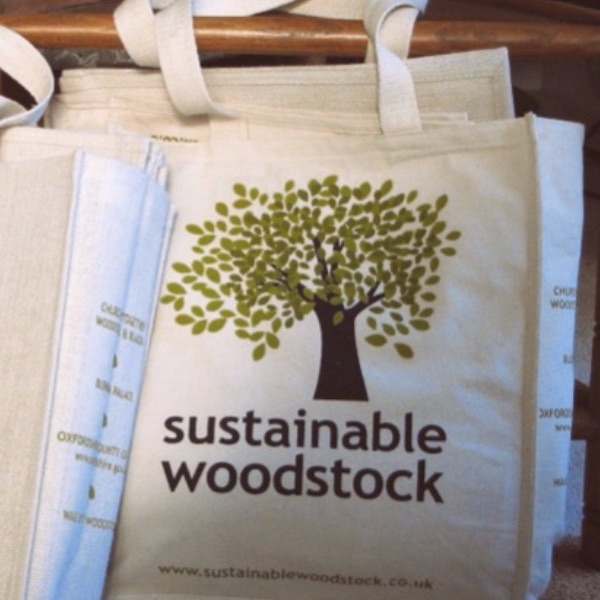 We generate funds for our
projects by selling our bags to you or your business
- o
ne at a time is fine by us.
Prices
Jute bags @ £2
Canvas large and small @ £4