Sustainable Woodstock News
July 2020
"Our Choices Have a Ripple Effect"
Hi All,
Hope you're well and have been able to enjoy some of the "new" freedoms. Personally ...... and similar to
others
I'm still a little nervous about mixing because I've a risk of complications if I were to catch coronavirus ..... and of course being slightly older than 35 ...... but I am optimistic and trying to be patient ...... because I've no doubt that scientists and the NHS will eventually come to the rescue with a vaccine.
So let's pay attention to the small things in life. Not for the first time, a pandemic is showing us that humankind is really susceptible to the very simplest of life forms. And yet an even simpler compound, carbon dioxide, is having an even more profound effect ..... not just on humankind but on everything on our planet.

We support calls for fast-tracked action to put people at the heart of combatting the climate and nature emergency while rebuilding the economy and reducing risks to livelihoods. There was a report published last week by the Environmental Justice Commission entitled
Faster, Further, Fairer
where they recognise
"action to address the climate and nature crises need not be about staving off the worst, but be about imagining a better world that we can build together. There are other groups too you might choose to align with in whatever way suits your own spirit.... for example, by joining with
other pressure groups such as the post-Covid
Build Back Better
campaign group that is currently co-ordinated, by Green New Deal UK, working with a growing range of groups and organisations but some may prefer to support
XR
Extinction Rebellion Oxford

.
I know w

e can't all be Greta, but our choices will have a ripple effect - use it as best you can.
Let's take 5 minutes to imagine.......but please don't take a lifetime to
act.
We are an environmental group and social justice is directly linked to our aims. Like so many people around the world, we were horrified by the killing of George Floyd in the US and all those who have been killed, attacked, or unfairly treated as a result of systemic racism. Sustainable Woodstock stands in solidarity with the Black Lives Matter movement. We are all being called upon to do better: to understand the problems, and to learn and commit to taking action for equality and justice – to improve lives and improve the world.....there can be no environmental justice without racial justice.
In this issue: we thank all those in the community who supported the community orchard and the woodland project; remind everyone that 18th July is Nelson Mandela International Day and what that should mean; report on Climate Actions by Blenheim to achieve net zero carbon by 2025; ask you to fill in a
safer cycling
questionnaire for in and around Woodstock to feedback to OCC; hear about bronze, silver and gold fields at our very local Perdiswell Farm; hear of two joys from Bob Pomfret our birder still in exile; as a pair of hands or landowner offer opportunities for tree planting and rewilding in Oxfordshire; we feature our regular organic farmer Robert Crocker; ask you to collect seeds for us or yourselves; offer What If .....a highly recommended imaginative read from Rob Hopkins of the International Transition Town movement and please don't forget to click on the 9 things we can do about climate change.
Stay well folks.

Hilary Brown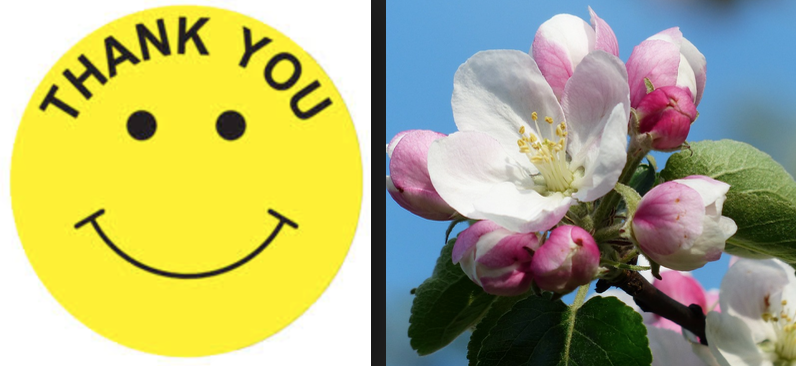 Woodstock's Community Orchard Update
Sustainable Woodstock and the Woodstock community say thanks to all those that sponsored heritage fruit trees in Woodstock's Community Orchard. Sponsors have helped to create what is slowly becoming a special place for many. The sponsors include individuals, families, neighbours, societies and especially our local business Owen Mumford. Some sponsored the trees because they wanted to do something positive for our community, some to encourage wildlife, some to reduce their carbon footprint, some as gifts, some as a dedication to special people in their lives and some .....for all of those reasons.

All the trees are now sponsored but we plan to continue to develop for people and wildlife and so plan for a few more trees and other plants that will enhance wildlife in the orchard this autumn. If you are interested in helping this community project and help reduce carbon, support more wildlife and support ourselves at the same time then please get in touch by
EMAIL.
Thanks also to the Blenheim Estate team who when asked by us, offered the land to us on a free lease for this community project, offered a water supply for the first long hot summer and delivered free compost to us that was donated by Severn Trent Green Power at Cassington, formerly Agrivert.

Volunteering in the Community Woodland or Orchard?
Anyone interested in adding their name to occasional volunteering for activities in the woodland or orchard whether to reduce your carbon footprint, meet a few new faces or simply be out in fresh air please
EMAIL US
.
I
t doesn't commit you to anything at all and we'll just add you to the occasional volunteer list.
Children under 18 and those who are vulnerable are very welcome to join in but they must be accompanied by their parent or guardian.
Nature is a great healer…..get out there more and give it a go.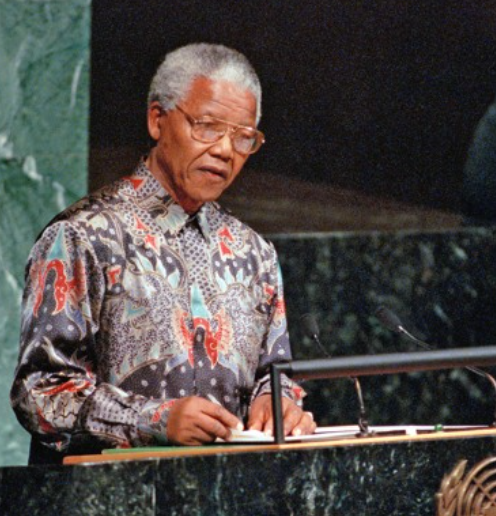 Nelson Mandela International Day
18th July

A day for making difference in your community. Mandela said that everyone has the ability and the responsibility to change the world for the better! How about taking or plan to take personal action now (or new action) on carbon and inspire others to change as well ... starting at home, at work and supporting groups who are trying to transform our society.


Our Local Businesses
And Local Climate Action
Governments, businesses and individuals around the world are starting to rise to the climate emergency and
reinvent ways in which they work to
support getting to net zero carbon as quickly as possible. In and around Woodstock, our 2 biggest employers, Blenheim and Owen Mumford have been doing just that.

The image above is from Blenheim's webpage
Shaping a greener future page
that lists green successes already achieved and new green

initiatives
to achieve net zero carbon by 2025..... just 5 years from now. You have probably already seen their brochure posted through our doors,
Blenheim A more sustainable future
and we noticed they offer paperless updates and allow you to feedback by signing up to
Blenheim.org/talktous
. Click
HERE for Owen Mumford's
achievements.

What About Your Climate Action ... at School, Workplace, Home?

No matter how small we'd like to hear about your plans or achievements ......

whether

it's you, your shop, workplace, school, church, youth club, social club, etc.

Be Positive - Share Ideas ... Make a Difference



Safe Routes
Help Make Cycling and Walking Safer
in Woodstock and Environs
Consultation - Please help by feeding back to OCC
Colin Carritt


June at Perdiswell Farm, Woodstock
James Price
Bronze, Silver or Gold
When will the sun come back out? When will it rain? I wish it wasn't so hot, isn't it chilly for June? As a farmer I reserve the right to be constantly grumpy about the weather! What a rollercoaster June has been though, plenty of rain at the end with over 60mm in the past 10 days but scorching temperatures and gale force winds thrown into the mix. Overall we have been saved from a disaster and the harvest prediction has been upgraded to average, it won't be long before we know the answer now.

Harvest 2020 actually started on the 26th of June, the earliest ever, with our crops of stubble turnips cut ready to be planted for the sheep again in a few weeks. Not many farmers grow their own turnip seed but as we plant quite an acreage every year I decided that I should do what I'm used to doing and grow my own seed. The crop is like a weak stemmed version of Oilseed Rape but with the added bonus of the turnip bulbs at the base, these have the wonderful habit of getting skewered on the front of the header and blocking progress! We got 3 tonnes from 3ha (hectares) which is an average yield, Oilseed Rape would produce over 3 times that as an average but the turnips are worth over £2,000/ton to me whereas the rape is barely £330/ton. Towing £6,000 worth of seed back to the shed makes you double and triple check the tailgate is locked shut on the trailer.

The farm is looking beautiful as the rain has encouraged a variety of weeds/flowering plants to grow and there is a riot of colour across the field margins. You many have noticed the poppies everywhere which look very pretty but are a sign of poor weed control within the fields. The incredibly dry spring meant that the herbicides didn't work well and then the late flush from the rain has compounded the problem. There aren't enough to cause any yield effect though so they are just nice to see.

One area in particular that looks great are the new margins that we planted as part of a large government research project. We are working alongside the Centre for Ecology and Hydrology who are based down in Wallingford as part of the
ASSIST
project (Achieving Sustainable Agricultural Systems), I've put a hyperlink below if you would like to read about the project in full. For us here we have three fields entered into the project and I describe them as Gold, Silver and Bronze. We are managing each field differently for 6 years and the researchers are studying the effect that our management technique is having on them. Bronze is classed as farm practise although in reality this is far below what we would normally do. There are no organic manures applied, no field margins and no catch or cover crops grown. Silver has margins at either end and then Gold has organic manures, catch or cover crops where appropriate and also margins both at the ends and also down the middle of the field. The researchers are then studying aspects including, soil health – organic matter, worm counts and crop yield and insect predation – the affect on aphids and slugs in particular. It is an amazing project for me to be involved with as there are only a few farmers doing these trials, I get to see all the results and also help to guide the researchers in the practical aspects of what does and doesn't work on farm.
https://assist.ceh.ac.uk/content/about-assist
Our House Martins have finally nested, having messed around for weeks they have remodelled their nest from last year by moving the entrance from one side to the other, I'm guessing they prefer the view that way. We have young swallows learning to fly with variable results at times, woe betide any of us that get near them by accident, their parents can fly very close to my head if they have to. I saw a hare back on the farm for the first time in many years which I'm really excited about, there used to be loads on the airfield which fed across to us but the airfield killed them all as they were a hazard to aircraft. Finally, when I drove in to the farm the other day there were four young green woodpeckers on the grass with one of their parents, amazing.

Harvest will start in earnest next week with the winter barley and then the oilseed rape, we will also start planting the stubble turnips in to the standing wheat before harvest as soon as we see another unsettled spell. The farming years moves up a gear, next month I hope to report good yields and growing crops but I don't promise not to mention the weather!


Climate Action Woodstock
Graham Brown
In 2013 we discussed with Woodstock Town Council (WTC) the prospect of putting solar panels on the New Road Community Centre. Sadly, the project was shelved but given the climate emergency and the urgent need to reduce carbon emissions we asked if WTC would review this project once again so that a council owned building could be used to generate green energy and reduce the carbon emissions for Woodstock. Since, Blenheim offered to help by paying for a survey of the building which we understand was completed and WTC arranged 2 quotes and we understand they await a third. We offered to help in any way and have been

corresponding with Low Carbon Hub (LCH) for possible funding streams, insights and advice to offer WTC; we recently passed this information to the new
Mayor Mathew Parkinson and Cllr Elizabeth Poskitt in June and we await to hear of any outcomes.

We've been told that West Oxfordshire District Council plans an energy audit ..... which is a very first step, as it's clear that if we don't even measure the energy we use in our buildings/homes, we cannot know how much carbon they produce .... and consequently can't plan to reduce to zero. But some quick simple measures such as switching to LED lighting and using green energy suppliers can be implemented fairly quickly with hopefully some help from green economy funds..... a start at least.

If you have ideas for climate action in Woodstock and/or you think solar panels generating green energy is a good idea please let WTC know by the Town Clerk at
info@woodstock-tc.gov.uk
or
Sustainable Woodstock
.
Woodstock has a number of homes with solar panels and homeowners that personally benefit by using the free clean electricity as it is generated. Some also store excess energy in batteries to be used at
other
times and did you know that there are also trial schemes to store generated solar energy using the batteries in electric cars that can then export electricity to the grid in times of need .... how cool is that!. As you walk/drive around town, keep an eye out for any new large south-facing roof spaces that could be used for solar panel ar
ray
s. Good examples can be seen on the roofs of both Marlborough School and the Owen Mumford factory.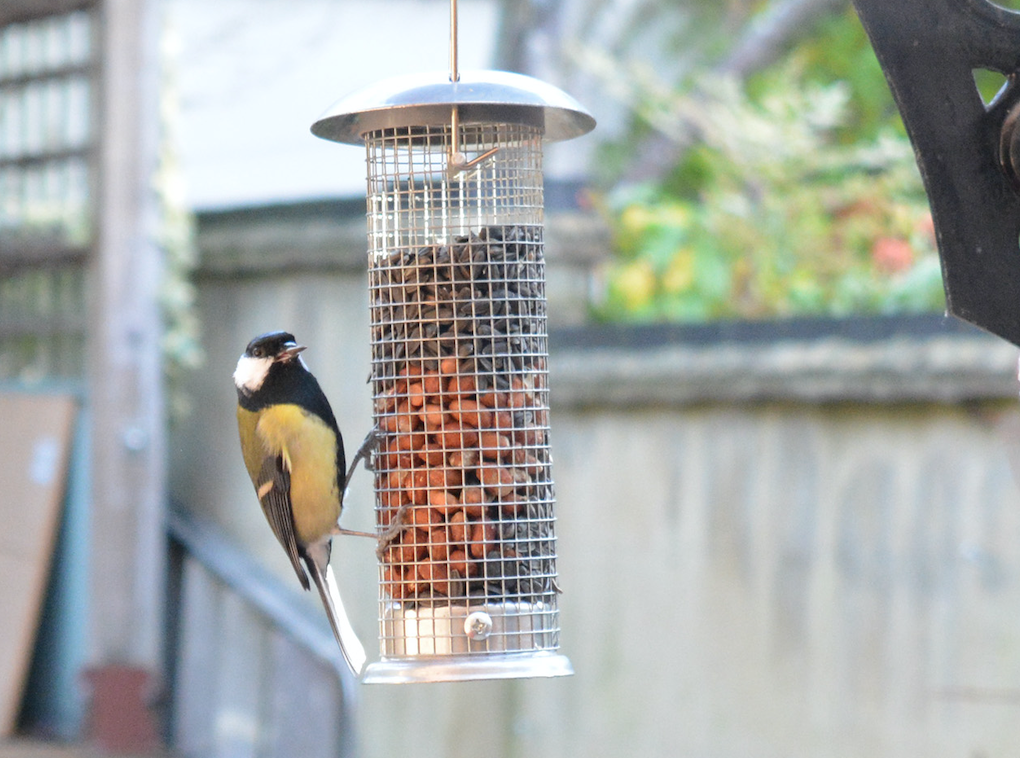 Woodstock Birder in Exile
Bob Pomfret
One for hope, two for joy…
I found a bee orchid on the nature reserve along the old railway line in Woodstock. It's a beautiful little flower. Looks a bit like a bee. I guess that's not the hugest of huge surprises. Seeing one isn't a big surprise either. This one though, had a bit of significance for me.

Firstly, it was great to be back working on the reserve. I've been out there cutting the grass and fighting the brambles since it opened fifteen years ago. After choosing to lock down in Oxford in March it's been one of the things I've really missed doing. Recently I've been back two or three times and it feels like a small step back towards a normal life.

More importantly the orchid is a ray of hope. The field alongside the reserve used to be a school playing field with a big patch of meadow at one end. Bee orchids used to grow in the meadow. The orchids are fickle little wotsits. Some years there would be maybe 10 or 20 flowers. Other years there'd be hundreds.

In late 2015 the field became a building site. By chance the orchids put on one of their most spectacular displays earlier in the same year. The developers, who had already agreed to help transplant the orchids onto a green area in the middle of the new houses, were a bit surprised to find so many to move. Local volunteers, including me, helped out. We also replanted around 200 on the reserve. Altogether I think we moved around 700 plants.

The following year I was a bit disappointed… less than twenty orchids flowered on the reserve. I hoped things might improve. But, since then? I've found none at all. None on the reserve. None on the green area on the estate. Until now. One rather beautiful bee orchid has finally woken up. Who knows, maybe next year the other 199 might decide to join in!

And the magpies? Until last week the tallest elder tree in the world (well the tallest one I've ever seen) was at the end of my partner Eleanor's garden in Oxford. On Wednesday night one of the biggest branches fell into the church car park next door… luckily there were no cars, and the homeless guys who sleep in the church porch must have already settled in for the night. A tree surgeon came and cleared the fallen branch on Thursday. The next day he was back, and before long the world's second tallest elder (wherever that might be) was definitely feeling altogether better about itself.

The unfortunate consequence of the tree shortening was that two baby magpies became suddenly homeless. Eleanor made them a makeshift nest out of an old basket and put it on top of the hedge. The adult birds did come down into the garden, but an hour or so later it was obvious that they had given up on the little ones, and gone. They were too young to look after themselves, and we were far too sentimental to dispatch them. So what can you do?

Call
St Tiggywinkles
. That's what you can do. St T's is an animal hospital in Haddenham, about 15 miles from Oxford, and it's fabulous. Half an hour or so after I rang, Eleanor and me were outside their front door with our basket full of magpies. A very pleasant woman met us at the door. She called 'triage', and a nurse in a blue uniform came along. They both seemed really happy to have wee babies to look after. We left them to it, and drove home feeling like we'd at least given the little-uns a chance. Maybe one day they'll fly back here and say hello.

I know the old magpie song goes 'One for Sorrow, Two for joy'… but in these still troubled times I'm clinging on to hope from one bee orchid, and hoping for joy for two magpies.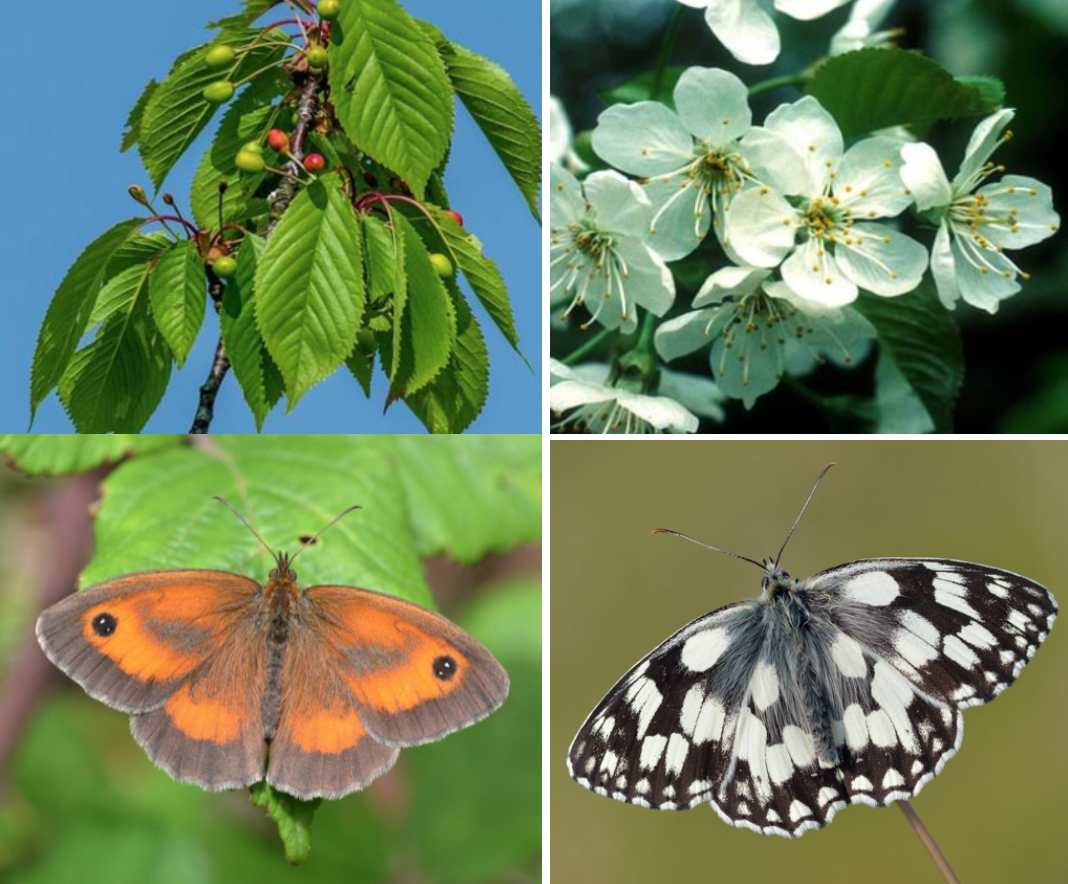 Community Woodland Update
Carbon Store, Beauty, Wildlife and Wellbeing
Trees store and lock up carbon and so planting more trees is one of the easier climate change solutions that is accessible to most of us. Woods and trees are also home to more wildlife than any other landscape, providing food and shelter for thousands of species including our most loved animals. So along with the 1600 native woodland trees planted in 2011 the Community Woodland and Orchard are well worth a amble/ramble (see map below for location). Enjoy!
June/July is the right time to
prune
wild cherries, as seen above, and this month David Rees will be showing us how to in the community woodland. So why plant wild cherry? Well.... it is one of the prettiest native trees with blossom and fruit enjoyed by both gardeners and wildlife. The blossom is loved by wildlife as it provides an early source of nectar and pollen for bees; the cherries are eaten by birds including the blackbird and song thrush that incidentally play a role in dispersing their seeds; mammals such as the badger, wood mouse, yellow-necked mouse and dormouse also enjoy the fruit and the leaves are the main food for caterpillars of many species of moth including the cherry fruit, cherry bark moth, orchard ermine and the brimstone moth. The wood too has value due to its hardness, strength, lovely honey-colour and is used for decorative veneers and furniture. The mature trees can grow to 30m and live for up to 60 years.
The mix of habitats that are slowly evolving in the woodland and
orchard
have been helping butterflies and July is a perfect time to spend an hour and search for butterflies in the woodland and orchard. Some butterflies will live and feed on several plants and will breed in a variety of places, including gardens while others are much fussier and have specific requirements. Land management techniques such as the intensification of farming and forestry, industrial development of buildings and roads and climate change all have an impact. The gatekeeper and the marbled white, as seen above, are often found in the woodland at this time of year.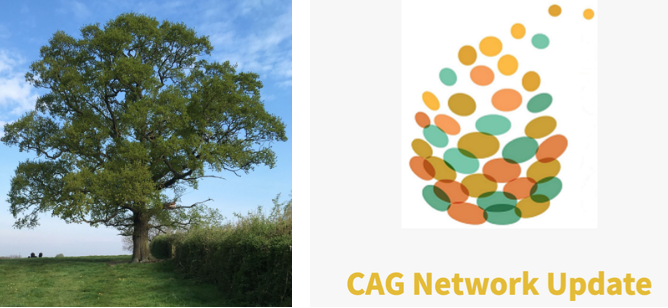 Tree Planting and
Rewilding
Group Oxfordshire
CAG Network
Do You Have Land, Knowledge,Time, Skills
or Just Want to
Plant
Trees?
If you're interested in doing more to reduce carbon emissions then Community Action Group Oxfordshire (CAG) has

a tree planting and rewilding collaborate group that aims to bring together members of Oxfordshire CAGs (Sustainable Woodstock is a member) who are interested in or already working on tree planting projects or in land management related to maintaining or increasing biodiversity.

It aims to share information, skills, practical resources and good practice as well as encouraging more participants. CAG would like gauge interest in the Tree Collaborate, please could you fill in this
SHORT FORM
and let CAG know that you might be interested - you can be involved and be associated with Sustainable Woodstock or as an individual. All kinds of skills are needed not just physical.



FARMING WITH NATURE MAY 2020
Robert Crocker, Glebe Farm *
June started as hot and dry as May ended
June started as hot and dry as May ended, the spring flush of grass did not materialise. As the ground gave up its last drop of moisture, large cracks appeared on the heavy land…whilst on the lighter fields both grass and cereals are dying back. I make the decision to cut our modest crop of red clover and ryegrass, along with the sainfoin. There is so little moisture in the crop that rather than leaving it to wilt for a day or two (as would be the norm) it is baled and wrapped the following morning. If the weather does not break soon, these bales (destined to be winter feed) may have to be fed back to the cows imminently, in order to supplement the lack of grass.

Wrapping the bales in plastic (recycled after use) allows anaerobic fermentation to take place, after a few weeks the bales, when opened, smell sweet and appetising. Red clover and Sainfoin are rotated around the arable acreage. Both are legumes, absorbing atmospheric nitrogen and fixing it by means of root nodules…thus making free nitrogen fertiliser, the companion grasses utilise the nitrogen. Red clover likes the heavier land, whilst the deep rooting sainfoin draws moisture, minerals and trace elements from the lighter soils. Despite the drought, the sainfoin is still waist height.

Sainfoin was once a popular crop across the Cotswolds (pre ammonium nitrate) It is now the wonder crop for Organic farmers. You may have seen it growing as you walk along the coffin path between Church Hanborough and Long Hanborough, past Pinsley Wood. This tall pink flowering plant attracts many insects, particularly bumble bees. Made in to hay or haylage, it is a high protein feed with the added bonus of having anthelmintic properties (a natural wormer) Since growing the crop, I have used no synthetic wormers, supplementary minerals, nor do I need to feed cereals to the cows or calves. When ploughed up after three or four years, the subsequent crop of cereals benefits from the improved soil structure and fertility.

After only one week with the cows, one of the bulls is lame, almost certainly due to the rock-hard ground conditions. He takes himself off to a shaded part of the field to recuperate.

In the tythe barn, the swallow fledglings practice their flying between the beams, there are too many to count and there will be other clutches to come.

The weather has changed from the searing heat but, still no real rain, just the odd shower. On June 17th at 3pm, it started and rained all of the next day, at least an inch in total! The smell of rain on the parched ground is wonderful. The swallows fly low, under the bellies of the cows, as they feast on insects. It is too late for the fortunes of the cereal crops but, if the temperature stays moderate, the grass will start to re-grow and perhaps, we can make hay in July.

The blackbird wakes at just after 4am and serenades us with his last song at almost 10pm, just as the Evening Primrose unfurls its nocturnal flowers. Philadelphus scent fills the air and a calf calls to it's mum. The emergence of the pipistrelle bats mark the end of a long, perfect, June day.

* Robert farms a 600-acre mixed farm, situated between Freeland, Long and Church Hanborough and Eynsham. His farm diary gives some insights into the interaction between the farming operations and the natural world.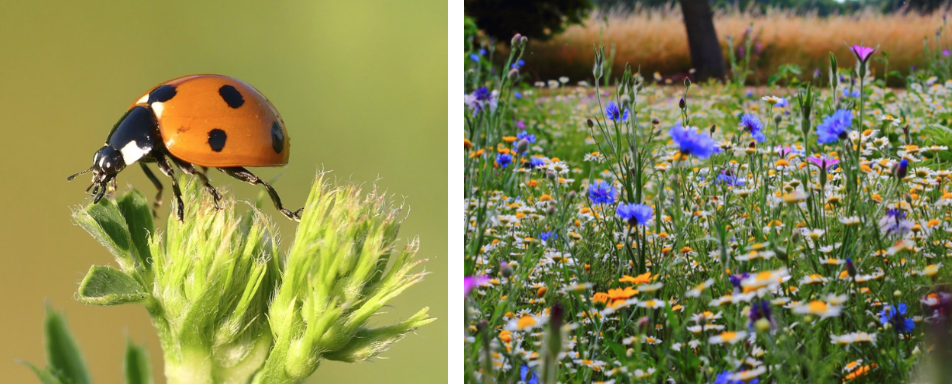 Collecting Wildflower Seeds for the
Community Woodland and Orchard
Plant Them and They WILL Come!
Insects are part of our food web, eaten by everything from birds to small mammals to fish. If they decline, everything else declines. Three-quarters of flowering plants are pollinated by insects, as well as pollinating the crops that produce more than one third of the world's food supply. Further reading ...
Where have all the insects gone
May 2020, National Geographic.
Perhaps the foremost cause of the decline is habitat change by humans, such as deforestation, and natural habitats converted for agriculture. Then comes the use of chemicals like herbicides, fungicides, and pesticides in our agriculture. And climate change plays a big role, especially the extremes of weather.
Help make a difference by collecting wildflowers seeds for us so we can help develop our local wildlife in the community woodland and orchard. The video link shows how to collect seeds but please only take a fraction of the seeds.
Why
not also add wildflowers to your garden or have an area devoted to wildflowers in your garden.
If you'd like to donate wildflower seeds please get in touch with us when you have collected or purchased.
EMAIL
You can buy wildflower seeds for garden use at
Plantlife
.
CLICK HERE
for the video link for hints on how to collect seeds.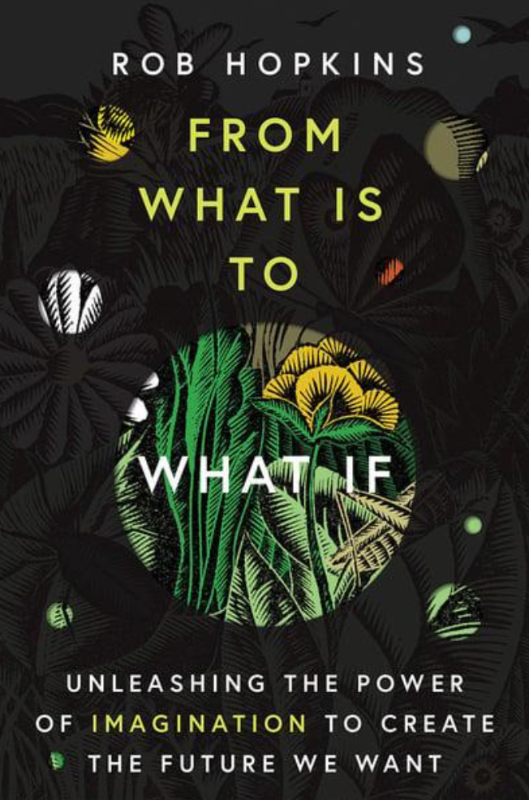 RECOMMENDED READING & BLOG
by Rob Hopkins
CLICK HERE for goodreads review
CLICK HERE to view Rob Hopkins website - Imagination Taking Power
and links to subscribe to the podcast, etc.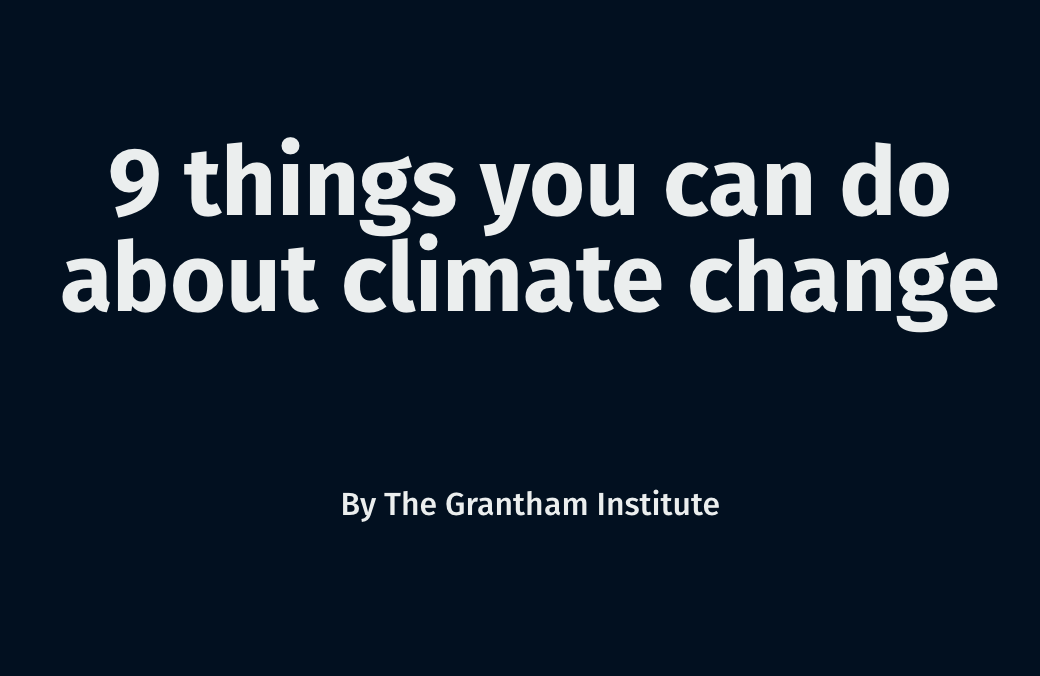 CLICK 9 THINGS

TO START OR ADD TO
YOUR CLIMATE ACTION PLAN

https://www.imperial.ac.uk/stories/climate-action/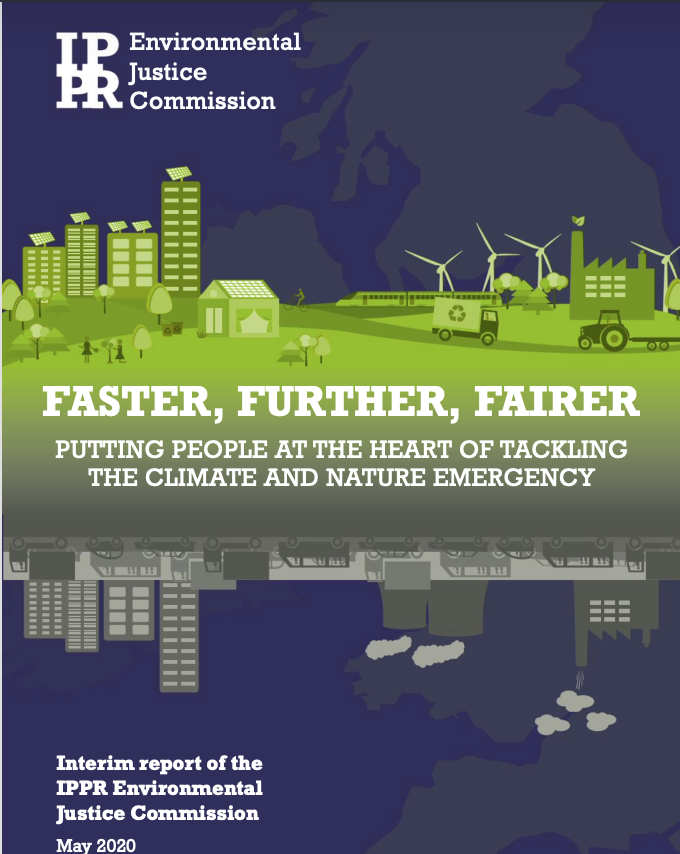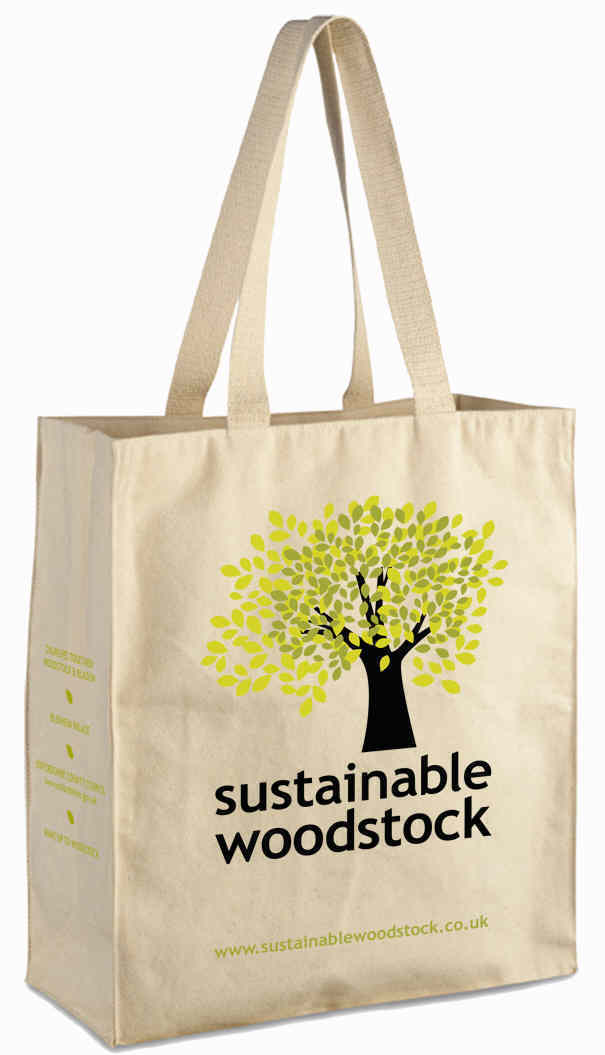 We generate funds for our
projects by selling our bags to you or your business
- o
ne at a time is fine by us.
Prices
Jute bags @ £2
Canvas large and small Reduced to £3