Sustainable Woodstock News
APRIL 2020
What a change in a couple of months .... hope you're all coping with the isolation, the work, not working, the home-teaching, etc. It must be worrying and difficult for so many right now and hope our government, families and the community are able to support each other as best they can.
Thanks go out to all, especially the NHS staff, carers, pharmacists and other public services that we may sometimes take for granted such as the teachers, refuse collectors and emergency services but also to so many more including our farmers, shop assistants, milkmen, postmen, drivers, water and power companies and the many more who are doing their best to keep things going.
It's not all bad of course, pollution including noise levels are lower than ever, we can see and hear the birds beginning to get going for the Spring and a few more smiles from strangers and random acts of kindness - and remember to be kind to yourself too during this time.
No events for this month but we have reports on the recent climate talk here in Woodstock; how the Fairtrade coffee morning went and how Fairtrade compares with buying local. We report on the Woodstock Litter Pickers that did such a great job before The Lockdown and we have an update on the Community Woodland and Orchard activity. Good that the weather has improved for us and our farmers; as mainly arable, James at Perdiswell Farm, is full steam ahead trying to catch up after such a dreadful winter and so we'll wait for their report; we hear from Robert at Glebe Farm giving insights of farming and nature during March.
Clearly the pandemic is a medical and public health crisis of massive proportions but it's also a moral and community challenge .... forcing us to consider basic questions about what we owe one another and the meaning of the common good. While it is keeping many of us apart it is also bringing our communities together in some ways ....ultimately it's up to us to build on that sense of community once we start to move out of the crisis. I wish you all good health and hope you all stay very well.
Hilary Brown Chair
Let me know if there are others who would like to receive the free newsletter by email and I can add to the monthly list (you can unsubscribe anytime you wish) and if you wish to sponsor a heritage fruit tree in the Community Orchard (one single payment of £30) .... there are 12 left.

Community Woodland and Orchard Update
Thanks again to the volunteers who were able to make it to the Woodland earlier in March to remove Old Man's Beard, bramble and saplings. If we're still allowed to take daily exercise and you think you can continue .... please feel free. Please do a risk assessment first; a few people are using the woodland and orchard to walk but you can very easily maintain a safe social distance of over 2 metres; take a mobile phone, thick garden gloves, secateurs or loppers, a couple of plasters; refreshment; don't work for too long.
Thanks to Dave Baldwin who advised and helped in the community woodland maintenance this month and also donated a lovely evergreen Holm Oak (Quercus Ilex) which was planted in the orchard about 10 days ago, pictured above right.
Graham and I
have
made a start on the maintenance of the fruit trees; weeding, fertilising and mulching in readiness for the growing season - we're just over halfway. We're happy to report that all trees are looking healthy so far.
Woodstock's Community Woodland, planted by community volunteers, is now just over 10 years old. The native woodland is still young but provides shade, cleans the air, is becoming more diverse, provides food and a habitat for wildlife and helps our own health and well-being. The Community Orchard was planted in November 2017 with 82 mixed heritage fruit trees.

After a fantastic response from the community, 85% of the fruit trees are now sponsored leaving just 12 for sponsorship - a single payment of £30. Please remember that sponsorship is a gift to the community and in time will bring our community together for Apple Days, learning new skills such as developing organic growing skills, teach young where food comes from and making new friends.
If you think you'd like to add your name to occasional future volunteering in the Woodland and Orchard please
email us
and we'll add you to the list.....it doesn't commit you to anything at all. Children are very welcome but if they are under 16 or vulnerable they must be accompanied by an adult. If you would like to sponsor a fruit tree in the community orchard please get in touch by
email
.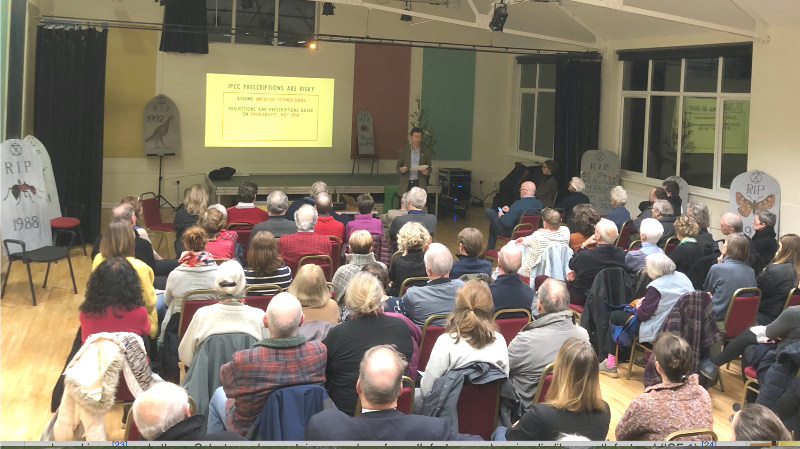 Climate Emergency And What To Do About It
&
Parallels to Covid-19

There was standing room only in the Community Centre for the recent excellent presentation by Tom and Ella Sinclair who showed and discussed the disturbing evidence for the climate emergency. There was a
great
deal of detail to take in and I think some were hoping for ideas to make personal changes that would make a difference. It was clear that making lifestyle changes help combat climate change but large and rapid change, which is what is needed, can only be brought about by big business and government action to reduce emissions and achieve global
Net Zero Carbon.
No doubt that change has been happening in the UK and around the world but change has been so slow; 30-40 years of global protest marches, petitions and letter writing has still not hit home to those who are in a position to truly make a difference. And this is why Climate Strikers and Extinction Rebellion and so many others including Sustainable Woodstock are asking governments to "Tell the Truth" and want business and governments "To Act Now". Many at the talk were interested to hear that
when as
little as
3.5% of the population
gets engaged in non-violent protest it has never failed to bring about change. Some amongst us may
find they have a little more time to think right now, we hope that readers can think about what they should/can do encourage business and our government to act.
The rapid onset of the Covid-19 crisis has required an immediate response from our Government. There's no mistake there are great parallels between the threat of the Covid-19 Emergency and the Climate Emergency. But when Covid-19 is beaten, and we have every faith in the scientists that it will be understood and beaten, then governments and businesses must put the same faith in the climate scientists and the same energy, radical thinking and speed into tackling the slower but just as immediate threat of climate change.
Thanks to you all for coming and special thanks
to Dave Baldwin who helped organise and promote the talk. Thanks also to
Cllr John Bleakley for bringing the talk to the attention of the Town Council and to Cllr Julian Cooper for hiring the venue and understanding the importance to Woodstock of having a chance to see the scientific data for themselves and the chance to ask questions.

If you would like to find out more about supporting non-violent action Extinction Rebellion (XR) might be of interest. You can view the local website of
XR Oxford
and sign up for their newsletter. It doesn't commit you to anything but can keep you more informed.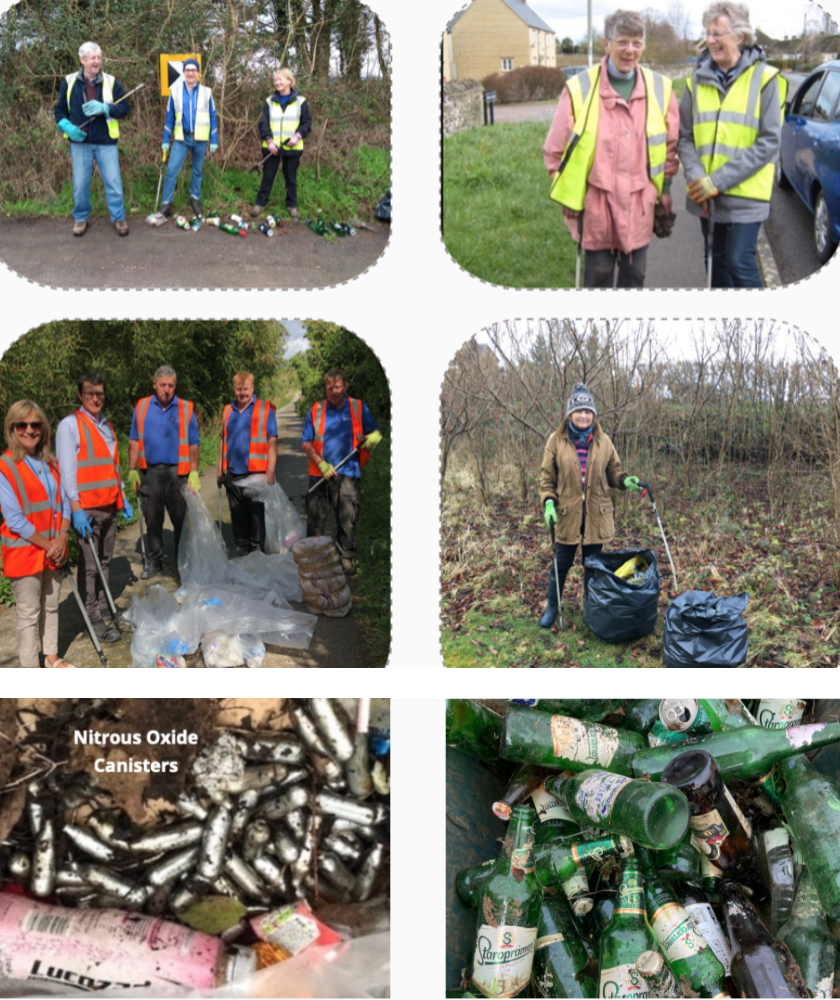 And The Award Goes ToThe

Woodstock Litter Heroes
3 cheers and many thanks to all the volunteers who did such a brilliant job. Several litter picks were completed and most of us said that we were glad we did it and satisfied that we had made a small difference. We're not all pictured as some picked in their own time and I forgot to take a photograph of everyone....sorry everyone. Other pickers included Perdiswell Farm and Owen Mumford volunteers, who regularly clear Green Lane. The town looked fairly good this year and so the Woodstock pick concentrated on areas that were particularly poor including Shipton Road out of town, Banbury Road and out of town, OWL, Sansoms Lane, the Memorial Garden and Hensington Road Cemetery.
Marlborough School and Blenheim did plan to pick but unfortunately were forced to abandon as the Covid-19 crisis became more serious.
We filled approximately 35 plus sacks of rubbish, most of which could have been taken home and recycled. Even though Shipton Road had been cleared last year we had to deal with very large amounts of beer bottles/cans that had obviously been thrown from cars into the ditches along Shipton Road and Banbury Road up to the pumping station. Amongst the beer bottles we worryingly found multiple batches of
NITROUS OXIDE
canisters. We also reported a fly-tipped cream sofa and chair and a window frame (Banbury Rd) and a car battery (Shipton Rd).
Questions were asked why there were sooooo many beer bottles, some only half drunk with tops replaced and the consensus was that perhaps people, probably younger, were driving back into town and wanted to remove the evidence instead of waiting to get home and recycling.
We tried to recycle where possible.
Let's all push for the returnable bottle/can deposit system?
Many other countries have had this for 30 years or more.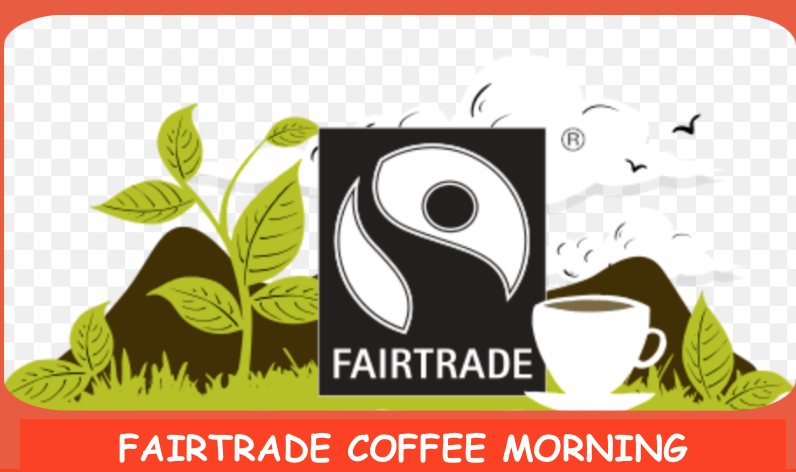 The organisers, bakers of cakes, biscuits, etc. raised £480 at The Woodstock Fairtrade Coffee Morning held at the Town Hall on Sat 7th March. The proceeds will be shared between
Borien Educational Foundation
for South Africa (reducing poverty through education) and St. Mary Magdalene Church Restoration Funds.

But shouldn't we be buying local rather than Fairtrade ...see below?.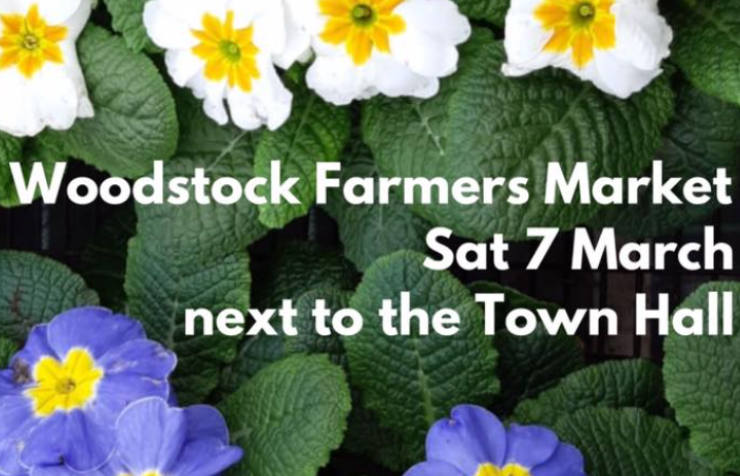 But

What about Buying Local



Rather Than Buying Fairtrade?
BUY BOTH!
Buying local and buying Fairtrade needn't be mutually exclusive. At a time like this, we're understanding a bit more of the value of our local food producers and suppliers. UK Farmers face similar issues to farmers elsewhere, mostly ensuring that they get a fair return for upholding good social and environmental standards. We support sustainable production for UK farmers but think we should also continue to support farmers from the developing world. Fairtrade focuses on products that can't be grown in our temperate climate such as cocoa, coffee and bananas or products that can't be grown in sufficient quantities in Europe e.g. grapes.
When
the Covid-19 emergency is over, the lessons learnt can be applied to the climate emergency; future-proof our UK food producers and suppliers and adjust our own attitude to what and when we buy - buying local UK produce in season.
Ultimately it's up to each of us to do what we see as being in the interests of people and our lovely planet.
Take a look at the video link below which shows that b
uying Fairtrade empowers and strengthens the future for disadvantaged farmers and workers in developing countries.
Useful Links for You, Your children or Grandchildren

FARMING WITH NATURE
Robert Crocker,
Glebe Farm.
Robert farms a 600-acre mixed farm, situated between Freeland, Long and Church Hanborough and Eynsham. His farm diary gives some insights into the interaction between the farming operations and the natural world.

The first calf arrived on March 8th. By March 28th, we have 30.
Despite having witnessed countless calves born over the years…it never fails to move me. The first intake of breath and a shake of the head confirms this calf is going to be fine. The mum wastes no time in licking her new calf clean with her rasping tongue and, in doing so, stimulates the calf's breathing and circulation. Within minutes of a normal delivery, the calf staggers to its feet, instinctively searching for milk. The first milk, colostrum, is rich in antibodies that protects the newborn against infection.

These docile, domesticated animals are returned to the wild with a rush of hormones which gives the cow the aggression to see of any predator…it is for this reason that cows with calves need the utmost respect. Once the calf has suckled, the cow's mood relaxes a little but, she is constantly alert and defensive. To a cow with calf a dog, however small or friendly, is a wolf…a potential threat. Within an hour or so, the calf is ready to follow its mother. The calves soon become playful and, as the cows tuck into their sainfoin hay, the calves race around the straw yard.

Clouds of blackthorn flowers in the hedgerows, gleam pure white against a dark sky and everywhere there the frantic activity of birds. The dawn chorus is a delight; the Wren is first to rise with a diminutive call signalling to the Blackbird and countless Great Tits that it is time to sing. In a matter of minutes, the air is ringing with a symphony of bird song lead by a sole Song Thrush perched on the highest branch of a cherry tree…its song is complex with several verses, which he repeats. The Song Thrush, a once common sight and sound in gardens and fields across the country has had its numbers decimated, mostly by the use of slug pellets, removing its food source of snails.

A week of cold March winds are drying the waterlogged fields, allowing ploughing to commence. The furrows roll over, releasing the evocative smell of fresh soil. A pair of Red Kites immediately appear to feed on the exposed worms. These magnificent birds perch on the furrow and are indifferent to the passing tractor. Wagtails join at a respectful distance and flocks of Linnet alight as the tractor approaches. A pair of hares appear from nowhere and display their powerful back legs as they accelerate across the field. Three Roe deer push through the hedge to see who is intruding upon their territory…they turn, showing their white derrieres before bounding off in to the distance. What a magical time of year, what an enchanting place.

The plough moves slowly across the fields towards Eynsham, turning the landscape from beige to brown. The last two decades of sensitive farming has seen our Skylark population multiply year by year. There are now too many to count and their song fills the air. With the planned housing development imminent I already look at these fields with a sense of nostalgia.

April beckons…will the cuckoo return?

March at Perdiswell Farm
James Price -
James apologises ..... because of the welcome weather change he's now having to catch up and is working flat out planting the ground and hopes to write next month. I'm sure we've all heard the tractors working late into the evening. On behalf of everyone ....Thank you and stay well.

Safe Routes *
Colin Carritt
Planned meetings were cancelled due to the Covid-19 virus but hopefully planning will continue via video conferencing at some point. In the meantime, you may have missed previous updates which you'll find on our website under
Archived Newsletters
..... the latest was in March 2020.
* Safe Routes, a sub-group of Sustainable Woodstock are lobbying for new and safer cycling/walking possibilities in Woodstock with links with the surrounding area.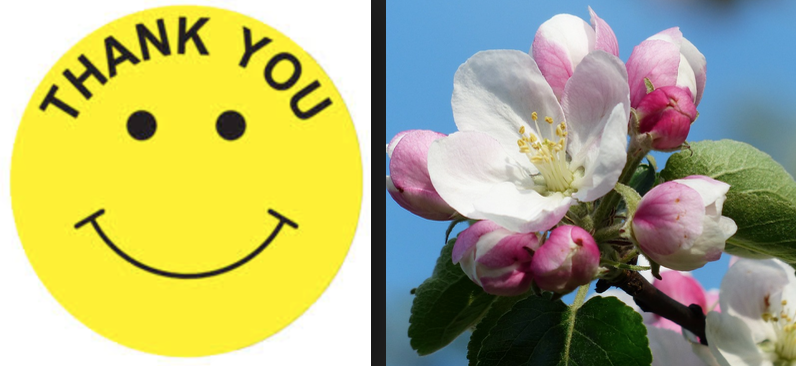 Woodstock's Community Orchard
Thanks to all the sponsors in the community
Only 12 trees left to sponsor.
Unsure of the orchard site-see below
To read more about community orchard benefits CLICK HERE. Email for enquiries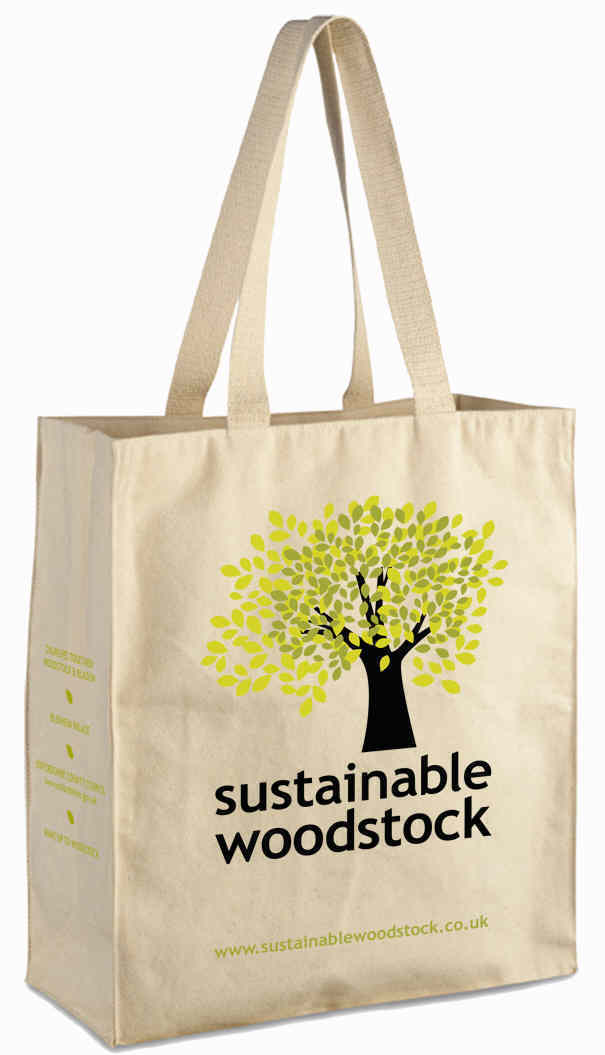 Our SusWoo Bags
We generate funds for our
projects by selling our bags to you or your business
- o
ne at a time is fine by us.
Prices
Jute bags @ £2
Canvas large and small Reduced to £3