Sustainable Woodstock News
MAY 2020
Hi All,

Best wishes to you and hope that you're all well. Thanks again to all those key workers who are doing their best to keep us healthy, fed, clean, watered, in touch and safe and thanks to those who are sticking to the guidelines. We know how difficult it must be for many who are worried about their own health, incomes, homes, their children and family members and we hope you are getting the support you need. What is noticeable, is the coming together .... in spirit, by WhatsApp, telephone, Zoom, music or wave at least and hope we can continue to build on the bonds being forged.

We wish to thank our Sustainable Woodstock friends in Vermont USA. They were celebrating Earth Day by holding a film festival that was subsequently cancelled because of a COVID-19 lockdown. They decided to stream the event online and were happy for us to share with you all. Thanks again to the folks of Vermont. We hope you had a chance to watch some of the films ....we would love to have feedback. Tonight - there is one last 41 minute documentary film called A Concerned Citizen and it's available for 24 hours only from 11 pm Saturday 2nd May until 11 pm on Sunday 3rd - see details later.

There is no question that the immediate health emergency is a priority at this time. Some have noticed significant changes during the lockdown including cleaner air, more wildlife and a stronger community. A recent YouGov survey suggests that only 9% of Britons want life to return to "normal" after COVID-19 is over and suggests there is a real appetite for change, and for the nation to learn from this crisis. Have you had the luxury to use this time in lockdown to imagine a better future? Are you trying new things and noticing differences at home, in your work and in our community?

This month, we focus on some of the reasons to be grateful....we hear from two key workers that farm Perdiswell and Glebe Farm; we hear from our local volunteer warden at the OWL nature reserve, Bob Pomfret who I know, many of you will know well; and give you an update on our Community Orchard.

But first of all from Colin Carritt, our founder of Sustainable Woodstock on his thoughts on Woodstock Post-Pandemic.

Keep safe and well, Hilary Brown

Woodstock Post-Pandemic
Colin Carritt

If you've got to be locked down anywhere, what better place than Woodstock? A daily walk in the park, or through our Community Woodland and Orchard, or a bike ride through Stonesfield, or Combe, Wootton or Tackley? What more could one ask for? Of course, we're going to have to get used to it. The lock down may be eased, businesses will need to reopen for their customers, for their staff and for their very survival, but one way or another restrictions of some sort will remain and we'll all have to get used to doing things differently for many months, possibly years to come.

Sustainable Woodstock needs to be campaigning now for the town, the County and the country to emerge from the crisis in a more sustainable way. Have you noticed more people on bikes? Not racing bikes either, but mountain bikes, touring bikes, kids bikes and more than a few boneshakers. For a lifelong cyclist like me it's a joy to see. We want people to stay riding their bikes post-COVID, so now is the time to press Oxfordshire Highways for more 20 mph speed limits in all the towns and villages (Charlbury has just got its first 20 limit), to upgrade rural pavements alongside busy roads to make them into shared cycle/footways.

And it's not just sustainable travel either. We should be encouraging the expansion of the Farmers Markets and local produce in local stores. We should embrace internationalism and we should celebrate our local economy and ecology.

I'm writing this after a month's absence and the world is a very different place, I hope you and your families are all well and are coping with the added stress that the current situation has created. Fortunately, the initial panic buying and food shortages are starting to ease although it has highlighted bottlenecks in the supply chain, some of which I am privy to information on. One in particular is the lack of flour which, as a producer of wheat which is used for flour in Warburtons bread, seems a little ironic that I can't get access to it either. The issue is not the amount of flour available but simply the ability to put it into small bags for you and I to buy in the supermarket. If you need a 16kg bag or even an artic lorry load, then it's available. The flour mills are working flat out to produce it, Wessex Mill in Wantage has been running a 24hr operation for the first time in its 125-year history for example. A great source of information is the NABIM (National Association of British and Irish Millers) website and they have a handy map for finding suppliers of the larger bags of flour
http://www.nabim.org.uk/consumers/where-can-i-buy-flour/
I have registered with Savona down in Kidlington and they will allow you to order and collect or phone and they will deliver, they have good stocks currently.

Meanwhile on the farm the start of lockdown also signalled the start of the busiest time I have known on the farm for many years. Almost 6 months to the day it stopped raining and the sun appeared in an unbroken sky and coupled with a strong easterly wind, things started to dry. Now I'm going to sound very much like your typical farmer but within two weeks we needed rain! Ironically it came so dry that it capped the top surface of the soil but left it like porridge underneath. We have had to tread very carefully (literally) in places as it was easy to break through into this wet subsoil and get machines stuck. We have now established over 1000 acres with a mixture of Wheat, Barley, Beans and Oats across the three farms we look after and it is, on the whole, looking well. At the same time, we have been keeping our winter crops fertilised and have also replanted the failed Oilseed Rape ground into stubble turnips for the sheep.

My thoughts are now on to next year's crops and I have been finalising cropping plans, seed varieties and nutritional requirements for harvest 2021. Hopefully the rain will continue alongside the sunshine and we will have bumper crops this harvest. Our cows have finally departed and are now out in the sunshine on lovely fresh grass. We had 4 calves before they went and there have been another 4 since they were moved. Sam is busy moving muck out to the fields now ready for spreading in the summer.

One thing the lockdown has caused is a huge influx of people walking and enjoying the countryside and it has coincided with an amazing time of year as everything comes out into leaf and the blossom is thick in the hedgerows. I apologise for the number of signs that I have had to put up around the farm but unfortunately, despite paths being marked both on the ground and also on maps, many people have decided to use our land as their own. I encourage anyone to come and enjoy what I have the privilege of seeing everyday but please do stick to the rights of way. The wildlife will only thrive if it is left undisturbed so watch it from a distance and don't wander where birds are nesting and insects are flying.
It has been lovely to see the number of birds that are around at the moment and both our Swallows and House Martins have returned in the past two weeks. Until last year we had never had House Martins and yet they built a substantial nest and raised two broods, I'm hoping they do the same and I have put up two additional artificial nests in the hope they need additional accommodation. We have also had a pair of Kestrels with young which is another first, the box I put up for them 7 years ago has finally been used. Finally, our rodent infestation continues and I am catching between 2 and 8 mice a day at the grain store, when I put the dead mice out in the yard it usually takes around 10 minutes for a Red Kite to swoop in and take them which is amazing to watch.

Hopefully when I write next month the restrictions on our daily lives will be eased and everyone can start to get some normality back. In the meantime, please stay safe.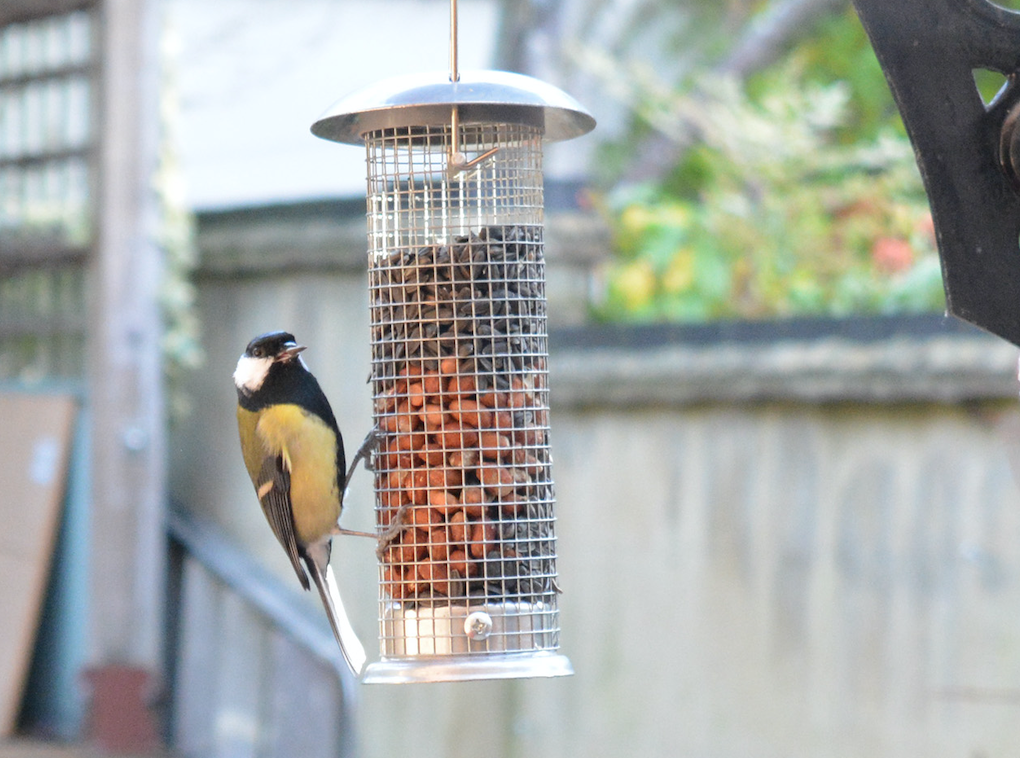 Woodstock Birder in Exile
Bob Pomfret
About a month ago after an email conversation with Hilary about a bird she had seen in Woodstock, she asked if I might like to write something about birding around the town. I wasn't going to say no, but there is a wee problem...

When crunch time came along at the end of March. I had to choose either to lock down in Woodstock on my own, or move into Oxford with my partner, Eleanor. No contest. I've been in Oxford ever since.

Hopefully soon I will be back to spend time in Woodstock, and I'll be able to share thoughts about the birds I'm actually seeing. For now, I'm going to start with the bird that Hilary and Graham saw at the beginning of April.

It was a wheatear. A smart, starling size bird that is more often seen close to the coast or on a mountain moorland. It's always good to see a wheatear in Woodstock. If you do find one, and it is still possible in early May, it'll be a bird stopping off on route back from a winter in Africa to somewhere wild and rocky. This time last year I found one near Perdiswell, Hilary's was close to Weaveley Furze. They tend to choose to rest away from housing.

If you're ever thinking about getting up early to listen to the dawn chorus then May is the very best time to do it. It is a really lovely thing to do, and the very best way to take your daily exercise. Even if you are not up with the lark, the good thing about larks is … they carry on singing long after dawn. Go out any time of the day and something will be singing.

Working out what birds you are hearing can be tricky. Cuckoos and chiffchaffs help by singing their names, but most of the others are less obliging. A really brilliant place to start if you want to find out more about birds and birdsong is the RSPB website. They have an A-Z or birds with pictures, information and audio clips. Give it a try
https://www.rspb.org.uk/birds-and-wildlife/wildlife-guides/bird-a-z/
Perhaps pick half a dozen birds, have a listen to their songs and then go out and see if you can find them. Don't be too ambitious, you're not going to hear a nightingale I'm afraid (tempting fate - wouldn't it be brilliant if you did!). One bird I love to hear at this time of year is the willow warbler. It has a lovely short song of descending notes, like a gentle, less persistent wren (they are sometimes called the willow wren). Other bird songs to listen out for are whitethroats, they love hedgerows; and blackcaps, they prefer woodlands and gardens.

Talking of blackcaps, I was listening to Open Country on radio 4 on April 30th. The presenter Brett Westwood was talking about the prevalence of mistletoe, even on small trees. He'd noticed more and more over recent years and had discovered that there is a link to blackcaps wintering in the UK. Like mistle thrushes, they eat the berries and they are distributing them onto smaller trees. They are very good at it. If you want an example. I noticed a really good bunch on a low tree next to the bus stop on the A44 in Yarnton. It survived Christmas, hopefully it's still there.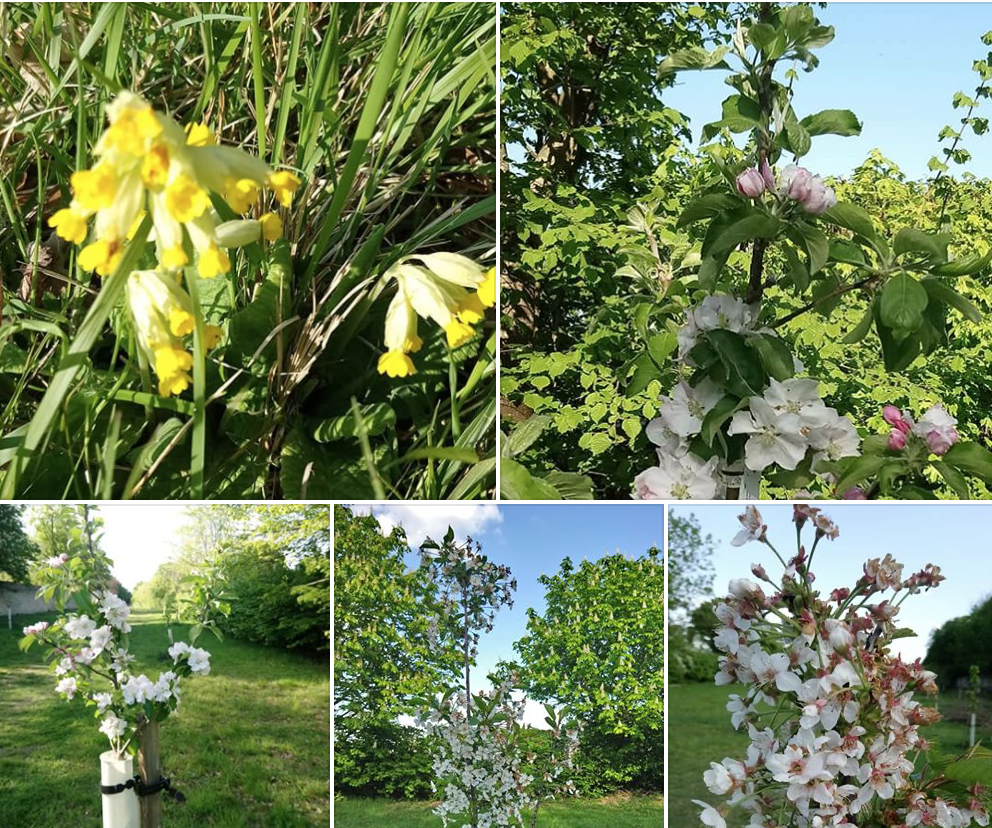 Woodstock Community Orchard Update
Thanks Ann Leck, another active member of Sustainable Woodstock, who recently took these lovely photographs in the Community Orchard. The fruit trees are about to start their 3rd growing season and, considering the first two summers were so very dry, they are looking pretty and good.
After the recent rain, t
he meadow area surrounding the fruit trees will begin to grow up and you will hopefully start to see many more wildflowers including orchids (please don't pick the wildflowers). We are planning to promote more wildflowers and consequently more bees, birds and other bugs in the orchard, that is, increase biodiversity which is such an important factor for the health of nature and
consequently
us too.
See how many wildflowers you can identify as the season develops.
Community orchards have seen a renaissance over the last few years, a genuine desire for communities to have a place to meet and rediscover the benefits and pleasures of cultivating green spaces. It's hugely satisfying to grow and eat organic fruit grown close to home and at the same time creating a place where local wildlife can flourish. Once established, a tree will yield fruit for decades – a real study in sustainability. And by caring for trees organically, there's no need for pesticides, fungicides or man-made fertilisers. That's a real boost to the natural habitat and the birds, bees, ladybirds and other animals that live there.
We have recently finished weeding, fertilising and mulching the trees, a job we would normally share with volunteers but were able to complete as part of our exercise allowance during The Lockdown and excellent social distancing if anyone should pass by. Still unsure where it is ? See map lower down the page.
Please Clear Up after Your Dog & Observe the Countryside Code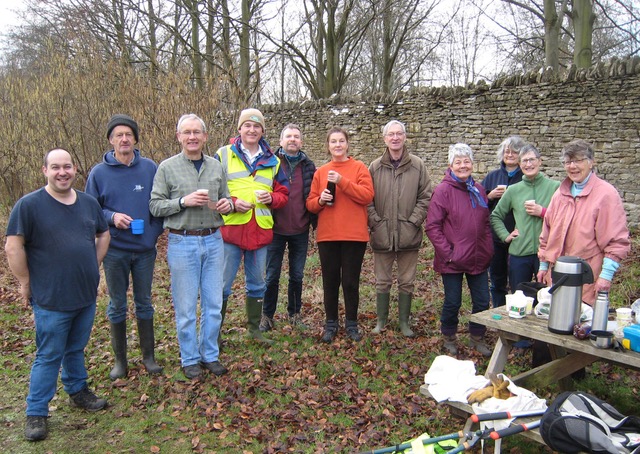 Volunteering in the Woodland or Orchard?
If you think you'd might like to add your name to occasional future volunteering in the Woodland and Orchard please contact us. I
t doesn't commit you to anything at all.
Children under 16 and those who are vulnerable are very welcome to join in but they must be accompanied by their parent or guardian. E
mail us
and we'll add you to the list.
FARMING WITH NATURE
Robert Crocker, Glebe Farm.
Robert farms a 600-acre mixed farm, situated between Freeland, Long and Church Hanborough and Eynsham. His farm diary gives some insights into the interaction between the farming operations and the natural world.

APRIL 2020

"If the Oak before the Ash, then we'll only have a splash, if the Ash before the Oak, then we'll surely have a soak". If the old saying rings true, we are set for a dry summer…the Oak trees are in leaf before the Ash.

After praying for a little dry weather, we have enjoyed a month with only one wet day. The spring oats are planted but desperate for rain, as are the grass fields, but I am not complaining, since we were able to turn the cows and calves out to pasture almost a month earlier than last year. It saves so much work and, fresh pastures are a much healthier environment for young calves. Our cows experience 'lockdown' every autumn and initially are happy to be in straw filled yards, quickly settling into winter routine. The spring turnout must feel a long overdue release from their confinement, they celebrate with a lap around the field, tails held high and calves at their heels.

The first Swallows returned back to us on 14th April and immediately checked out their regular nesting sites in our ancient stone tithe barn. One of the few large stone barns in the Parish not converted to a house, it is home to multiple Swallow nests. The Swallows are very vocal with their delightful chattering. The Swifts can now be seen over Pinsley Wood and Sand Martins have returned to their old nesting sites in a disused gravel-pit bank. House Martins alight in the farmyard beside the only damp patch of soil to collect material for their mud nests. Mixed with their saliva as a bonding agent, the nest defies gravity, clinging to the underside of eaves.

The beautiful weather welcomes our fondest summer visitor, the Cuckoo. Despite its dubious and parasitic habit of laying its eggs in other bird's nests, spring would not be complete without the sound of his evocative call. These remarkable birds leave their winter home in the Congo, Central Africa and migrate across the Sahara Desert, a journey of approximately 4,000 miles. As with so many species, the cuckoo is in decline for a variety of reasons, mostly climate change and habitat loss, resulting in a reduction to only ¼ of the breeding pairs that visited our island 25 years ago. The current, diminished traffic noise allows their call to be heard over a much greater distance. The area to the north of Eynsham, including City Farm, is their favourite haunt.

The current pandemic has brought tragedy and hardship, it has also brought unexpected positives. Nature has, once again, been allowed centre stage with birdsong the predominant sound. The air is cleaner, the sky no longer crisscross with vapour trails, ponds and birdbaths are devoid of their oily film from aviation. The roads currently carry the volume of traffic they were built for and Sunday mornings are again serene, unspoilt by the scream of high-performance motorcycles. We are very fortunate living here, where beautiful walks are easily accessed. Cyclists, walkers and runners safely reclaim the country lanes and rediscover the wonders of nature. I continue to self-isolate with my cows, or in my tractor. The farming year continues unabated…May beckons.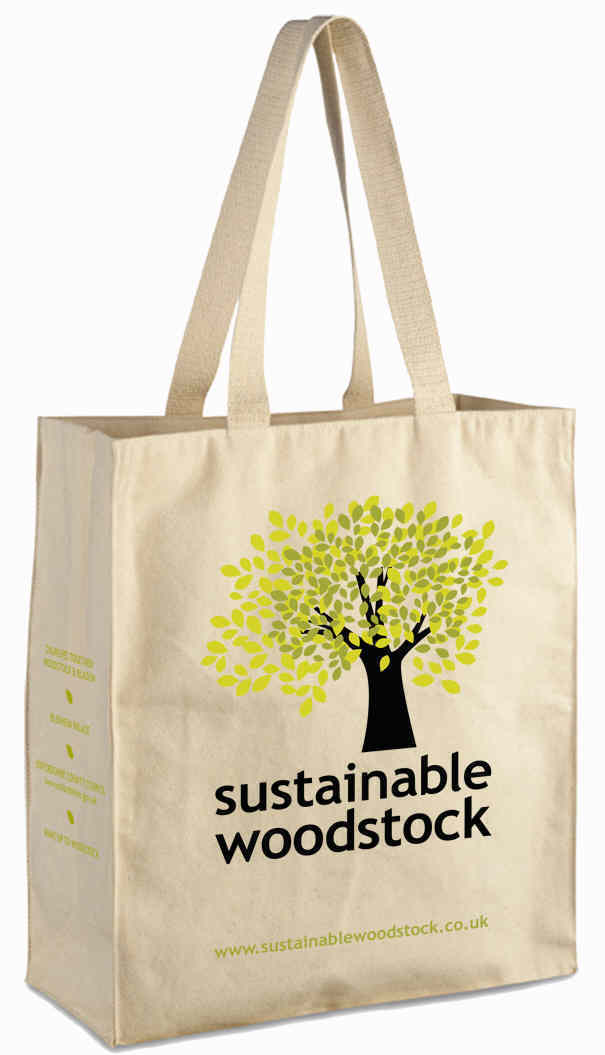 Our SusWoo Bags
We generate funds for our
projects by selling our bags to you or your business
- o
ne at a time is fine by us.
Prices
Jute bags @ £2
Canvas large and small Reduced to £3