Sustainable Woodstock News
November 2020
Hi Everyone,

Hope you're all well and keeping safe from COVID while keeping in good spirits.

Thanks to all our 'Friends" who managed to make it to our October's raking and scarifying event in the Community Orchard this month where we were attempting to increase biodiversity in our orchard. We're planning .... hoping and keeping our fingers crossed to have similar outdoor events in the community woodland and orchard during the winter months. So if you're feeling able and we are allowed to work COVID-safely ...... remember to look out for the notices..... nothing too onerous and if you feel like coming out for just a chat or want to make suggestions it would be great to see you.

This month, we have an update from Colin on the 20mph campaign in our area and hear of the good news that Combe and Stonesfield students are trialling a cycle route through Blenheim Park to Marlborough School. For younger people who might be thinking about future jobs related to climate and sustainability we have a link and upcoming presentations at CLIMATE CLUB and we also have links to NASA CLIMATE KIDS; we hear again from James Price and his team about their herculean endeavours to keep us all fed; we ask you to take action by writing to your MP about supporting the Climate & Ecological Emergency Bill (CEE) that was introduced in parliament in September and if backed will strengthen the Climate Change Act.

Some months ago we told you that we were hoping that the Town Council may be taking steps to reduce carbon emissions by installing solar panels on the Community Centre. We know the council have spoken to Low Carbon Hub and have been chasing quotes; we've written to councillors and we attended the recent council meeting on Zoom but we're still somewhat uncertain if this will progress. We hope to update you by the next newsletter. In the meantime we understand that planning is progressing on the solar farm that will help Blenheim achieve their goal of going zero-carbon by 2025. Personally ... I would like to see the project extended so that more clean energy could be generated in a local network that would possibly allow the community to invest in as well as benefit from the clean energy. For many it is an impossible time to even think of investing but for some others that might have resources .... what a good place to put your money.

Wishing you all well. Hilary
COMMUNITY ORCHARD UPDATE
RAKERS PROGRESS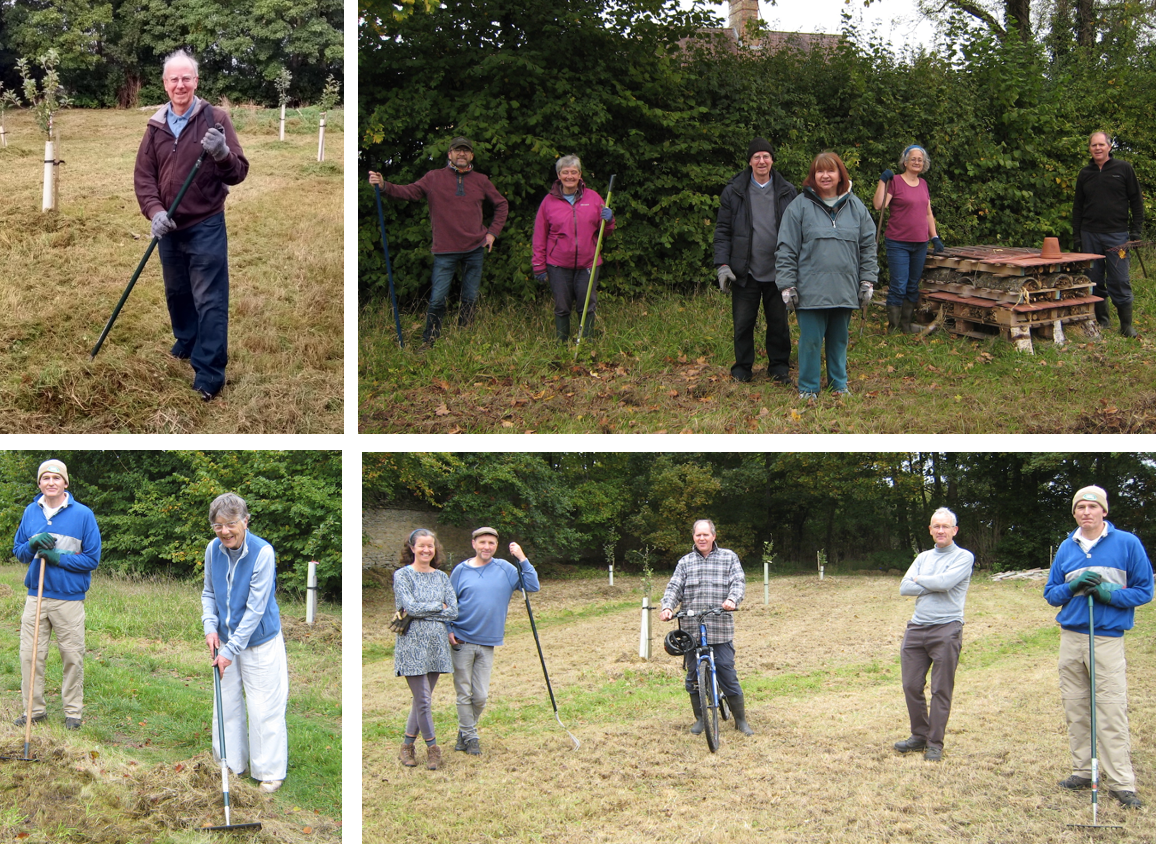 It was so very nice to share an outdoor COVID-safe space in our growing
traditional orchard
.... eventually .... the weather was kind ..... all very satisfying too as we achieved what we set out to do. Face to face does help with the feeling of isolation, especially when living alone ... even when metres apart. If you'd like to join us, email and we'll add you to the list .... with no
commitment.
sustainablewoodstockuk@gmail.com
Why a traditional heritage orchard?
Traditional
orchards are havens for biodiversity. They offer both food and shelter to thousands of species some of which are high priorities for conservation. With many varieties, different blossom times, and being organic, the orchard will be more resilient and food security will be better during climate change compared with singly cultured orchards.
Why Rake the cut grass?
Prevents the cuttings from smothering the grass beneath and enriching the ground (wildflowers and fine grasses prefer
poorer
soils).
Why scarify?
Essential in order to open up patches of bare soil which the seed can be sown more successfully.
Why sow Yellow Rattle?
Sometimes called the Meadow Maker, it feeds off the nutrients in the roots of nearby vigorous grasses. By feeding off the grasses, it eventually allows more delicate, traditional species to push their way through.
Why sow wildflowers?
More variety of flowering plants supports more variety of butterflies, insects, birds and other wildlife and it looks nice!

It's frustrating. One minute we get a glimmer of hope that the authorities are listening and keen to help make our roads and pavements safer and the next our hopes are dashed. We just have to be stoical and dig in for the long term. Dig in for the long term because, as Mr Dylan said, "the times they are a-changin".

Our hopes for a 20mph speed limit on at least part of the A44 through Woodstock were dashed when the government announced that their "active travel" fund could not be used to fund 20mph limits. Why? Surely, more than just about anything else, 20 mph speed limits encourage people to travel on foot, by bike, or in a wheelchair. The government's response (and it has to be said, that of Oxfordshire County Council) has generated anger and frustration well beyond Woodstock and we have recently joined forces with towns and villages across Oxfordshire to campaign for 20 mph as a default speed limit for all residential and shopping areas. We call the campaign "20s Plenty for Oxfordshire" and we are affiliated to the national charity "20s Plenty for Us"
http://www.20splenty.org/
Although supported by us, the group is not part of Sustainable Woodstock. It will shortly have its own website, Facebook and Twitter sites so watch this space. We'll keep you informed. The launch of the campaign was marked with a press release that you can view
HERE
.

Our next step will be to write to every County Councillor and other key decision makers to ask them to support the implementation of 20mph limits and to encourage their political parties to include 20mph in the forthcoming party manifestos for the 2021 local elections. The group will also be contacting all towns and parishes across the County to encourage them to join the campaign.
On a happier note, we should all congratulate Blenheim of their recently agreed arrangement with the Marlborough School to allow students from Combe and Stonesfield to cycle through the park to school. This is a trial at present but it appears to be working well. It avoids students using the bus services with all the attendant infection risks associated with public transport and it adds real meat to Blenheim's long-term plans to facilitate more and better "connectivity" across all the villages around the Blenheim Estate.
* Safe Routes, a sub-group of Sustainable Woodstock are lobbying for new and safer cycling/walking possibilities in Woodstock with links with the surrounding area.
OCTOBER AT PERDISWELL FARM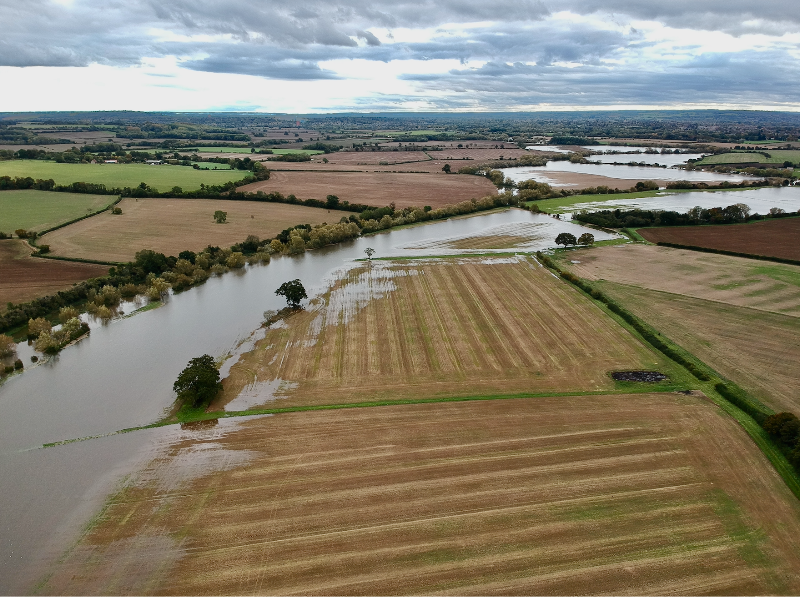 A
Herculean Effort
James Price
Four and a half inches or 114mm, roughly the length of an Iphone 4 or in volume when you multiply it across 1 hectare (ha) it's 1140m2, that is 1,140 tonnes of water that fell on each ha of this farm between the 1st and the 4th of October. Across the farm it totals a massive 547,200 tonnes of water or to take it back to that Iphone 4 it's 684g laid on the face of it. If my maths is correct that is, feel free to correct me. The wettest day ever recorded in October and it has put us firmly back into an Autumn 2019 situation with the land. We have lost over 14 ha of wheat down on the farm at Kidlington where the river burst its banks and the seeds rotted under the ground before they came up, fortunately Perdiswell has fared better and the crops all look well. Thanks to a Herculean effort by both Sam and George (I should point out I haven't been idle!) we have nearly finished planting this autumn, but will 2020 ever stop throwing surprises? I even had to buy another drill to make the most of the poor conditions we had, George has made it his own and we are all keeping our fingers crossed the wheat grows well, he has never planted anything before.
Given the weight of water it's amazing how the soil has recovered since the start of the month, undoubtedly the cover and catch crops have helped and all the worm holes keep the water percolating down through the profile.
Our sheep have turned thick crops of mustard into straggly stalks in a matter of days which I always find remarkable. They have their preferred plants as some things are eaten quickly whereas the more fibrous mustard is left until last. One of the management challenges is to keep enough fresh food in front of them so they do not get a taste for the last thing they ate and then lose condition when they move on to something new.
We now have our full compliment of cattle and it is great to have them back, munching on their silage and watching the aeroplanes land at Kidlington. They were all tested for TB last week which is both nerve-racking waiting for the results and dangerous as handling 400kg animals is not fun - but fortunately they have all passed. We will now complete the badger proof fencing around the buildings and they should stay safe.
Unfortunately despite locks, gates and fences we still had some unwelcome visitors on Friday night, they cut down six 20 year old trees to try and steal a trailer before they were disturbed and ran leaving us with a land rover, two mobile phones and a crate of beer.
November will be a month of making the most of every dry day. We still have some oats to dry and ergot to clean from the spring wheat grown on the contract farms. Ergot is a fungus which grows in the ear of cereals and is a problem in spring wheat in a rainy season, there is zero tolerance by mills so we have to remove it before it can be sold. Ingestion of ergot can induce Ergotism or St Anthony's Fire (named after the monks that were successful at treating it) and is a very unpleasant illness, fortunately it is rare today. We also have equipment to wash off and put away for the winter plus trees to replant where they suffered in the dry spring of 2019. The rainy miserable days like today send us scurrying for the workshop or office and in theory can be just as productive for the farm.
Autumn is a great time to see bird around the farm and this year is not disappointing. The field in front of the farm has had over 100 black headed Gulls on it the past few days, hopefully not eating all my lovely worms. There have been some flocks of Fieldfares darting around and we expect them to stay for the rest of the winter, our covers and feeders that we have around the farm providing them with food. At the bird table there have been Goldfinches and our resident cheeky Sparrows whilst a GoldCrest was spotted in a neighbouring tree. Red kites have been circling looking for the mice that I haven't been catching yet whilst we seem to have a number of Ravens who honk their way around the fields. The Tawny owls have been very vocal and it is lovely to lie in bed and hear them calling to each other.
I'm not a gambling man but given the weather we've had this year, including thunder today, I will no doubt we writing about the huge snowfall in the next newsletter. Let's just hope that we aren't all locked down again and can enjoy some of the usual festive build up
.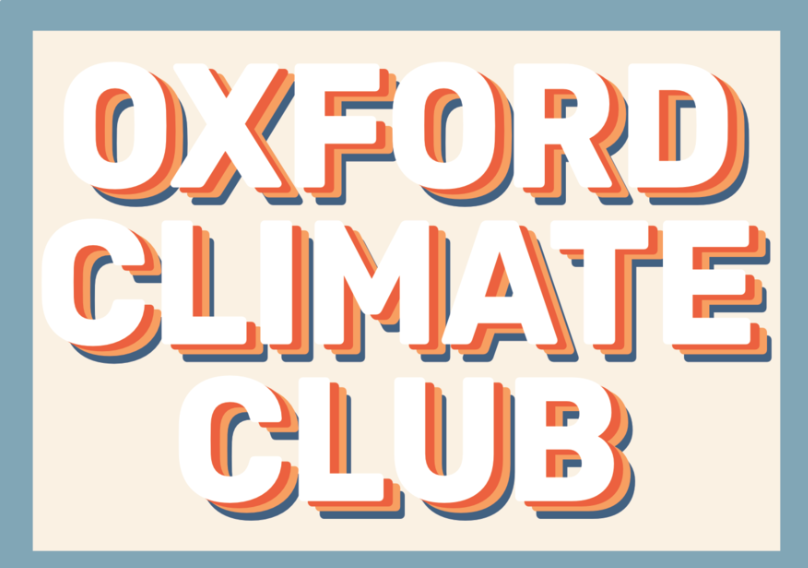 CALLING ALL YOUNG PEOPLE THINKING OF A CAREER
JOIN THE CLIMATE CLUB
IN "GREEN-TINTED" JOBS
Creating opportunities for young people interested in climate solutions - now and in their future careers.
There are lawyers protecting water from pollution, retail buyers checking their suppliers are not sourcing illegally logged wood, garden designers encouraging wildlife, engi
neers designing EV cars and next generation solar panels, marketeers promoting sustainable brands, investors making decisions about green investment, architects designing low energy buildings, and builders ensuring that buildings are air tight.
But what skills do you need, what courses can you take, what paths can you follow to join in?
Sign up on Eventbrite. Join from home or get your school to stream it for you. You can sign up for one or lots of them. You will receive a Zoom link by email the day before your event. You don't need to appear on video if you don't want to, and you can ask your questions in the chat.
You can find us on
www.climatevillage.org/oxford-climate-club
For more details contact
kim.polgreen@ligc.co.uk
SCHEDULE
3rd November 2020: Tom Garrood is Sustainable City Engagement Officer at Oxford City Council. Tom is organising a Youth Climate Summit for the Council, and is keen to hear your views.
10th November 2020: Julia Haynes graduated in 2018 from the University of Gloucestershire, and has been successful in getting a range of short-term ecology roles, paid and unpaid, to build her experience in the field. She feels that there is a lack of advice for young people on how to get experience to become more employable and she is keen to share her experience with you.

NASA's Climate Kids
NASA's Climate Kids website is an education resource featuring articles, videos , images and games focusing on the science of climate change. Or maybe we can learn more ourselves. It's a great site ....share with youngsters in your family and help their science interests along.
Click HERE to view.
THE CLIMATE EMERGENCY BILL (CEE)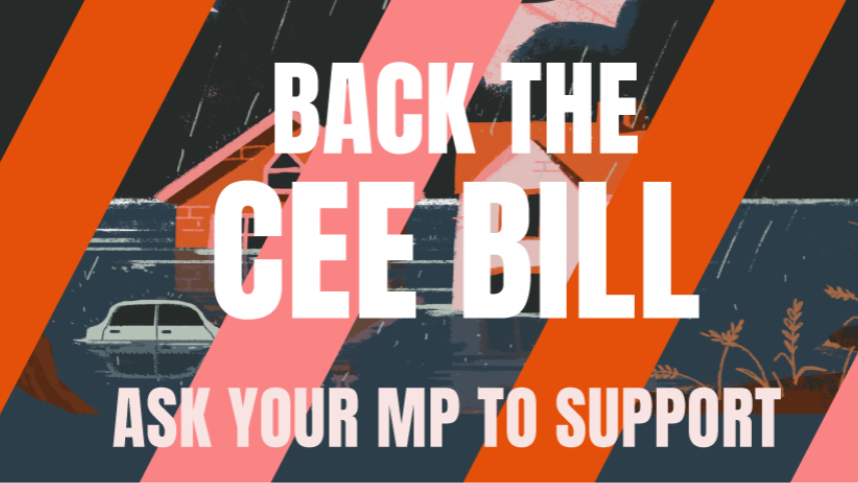 The Climate & Ecological Emergency Bill (CEE) offers us real hope.
Please write to your MP

Jennifer Wates, Sustainable Woodstock Member writes:-
At the moment, Woodstock's local MP Robert Courts, does not support the new Private Member's CEE Bill that was put forward for debate in parliament by Caroline Lucas in September .... but he may change his mind if more of us ask him to do so. We need to show the widest possible interest in taking the climate emergency
seriously.
If you'd like to support please write to our/your MP urging him or her (if not in Woodstock) to support the Bill. Contacts for councillors and MPs can be found
https://www.writetothem.com
Why take the time to write?
The climate is at a critical turning point and it's
important
that we act now to safeguard not just our own future, but the future of our children and also the rich diversity of life that we share the planet with, and on which all of us depend. Grief and anxiety about the climate and ecological crisis looms over some but the growing momentum of support for the CEE Bill does offer a source of hope. The Bill, written by scientists, lawyers and activists and sponsored by MPs from many political parties is gathering support from a broad range of campaign groups, businesses, charities and individuals. The Bill will be hard fought, but it's been done before with major climate legislation and has the potential to become the most significant move forward since the Climate Change Act 2008. In a nutshell, it would ensure that:
The UK plays its fair and proper role in limiting global temperature rises to 1.5 degrees C, by taking into account our entire carbon footprint (including all of the emissions linked to the production and transport of goods that we consume in the UK)
We focus on nature as much as climate, protecting and conserving habitats in the UK and internationally on supply chains
Citizens are central to deciding how to move forward using a Citizens' Assembly with real teeth
How is it going?
We need to act without delay and alarmingly, we are not even on track to limit the temperature increases to 2 degrees C, and current policies will lead to 3 degrees C by the end of the century. A report from the Intergovernmental Panel in Climate Change (IPCC) in 2018 showed that just 0.5 C degrees of heating could: 'expose tens of millions more people worldwide to life-threatening heatwaves, water shortages and coastal flooding. Half a degree may mean the difference between a world with coral reefs and Arctic summer sea ice and a world without them'.
TREE PLANTING WEEK
November 28th - December 6th

A TREE FOR CHRISTMAS
OR FOR ITS OWN SAKE?

One of our strongest warriors in the battle against climate change.
They lock up carbon, fight flooding and cool our towns and are good for wildlife.
If you don't have a place for a tree then you can donate
to the Woodland Trust by CLICKING HERE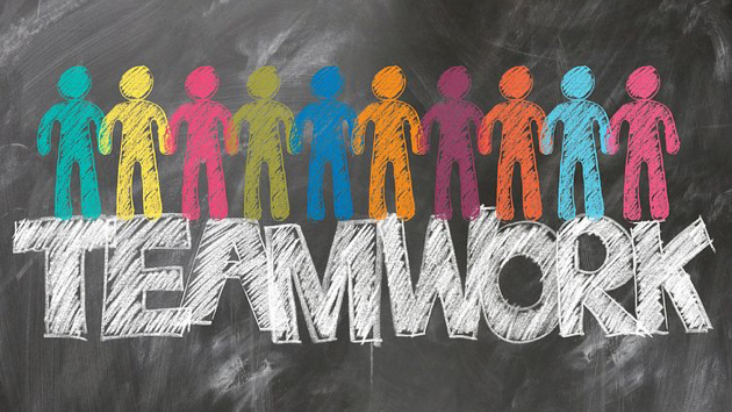 BECOME A FRIEND
of the Community Woodland & Orchard
OUTDOOR, COVID-SECURE & SOCIAL DISTANCING
Children and vulnerable are warmly welcome but must be accompanied by their parent or guardian.
https://www.imperial.ac.uk/stories/climate-action/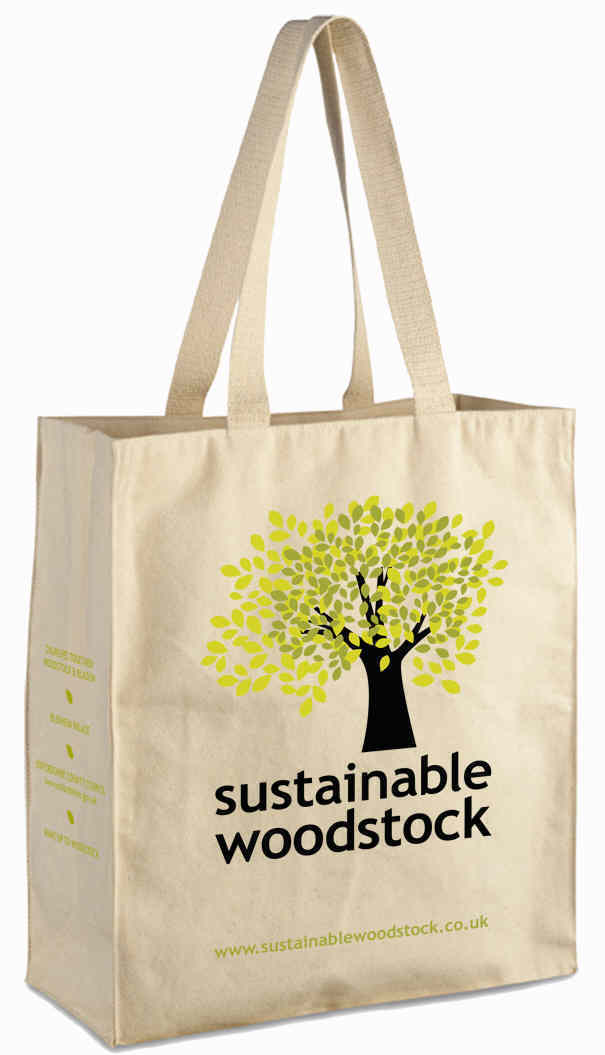 FOR SALE
We generate funds for our
projects by selling bags to you or your business
- one at a time is fine by us.
Prices
Jute bags @ £2
Canvas large and small Reduced to £3