Sustainable Woodstock News
Hi everyone,
It's been a miserable January for so many but there are reasons to be grateful .... those folk who attempt to cheer us up by posting lovely wildlife photos on the We Love Woodstock Facebook site, vaccines are being dispensed by the 100s of thousands bringing light at the end of this long tunnel... thanks to the hardworking scientists for getting us this far. And other good news .... last week the new US President Joe Biden made a pledge for strong action on the climate crisis and has lifted international hopes that 2021 can be a breakthrough year, resetting the world on a greener path to net zero greenhouse gas emissions.

This month we have;
For teens and teachers, the next Eventbrite events from Oxford Climate Club (Feb 3rd and 10th) ... YOU NEED TO REGISTER SOON; a meeting held between the local villages, Blenheim and VeloCity that aims to increase the possibilities of safe cycling, walking and links with public transport; if you haven't already, we hope you are able to set aside a very small amount of time to sign the petition or write to Robert Courts MP and ask him to support the Climate and Ecological Emergency Bill CEE (he hasn't to date); for investors, we suggest ideas for green and socially responsible investment; we suggest you complete the WWF (World Wildlife Fund) survey to find out what your Carbon Footprint looks like.

Thanks to our regular contributors .... from James Price of Perdiswell Farm where you can find out what it takes to be a farmer in our area and our Woodstock Birder, Bob Pomfret reminding us what we should be looking out for; and we remind you of our litter pick and invite you to join us once again ..... all things considered.

Special thanks to our Woodstock Surgery who are organising the vaccinations and special thanks too for all key workers who are saving lives and keeping everything else in our lives going. My thoughts and thanks to all those pupils, teachers and home-schoolers who are doing their level best ... easy to say but stay strong.

Feel welcome to get in touch to share your ideas, solutions and local projects for reducing carbon in our lives or helping our environment recover.

Safe times everyone. Hilary Brown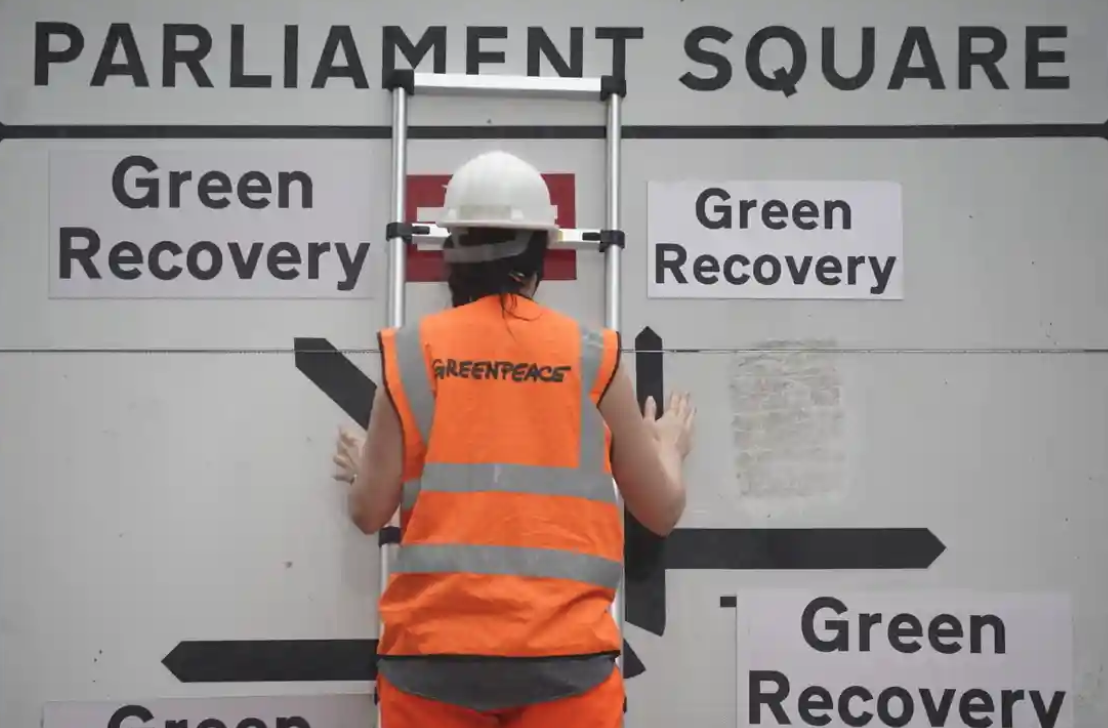 Photograph: Suzanne Plunkett/Greenpeace
Green, Sustainable and Socially
Responsible Investment Ideas
Graham Brown
If you are fortunate enough to be in a position to invest or concerned about the low interest rates in deposit accounts (take the NS&I for example), you may wish to consider a green alternative.

Ethex www.ethex.org.uk is a way to invest positively, to put your money directly into businesses whose missions, impact and outcomes you support. There is a wide range of options from renewable energy, social enterprises and community projects. For example, there is Low Carbon Hub, a local social enterprise which develops and manages renewable energy projects in collaboration with businesses, schools and communities across Oxfordshire. Kirtlington's Village Hall rooftop solar panel array is an example of how Low Carbon Hub can help bring projects to fruition. Low Carbon Hub's 'Current Community Energy Fund' is open to investment until 31st March 2021. As with any investment, take care to read their terms and conditions, it's a suggestion, no guarantees! CLICK HERE to watch a short Low Carbon Hub video.

Or you may be interested in the increasing number of share funds promoting ethical and sustainable investment in socially responsible projects. This has partly come about by governments around the world acting on the Climate Emergency and partly due to public pressure on where pensions and investments are being used .... many for example wishing to move away from fossil fuels. A suggestion .... something to think about for 2021.

SAFE ROUTES UPDATE
Colin Carritt
A Network for Safe Cycling, Walking
and Public Transport
Bringing Together Villages, People & Communities?
During the November lockdown, (remember that one?) our neighbours in Stonesfield and in Combe wanted a safe bike route for the Marlborough School kids, from their villages to Woodstock. They talked with the people at the Blenheim Estate office and came to an arrangement that allows the pupils to cycle through the park. A safe route, mostly free of traffic, and avoiding using the school bus with all the associated infections risks. Congratulations all round!

Stonesfield and Combe's campaign chimed with what Sustainable Woodstock was trying to do here. With the new housing developments in the town, it was high time that the A44 main road was made safer for pedestrians and cyclists, particularly those from Old Woodstock who have no other means of access to the schools and to the town centre other than to run the gauntlet of the 40 tonners. We want a 20mph speed limit on the A44 and an off-road cycle footpath. We want more pedestrian crossings and more substantial crash barriers.

The people of Bladon have been fighting for a 20mph speed limit through the very narrow and tortuous A4095 that runs through the heart of their popular tourist village.

Hanborough parish is a sizeable community with a popular train station in its midst. But how are commuters to get there other than by car or bus, adding to congestion levels and further dissuading people from an active travel life choice? Hanborough residents are mindful of the new Eynsham Garden Village and want to see safer facilities for cycling and walking in Lower Road as well as a good pedestrian and cycling link between Hanborough and Woodstock.

Wootton is close to Woodstock. Close enough to bike to the shops or to the schools. But do Wootton residents really want to take their lives in the hands on the A44 with its (largely ignored) 50mph speed limit? Woodstock primary school is over-subscribed. Wootton primary school is in danger of closure through lack of pupils and it's a great little school... popular and the new houses in Old Woodstock are within its catchment. All Wootton needs is a safe cycle pedestrian route and hey presto, problem solved.

As for the hamlet of Glympton, it doesn't even have a 30mph speed limit on the B4027, let alone anything more conducive to encourage people to walk or cycle.

As all these campaigns and concerns were being voiced, Blenheim had, quite independently, commissioned a report from an award winning partnership of planners, architects and designers to come up with a "vision" of how the estate's future plans and its relationship with its neighbouring communities might best be developed. The "VeloCity" partnership came up with ideas that dovetail very closely with the aspirations of the communities that surround the Park.

So it made sense for us all to begin to try and work together to make our communities safer and stronger, to encourage the vast numbers of short trips that we all make to be done on foot or by bike. We are not anti-car but we want the balance of need to be tilted back towards the needs of pedestrians and cyclists and to reduce our carbon footprint.

Representatives from all the villages, from VeloCity and Blenheim Estates office met on 25th January to set up a Villages Travel Network to work together, to lobby the County and District Councils and others and to investigate innovative ideas for funding streams, to commiserate when, inevitably, things don't work out, and to jump for joy when they do. More information:

http://www.sustainablewoodstock.co.uk/villages_travel_network.html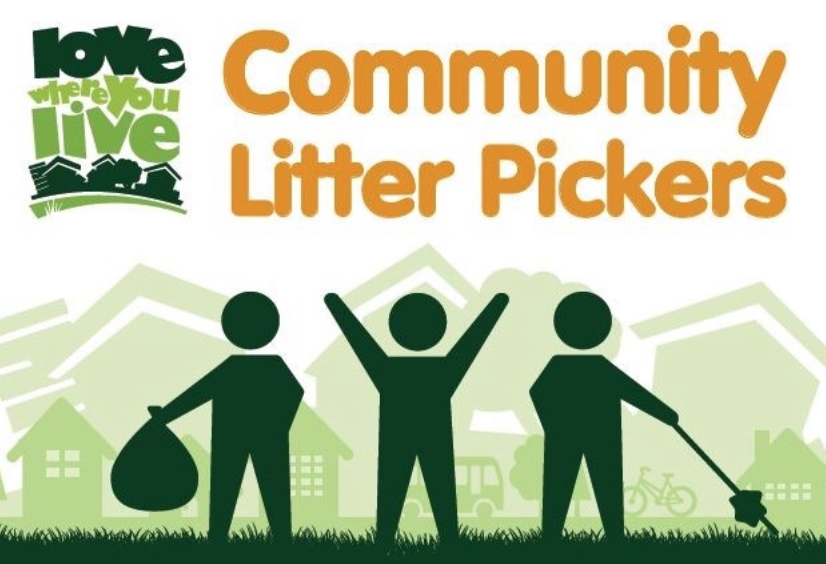 LITTER PICK - CLIMATE ACTION
"It's a really satisfying thing to do because you instantly see the results of your hard work. I feel like I'm doing my bit"
Woodstock volunteers have been making a difference for many years by organising community litter picks. We can still plan to make a difference this year … with some adjustments yes, by clearing litter from outside our homes and our neighbour's when they are less able. You can do this at any time but our community litter pick is usually held in March before the verges start to grow in earnest. If you'd like to take part in a COVID-safe community litter pick and if restrictions allow, get in touch with us …. we have spare litter pickers, bags, etc.
sustainablewoodstockuk@gmail.com
It's such a satisfying thing to do for our community because you instantly see the results. We also stop chemicals leaking from the litter from polluting the nearby water and soil, stop the chemicals from entering animal and human food chains and reduce the possibility of animals and birds being injured or
dying
.
Contact WODC if unsure how to dispose of items
CLIMATE & ECOLOGICAL EMERGENCY BILL (CEE)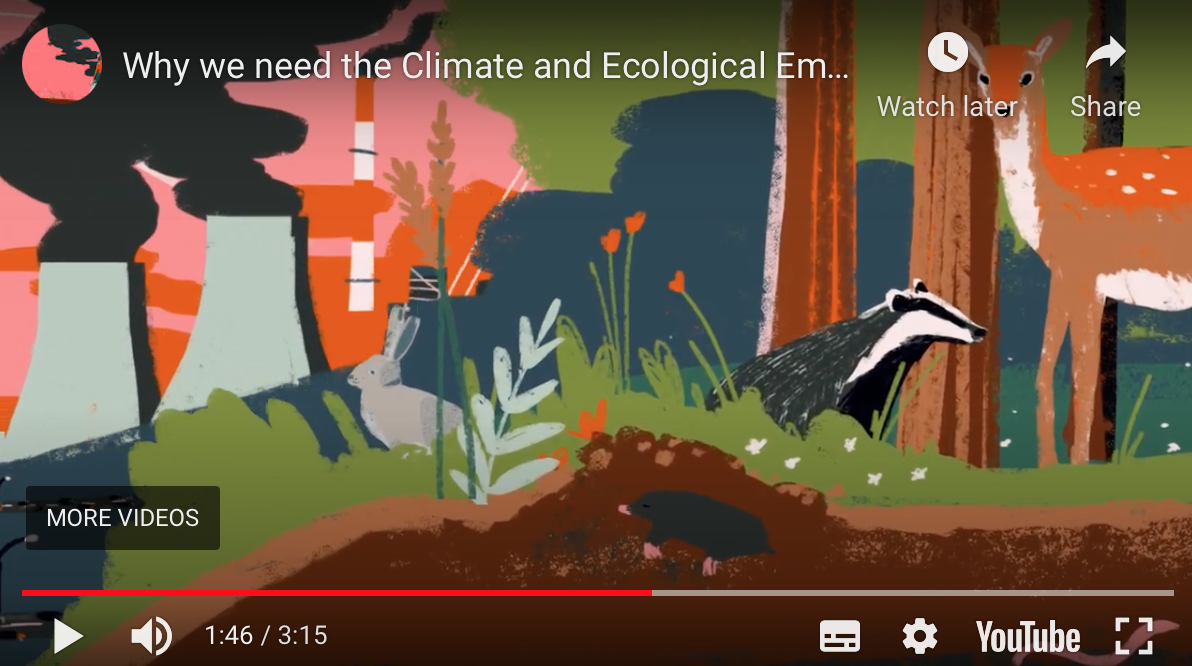 On 12th March 2021 the CEE Bill returns to the House of Commons
CLICK ON the image above to watch a 3 minute video that explains why the CEE Bill is so
important to us all
. We have an emergency and need to make sure our representatives are doing what's needed. It really does work if you contact your MP and let them know about the things that you care about. Thanks to those who have already written or signed the petition or both.

Sign the petition and if you have time ....
please write to your MP.
CLICK HERE
"We are at a unique stage in our history. The future of humanity and indeed, all life on earth, now depends on us"
Sir David Attenborough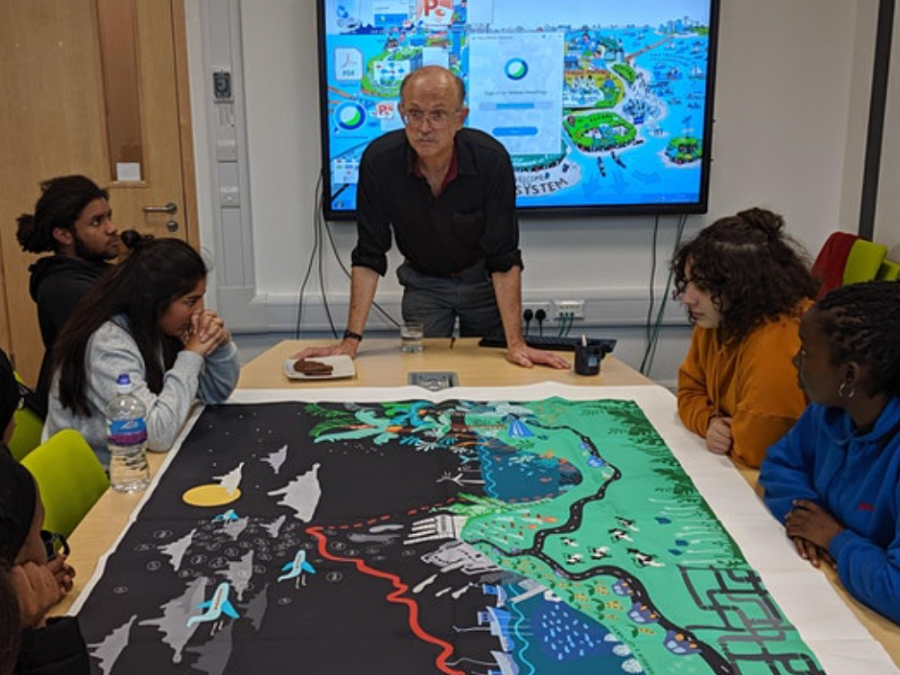 OXFORD CLIMATE CLUB
CLIMATE IN THE SCHOOL CURRICULUM
Free Event Eventbrite - Register Now
Let your children be the future ....check out their website.
Emphasis is on looking forward.

Opportunity for teachers and students to consider how climate change and biodiversity issues can be included in the school curriculum.
Wednesday 3rd Feb 2021.
Biology teacher in conversation with the Conservator for Wytham Woods, the research woodland of the University of Oxford, seeking some new stories from ecology research that biology teachers can put into their biology lessons.
Wednesday 10th Feb 2021.
Educators at the Oxford University Museum of Natural History and Secondary Education Officer at the Oxford University Botanic Gardens in conversation about the resources they provide for teachers.
Oxford Climate Club is creating opportunities for teens and teachers to learn more about climate - the science, the economics, the solutions and the opportunities for future careers.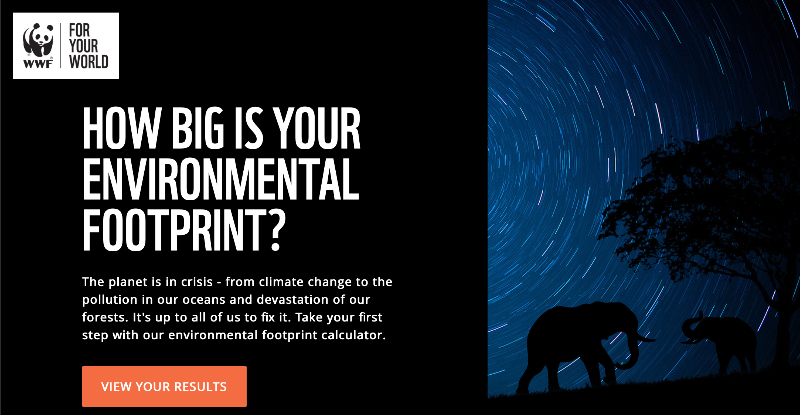 WWF FOOTPRINT SURVEY
It's up to us to fix climate change and the pollution in our oceans and the devastation of our forests. Take the first steps and calculate and learn about your environmental footprint with this footprint calculator. See how you are doing ...
CLICK ON THE WWF IMAGE ABOVE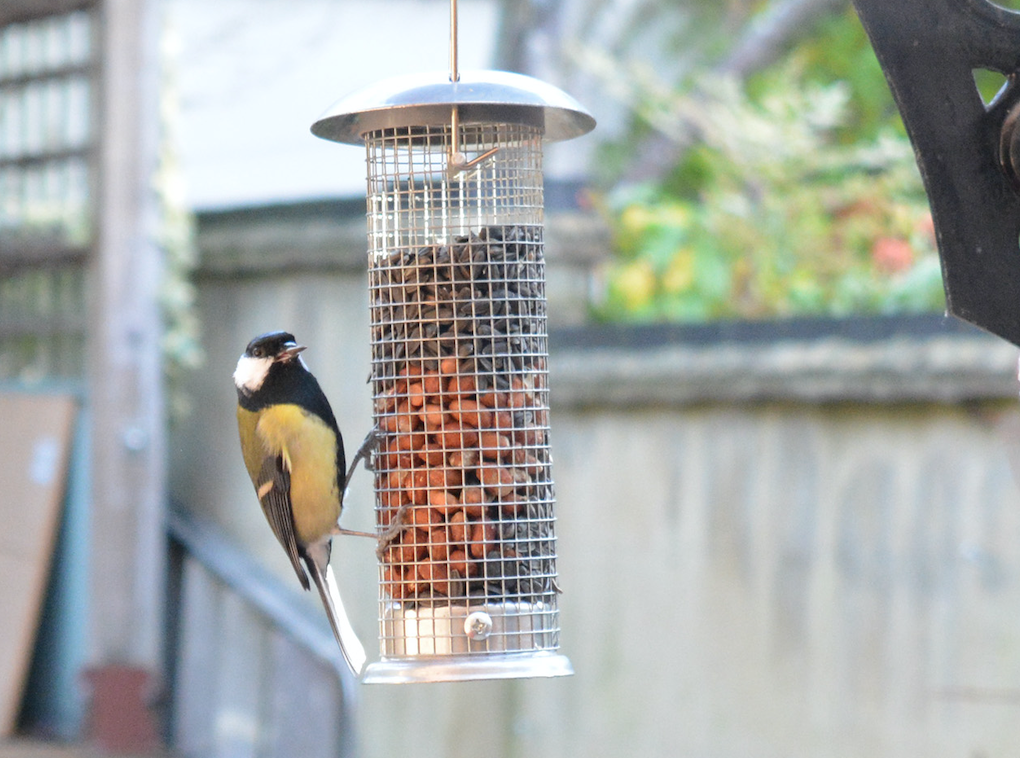 WOODSTOCK BIRDER IN EXILE
Bob Pomfret Woodstock
A month into 2021 and until lockdown eases (soon, I hope) I'm still living down the road in Oxford. These days my birdwatching is almost entirely inside the ring road. Without my regular visits to the OWL Reserve in Woodstock I've become a friend of Aston's Eyott Nature Reserve alongside the Thames in Iffley and do a regular weekly survey of the birdlife. It's quite small and it's the place where everybody goes to walk their dogs and their children. In spite of that the wildlife seems unbothered. Resident tawny owls, great spotted and green woodpeckers are all a joy. Redwings and blackbirds are busy stripping the blackthorn and ivy at the moment, and siskins sometimes join the goldfinches on the alder trees that fringe the River Cherwell where it joins the Thames. Several times I've seen a kingfisher, usually just a flash of electric blue but that's exciting enough for me. This is not a bad place to be locked down.

I'm sure you will all have seen, and maybe joined in with the Big Garden Birdwatch at the end of January. Every year I spend an hour looking to see what birds turn up in the garden. In Budds Close I would expect 20 to 30 birds of ten or a dozen species. This year in our small garden off the Iffley Road it was a little quieter. Two blackbirds turned up for a bit of flirting, and a wren and robin each popped in for a while. Luckily we have two feeders and for most of the hour we were joined by two coal tits, two blue tits and a great tit. I took some photos of each of these little charmers. Our other visitor was the bird feeder saboteur, but he's fluffy and quite charming in his own way. Bob Pomfret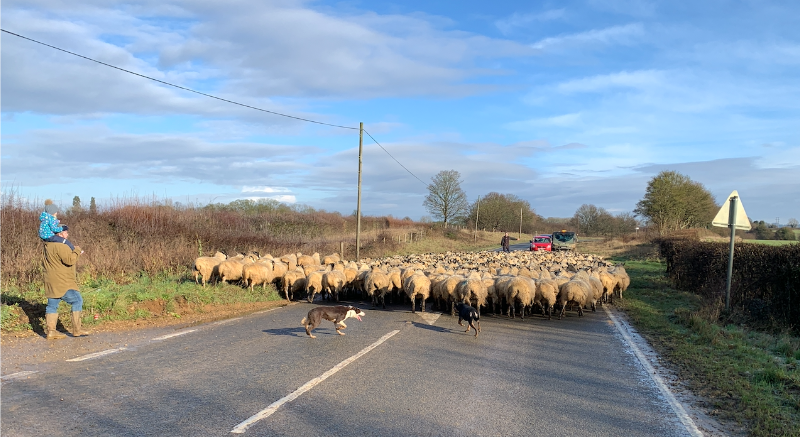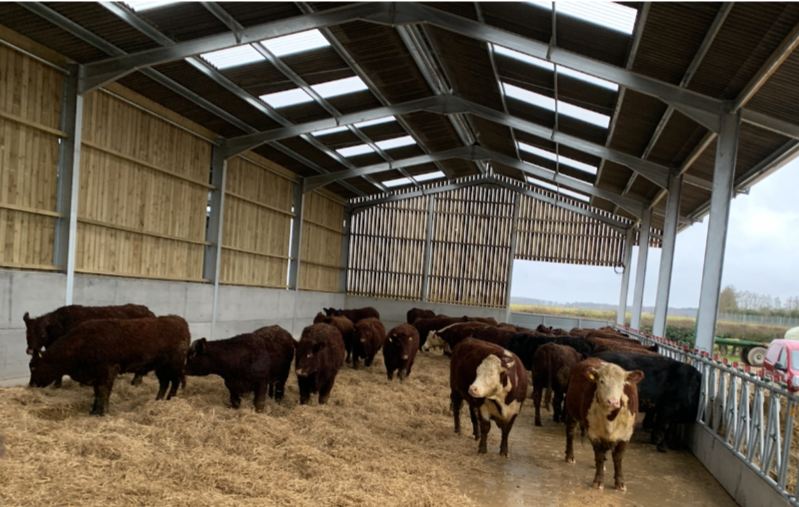 James Price Perdiswell Farm
Here we are, a month into the New Year and it has not started so well. I do hope you and your loved ones are safe and well and that you are starting to get vaccinated, there is a glimmer of light at the end of the tunnel.

January has seen a slow start to the year on the farm, both Sam and George have had some much needed time off with lockdown Mk3 delaying Georges return by a week. I've been busying myself planning and catching up on accounts in the office before escaping to clean something in the afternoons. With the guys both back we hit the ground running though with one moving cow muck and the other cleaning ergot from the final batch of wheat at the contract farm. We have an arrangement with a local stock farmer whereby he has as much straw as he wants and in return we have all his muck. This has many benefits for both sides but principally for me we get lovely cow muck back that is great for the soil and also doesn't contain any weed seeds from anyone else's farm. A visit from our soil guru, Ian, was very worthwhile and proves that, on the whole, the farm is in great shape. Ian and I spent a few hours driving around the farm and digging holes in both planted and unplanted fields. By analysing the profile of the soil we can work out not only what we've got right or wrong but also a strategy for the coming spring. Because our soil is in such good condition we will be drilling direct into the stubbles for most of our spring cereals. All we need now is some dry weather to actually get into the fields.

The best news of the month is that the new cattle shed is finally finished, well almost finished. The roof went on in a few days and the cattle moved in on the 20th, a great relief for us and them. They looked very comfortable on Sunday morning when the snow arrived, unlike me when the phone started ringing with requests for the snow ploughs. We have been clearing snow for a few years now but it's not something I relish, this time of year the last thing I want to be doing is sitting on a tractor at midnight. Sam and George, on the other hand, think it's great fun so I happily delegate to them!

One of my Christmas presents was a bird box with a camera in it and I put it up at the start of the month. Fortunately when I built my house I put wires and ducts in for any future plans, not that I had a birdbox in mind, but connecting it up to the network was straightforward. Two weeks later and my first guest arrived in the form of a Bluetit. She has been back every night since and it's great to login and see her there all puffed up in the dry. Fingers crossed she finds a mate soon and we get to see them with their nest. Once again we have been putting plenty of wheat out in our bird feeders around the fields which helps all the wildlife when we have cold wet weather. If you see the odd blue barrel in the corner of a field or under a hedge then please be assured we're not littering the farm as they are full of wheat. The huge number of fieldfares has been lovely to see again and the starlings have been chattering away around the farm yard this week. My mother and I have a constant game as to who can attract the most birds to their feeders and I have been losing for a few weeks now. Maybe it's because mine are higher of the ground and that little bit more exposed but the peanuts, wheat and fat balls are left completely untouched, even in the snow. If anyone has any suggestions to help me gain the advantage back then I'd be interested to hear.

Looking forward then the next few weeks will see us trying to sort out the many drainage issues that this wet weather is highlighting and also trying to get back on the land to start preparations for spring planting. Here's to February being a better start to the year than January! James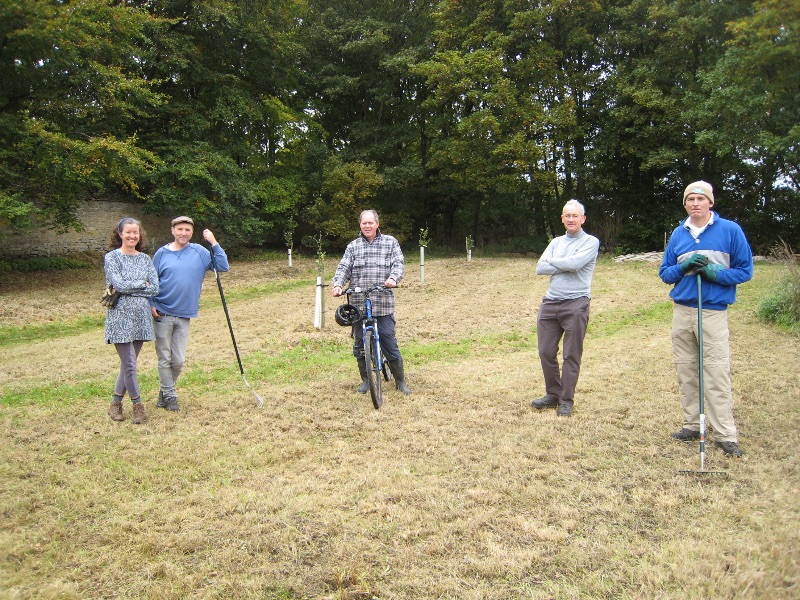 COMMUNITY WOODLAND & ORCHARD UPDATE
GOOD NEWS! - Glorious Cotswold Grasslands have awarded us a small grant to help us to develop our orchard meadow more in order to increase the biodiversity. We need to complete the work before we can have the funding and we need to purchase their locally collected fresh wildflower seeds ..... a sensible approach of encouraging the right plants in the right area. Hopefully, we will encourage a few volunteers to help with scarifying and raking again this late summer ....seems like an age from now.

Not so much activity otherwise right now as we wait for better conditions for spending time in the Community Orchard and Woodland ..... COVID and weatherwise. Wildlife pond still unfinished but will be completed. Winter-pruning of the apples and pears is our next task; pruning
in Winter
establishes the structure of the trees, making it easier to maintain.
If you feel like joining Friends of the Community Woodland and Orchard ... please email us and ask to sign up to be a "possible" volunteer. You're not obliged to come along to "events" ... it's an excellent way to meet new people in your community, make new friends if you're new to our area .... on the other hand if you prefer to work alone ....we can also set you to working alone.
Please stop and say hello if you see us working there and ask away if you have any questions
sustainablewoodtockuk@gmail.com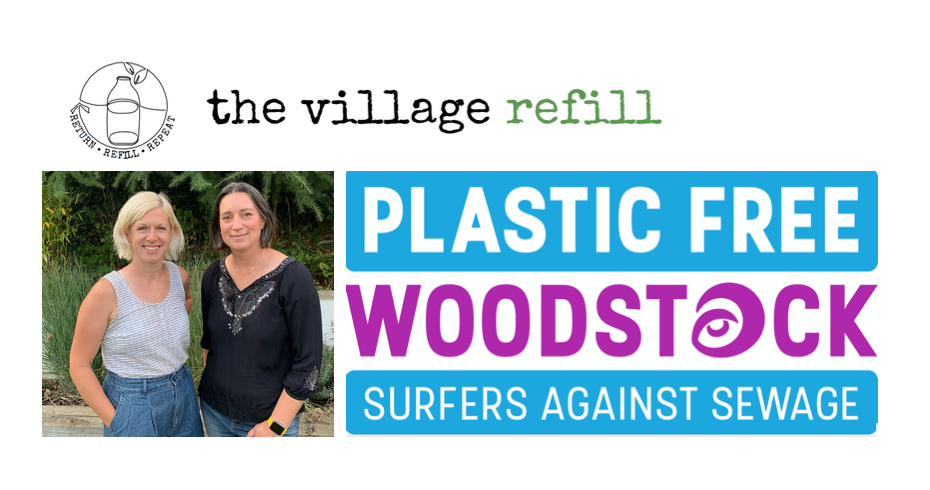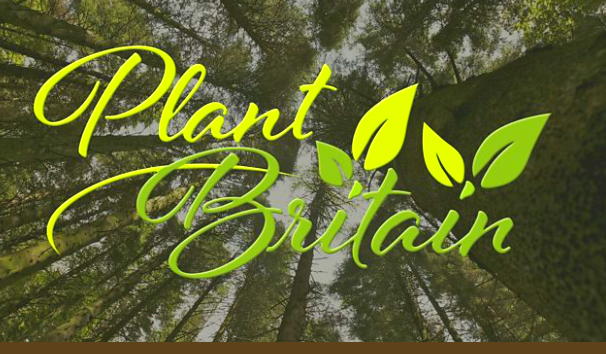 TAKE ACTION & PLANT BRITAIN !
Reduce carbon emissions naturally ... for future generations, wildlife and your own wellbeing.
Add your planting to Countryfile's Plant Britain Interactive M

ap

. Go to their website
HERE
.
If you're renting .... ask your landlord to plant a new tree or shrub for the climate, wildlife and for your wellbeing.
Can You Cut it ... Reducing Hazardous Pollution ?
Hilary Brown
Idling exhausts discharge the same pollutants as moving cars .... pollutants that are linked to serious illnesses including asthma, heart disease, chronic bronchitis, and cancer. Help our environment by switching off your engine and quit idling ... you'll prevent carbon dioxide from being released which is the primary contributor to global warming. Like COVID, you can't see the particles but the carbon dioxide and particles from exhausts seriously affect your health. Please cut your engines….wherever you are.
Dare I say it ..... perhaps we should all be exploring ideas for
excluding most
cars from our town centre? Park & Ride with electric buses servicing the town ... please share your ideas?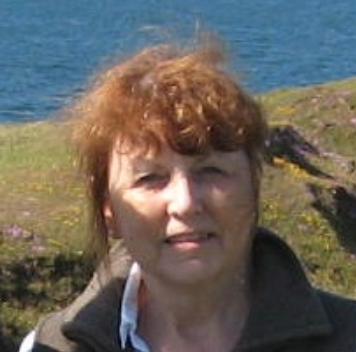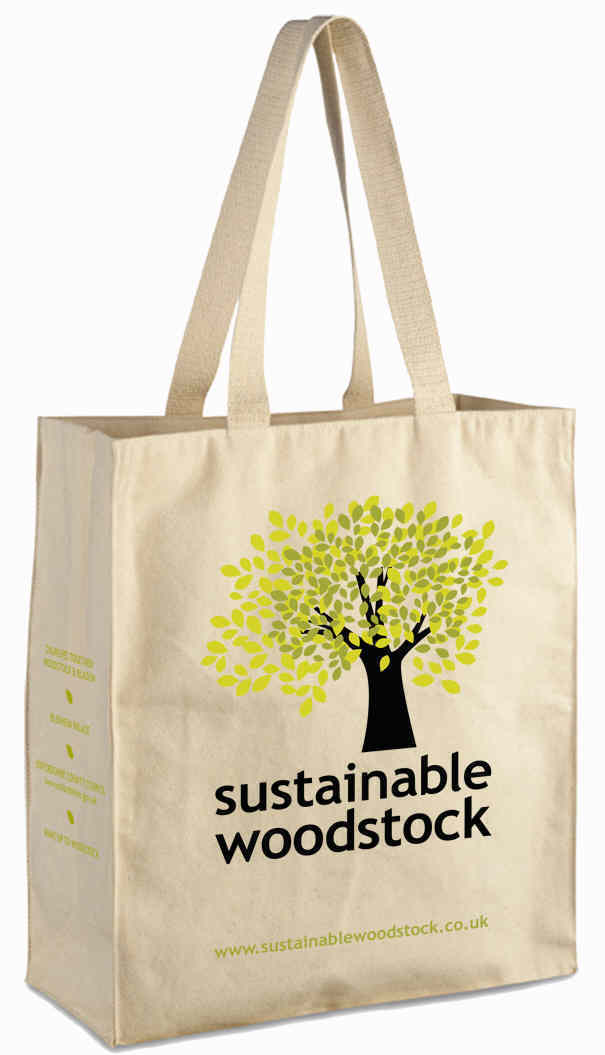 PERFECT GIFTS
Selling our bags to you and local businesses is the only we generate funds for our projects - one at a time is fine by us.
Prices Jute bags @ £2
Canvas large and small Reduced to £3