Sustainable Woodstock Noticeboard and other information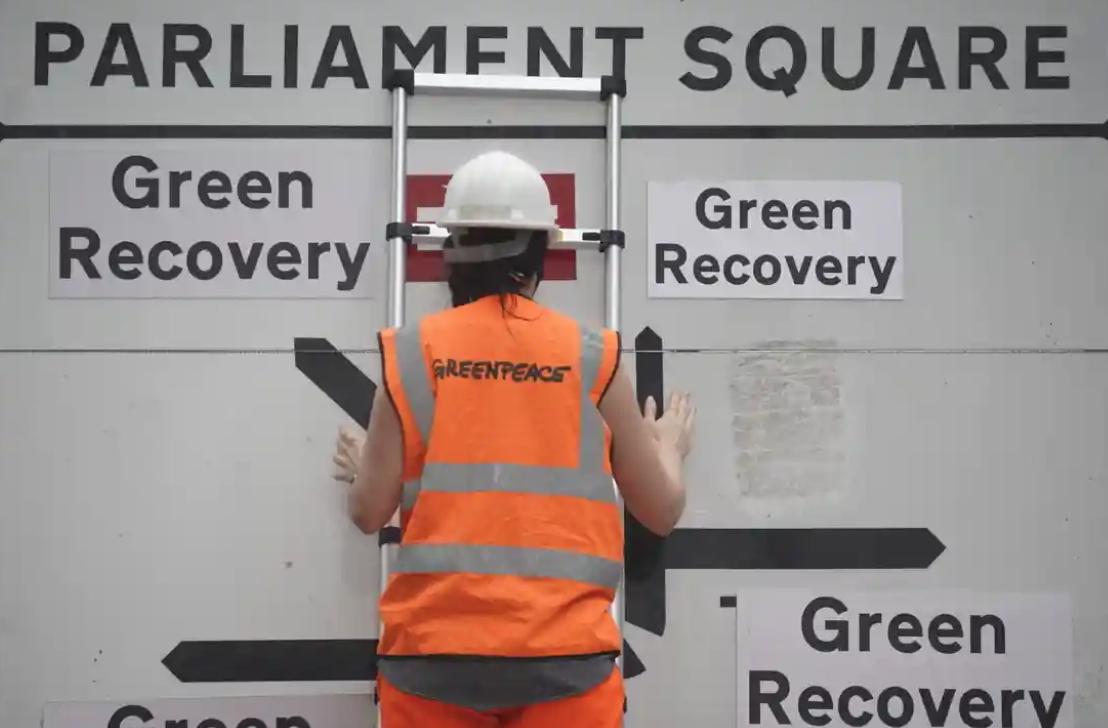 Photograph: Suzanne Plunkett/Greenpeace
Green, Sustainable and Socially Responsible
Investment Ideas
Graham Brown
If you are fortunate enough to be in a position to invest or concerned about the low interest rates in deposit accounts (take the NS&I for example), you may wish to consider a green alternative.

Ethex www.ethex.org.uk is a way to invest positively, to put your money directly into businesses whose missions, impact and outcomes you support. There is a wide range of options from renewable energy, social enterprises and community projects. For example, there is Low Carbon Hub, a local social enterprise which develops and manages renewable energy projects in collaboration with businesses, schools and communities across Oxfordshire. Kirtlington's Village Hall rooftop solar panel array is an example of how Low Carbon Hub can help bring projects to fruition. Low Carbon Hub's 'Current Community Energy Fund' is open to investment until 31st March 2021. As with any investment, take care to read their terms and conditions, it's a suggestion, no guarantees! CLICK HERE to watch a short Low Carbon Hub video.

Or you may be interested in the increasing number of share funds promoting ethical and sustainable investment in socially responsible projects. This has partly come about by governments around the world acting on the Climate Emergency and partly due to public pressure on where pensions and investments are being used .... many for example wishing to move away from fossil fuels. A suggestion .... something to think about for 2021.

Living Between Hurricanes
A film by director Michael Chanan. When the eye of Hurricane Irma passed along the north coast of Cuba in September 2017 it devastated homes, industry, public buildings and agriculture. The Cuban Civil Defence infrastructure is well rehearsed in these situations and quickly evacuated people to safety, restored power, water and cleared wreckage with very little loss of life compared to neighbouring countries. In this excellent documentary Chanan tells the story of the effects of climate change on Cuba and examines the links between the ecology, economic development, tourism and social and political history.
One solution has been the development in Cuba of eco-tourism. The community of Las Terrazas seeks to match the needs of local housing, food production and energy with the tourism demands. Agriculture has been re-thought to apply local technical knowledge to resist the weather.
You can watch the film for free at www.livingbetweenhurricanes.org . The film lasts just over an hour and can be viewed in three parts. Part One: Hurricanes and History. Part Two: Caibarien. The Rise and Fall of a Port. Part Three: Sustainable Futures. Why not watch it all. It's good. But note: When you open the website click on "Watch the whole film". If you click on the video image you just get the trailer!
From The Guardian: 20th November 2019: Bill McKibben


The climate science is clear: it's now or never to avert catastrophe.




Disastrous global heating will soon become irrevocable – but despite politicians' inaction millions are taking to the streets to fight the planet's fever. Read more at:-


https://www.theguardian.com/commentisfree/2019/nov/20/climate-crisis-its-now-or-never-to-avert-catastrophe
From The Guardian: 20th November 2019: Damian Carrington
Fossil fuel production on track for double the safe climate limit.
'We're in a deep hole over the climate crisis and we need to stop digging,' warn experts. Read more at:-
https://www.theguardian.com/environment/2019/nov/20/fossil-fuel-production-on-track-for-double-the-safe-climate-limit
"Fossil fuels subsidised by $10m a minute

", says IMF.




UK has biggest fossil fuel subsidies in the EU, finds commission.

Read more here on our Climate Change page
How much waste do we generate worldwide every year?
a million tonnes?
a billion tonnes?
10 billion tonnes?
Tom Sinclair, Associate Professor in philosophy
at Oxford University, presents devastating forecast for the planet without urgent action on climate change. Well worth listening to, but not for the faint hearted. Watch on YouTube at
https://www.tinyurl.com/xrscience
.
If schools fail to address the global emergency

,

students will see education as increasingly irrelevant, says Fiona Carnie of TES, an education business supporting teachers, school staff and schools.
https://www.tes.com/news/8-things-schools-can-do-tackle-climate-crisis
Like jokes, sometimes the old ones are the best!
Now that our Sustainable Woodstock Chair, Hilary Brown, is enthusiastically producing a first rate monthly newsletter (copied on the Home page), this noticeboard page will now be used to provide older items of long term news interest.
So browse through and read whatever takes your fancy:-
Sustainable Woodstock is Ten Years Old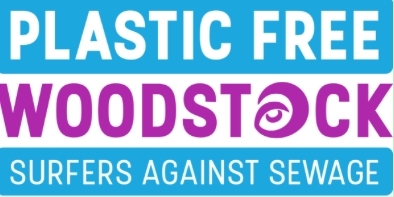 So what have we done since the group was set up at the end of 2008?

First off, we established our local profile through our Sustainable Woodstock long life shopping bags. Ditching the plastic bags habit has been a long term project for Sustainable Woodstock and so now we are working to become a "Single Use Plastic Free Town".
And In 2009 ...............
we acquired a free lease to plant a Community Woodland of 1600 native trees. It is now maturing and is a haven for wildlife. In 2017 we extended it with 80 fruit trees of local varieties, so we now have a Community Woodland and Orchard.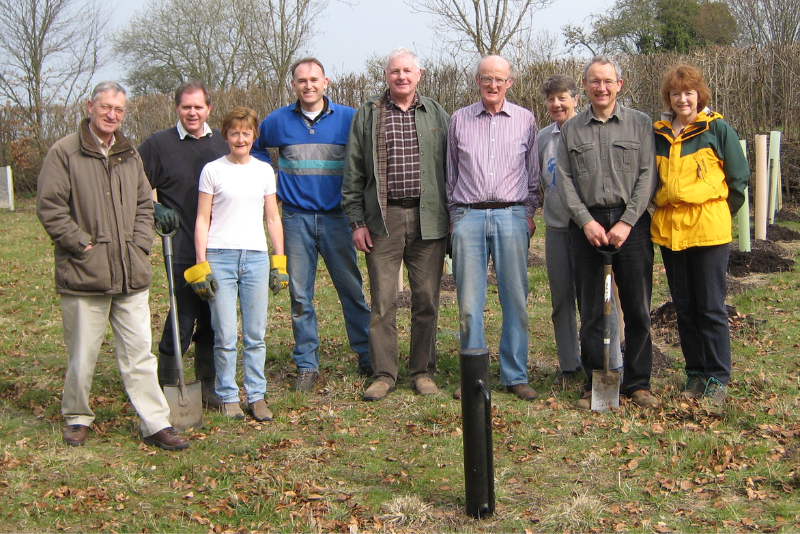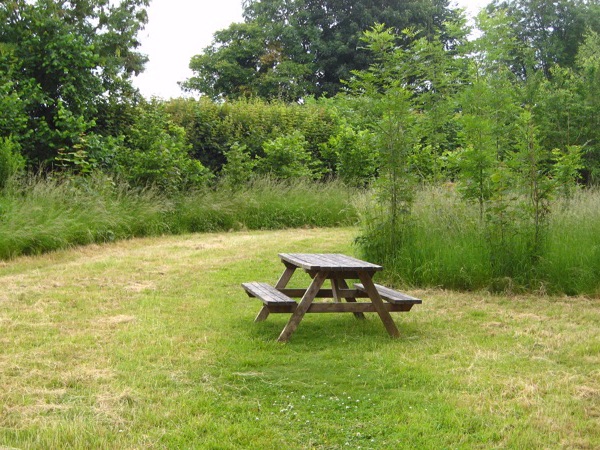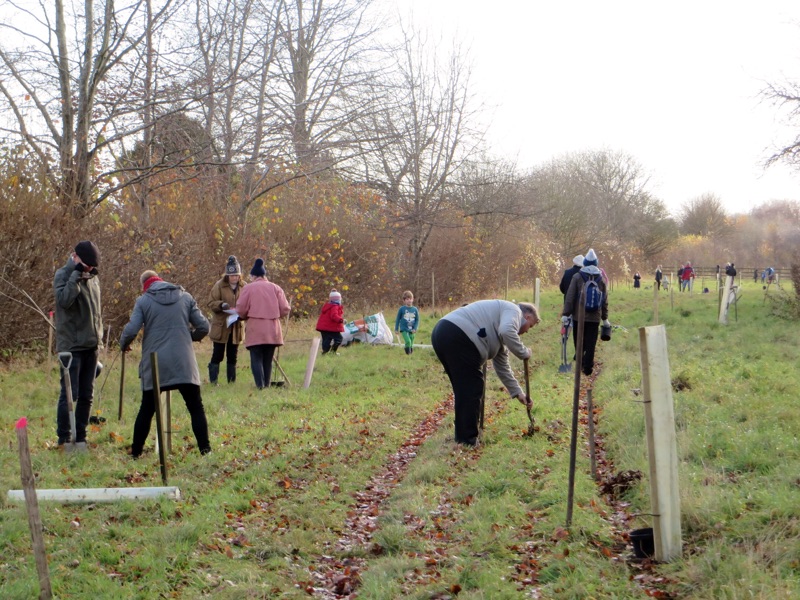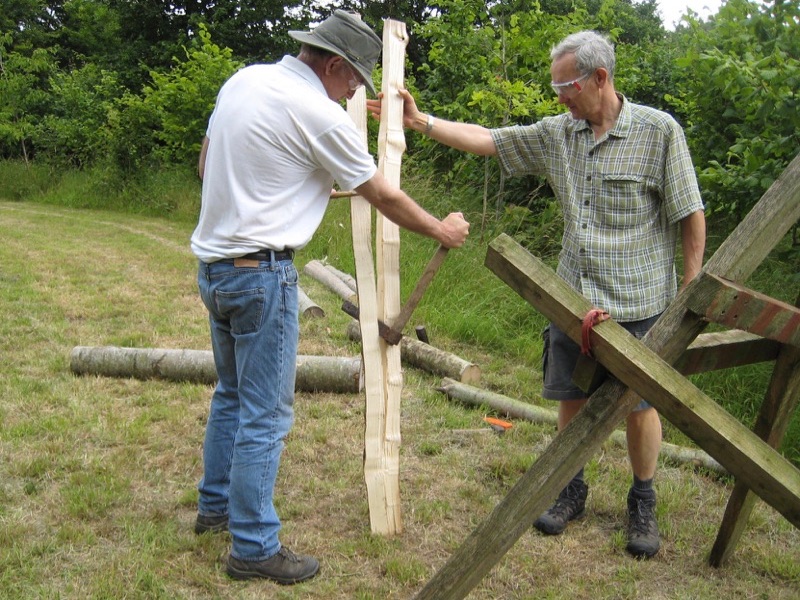 And Early in 2012 ................... .....a hardy band of Sus Woo volunteers braved the winter weather to offer a heat loss service to local householders. We had the loan of a thermal imaging camera and presented them with pictures showing where their homes were leaking energy (and money!).

Still on the energy conservation theme, we formed a consortium with other sustainability groups and established a "preferred installer" service for residents wanting to generate their own electricity from roof mounted photo-voltaic panels. Those taking up the offer still enjoy a valuable government incentive payment for the energy they generate.
And For several years........................ .....we held "Swap Shops" at the Community Centre where residents brought items they no longer wanted and others for whom the item was just what they had been looking out for, took them away. By so doing many kilogrammes of items that would otherwise have ended up at the refuse tip were found a useful second life

Other News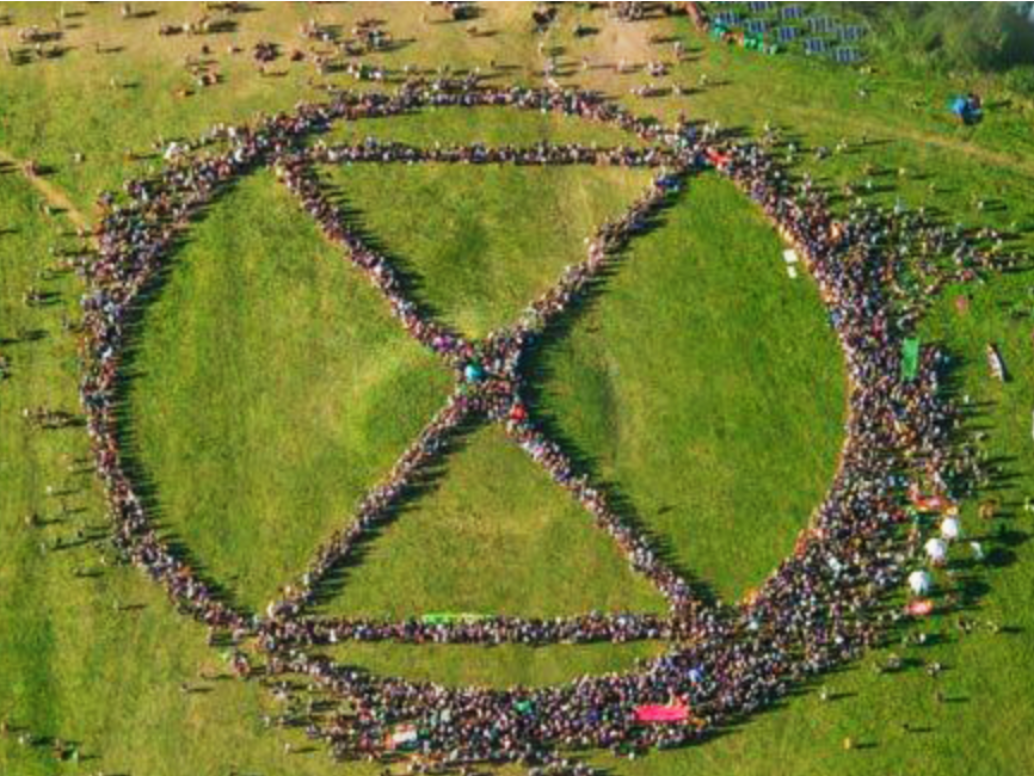 In September, a few of us visited Charlbury for a Extinction Rebellion presentation (XR in short) in Charlbury given by Prof. Tom Sinclair (philosophy, Oxford) and English teacher, Megan Murray-Pepper. A packed audience of 130 people and not one spare seat … and all keen to hear balanced information produced by independent experts on the "climate emergency and what to do about it". It was a tough message to hear followed by an hour long Q&A session where interesting views were exchanged and views respected. We strongly recommend that you find an XR presentation so you have all the facts. It seems that while voting, lobbying and petitions have made some difference, a greater change has to happen right now. Experts believe that governments around the world need to start by telling "the truth" about the climate emergency and need to start acting NOW. I hope you can find some time in your busy schedules to find out more.

There are ongoing presentations in Oxfordshire (see poster below) and we think it would be good idea if Woodstock Town Council hosted a presentation in the very near future. A collective audience is best so you can listen and exchange views but if you really can't make a talk then view the presentation by Tom Sinclair on YouTube at (Please Note: It's NOT suitable for young children).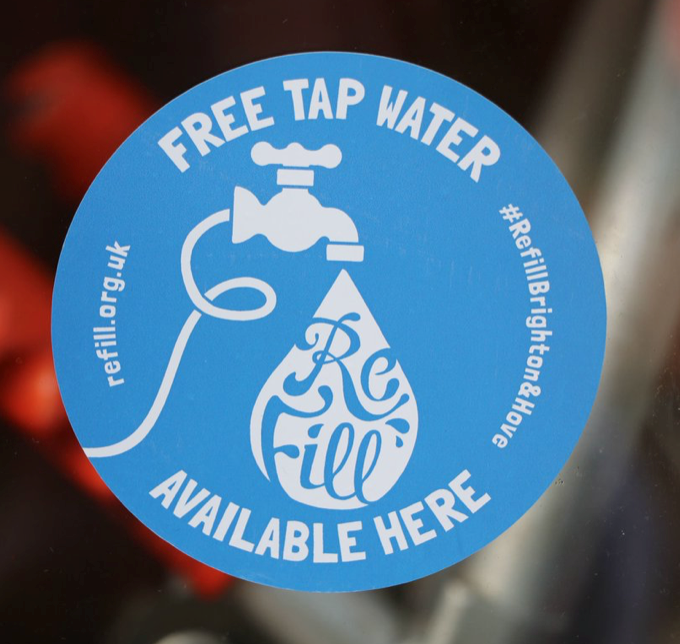 Thanks
Oxfordshire Museum, King's Arms & The Woodstock Bookshop
for Offering Water Refills.
Helping us kick the plastic
Join the Refill Revolution!
Refill is an award-winning campaign to prevent plastic pollution at source by making it easier to reuse and refill your bottle instead of buying a new one.
If you are a Woodstock business and wish to offer refills go online
https://refill.org.uk
. If you're feeling inspired, download the
Refill app
and make refilling the new normal!
Producing bottled water creates 500 times more CO2 than tap water. That's why Refill Oxford has created a network of Refill stations where you can fill up your water bottle for free to reduce plastic pollution. Look out for a business with Refill stickers. There are now over 14 thousand Refill stations all over the UK and if Woodstock restaurants, schools, cafes or pubs would like to sign up to be a Refill station and help reduce plastic pollution just email refill.oxford@gmail.com and they'll do the rest.

Refill Oxford is part of City to Sea's national campaign to promote the use of free tap water to reduce plastic waste. In Oxford, there is a network of nearly 150 Refill stations in places such as cafes, bars, pubs, restaurants, bus stations, hospitals, community centres and hairdressers all over the city. So now you can refill your water bottles whenever you need to, rather than buying a new plastic bottle.

Save money, stay hydrated and prevent plastic pollution at source by using the free Refill App on the go, OR look for the Refill droplet in shop windows. This will dramatically reduce the use of the billions of single-use plastic water bottles bought in the UK every year.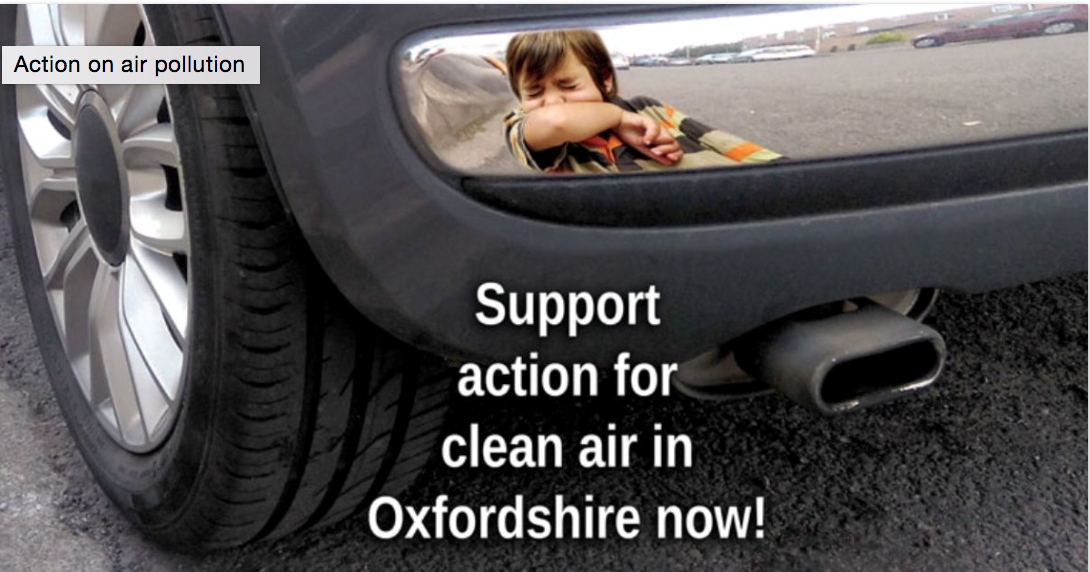 Engine's Running - Stop Now
We all have a right to breathe clean air.
Recently but not during the recent high temperatures......3 out of 4 cars outside of school were running their engines for air-con. Most seemed young enough and seemingly healthy enough to get out of the car and wait in the shade. How many too in car parks.... keep their engines running for air con or heating. It's polluting even when you can't see the gases and particles. It is really damaging our lungs and health. Please remind your families.
"We all have a right to breathe clean air. However, across the UK illegal and here in Oxford harmful levels of air pollution are damaging people's health and their quality of life and cutting lives short." It doesn't have to be this way.
Allotment Plots Now Available in Woodstock.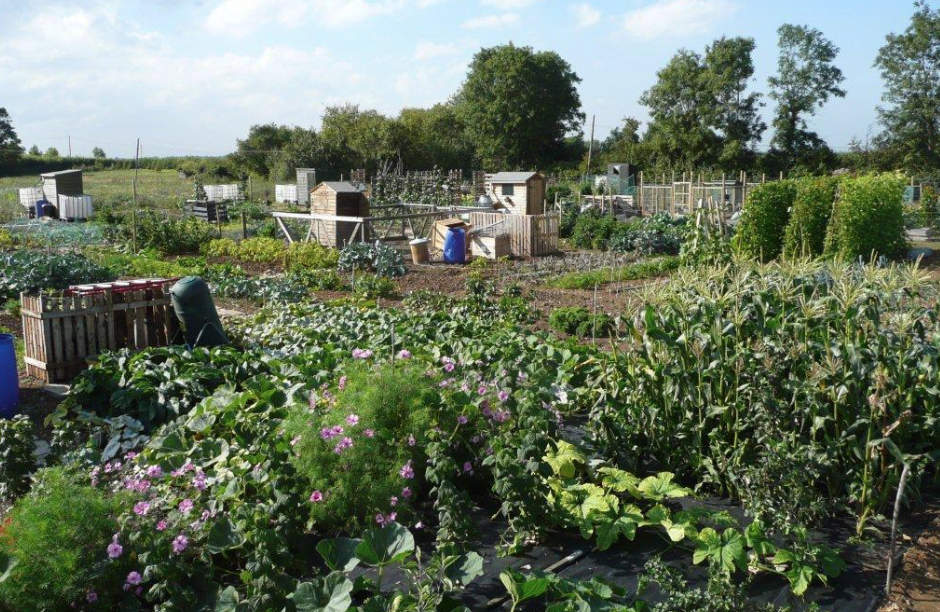 Gardening is good for your health and your wellbeing and can be good for your social life too. And of course can provide you and your family with fresh fruit and vegetables over the year. You can choose to garden organically and avoid ingesting chemicals that are likely to be present on shop bought fruit and vegetables.
Woodstock Allotment Association
The waiting list for new applications is now open to people living in Woodstock. The rents are reasonable, water is available on site and all plot holders are made members of the National Allotment Society where items such as seeds, etc. can be bought at discounted rates. If you are interested you can apply to the Town Hall or directly to
raykinch@bt
internet.com

Bags.
Did you know that 50% of us are still asking for bags at the Coop
..... shame on us.
Try to ensure your events are single-use plastic free
Let's see if we can reward your business with a Plastic Free Champion certificate. We'll soon be visiting or revisiting your businesses, schools, etc to see how many changes have been made .... sharing problems and good news. What changes have you made to reduce your use of single-use plastic?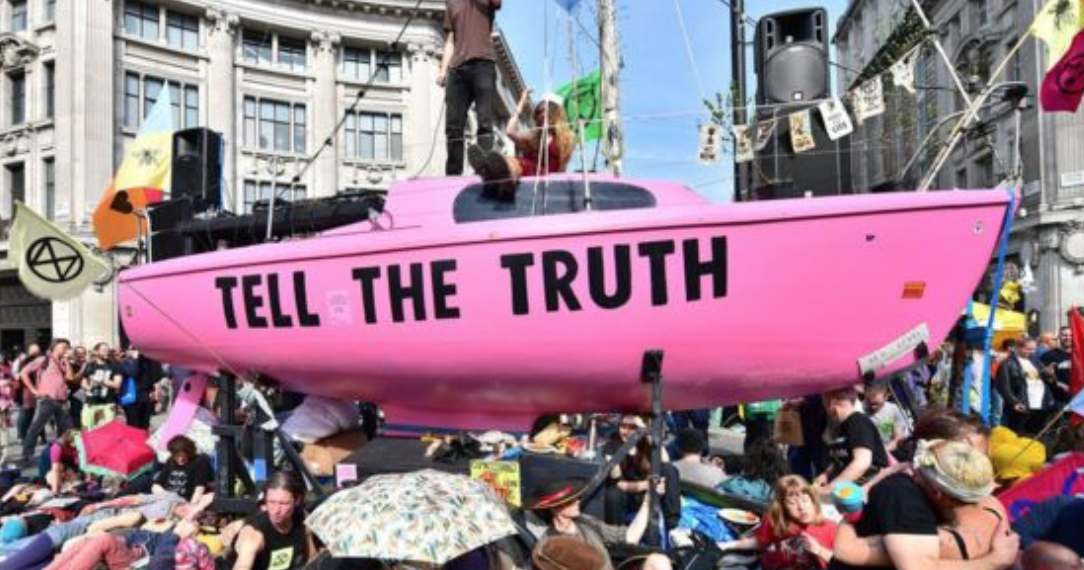 Extinction Rebellion XR What does it Mean?
Climate Change - the Facts
The public are waking up to the scale of the climate change crisis and pressure is now growing on politicians to act. Thanks to all those climate change activists who have sent their own time trying to speed up effective change that will make a difference to all our futures. If you think you don't understand climate change, how it affects us all and what we should all do now, then watch the recent David Attenburgh programme Climate Change - the Facts. Set aside, just an hour of your time to watch this programme that shows the result of inaction but what actions we can do to ensure that we and future generations have a future.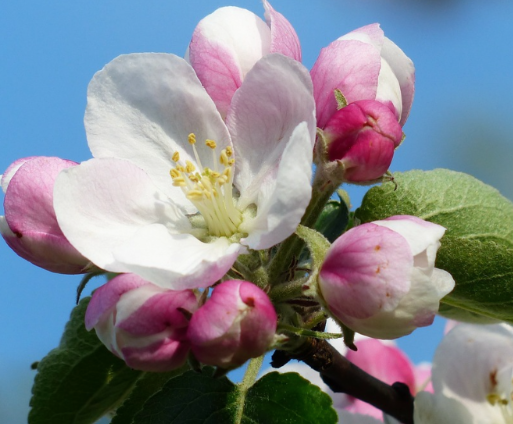 Sponsor a Tree in our Community Orchard?
Over 50% now sponsored. You can sponsor a tree as a group, with friends, colleagues. You will receive a certificate and can dedicate if you wish.
How to Pay?
Costs £30 (single payment)
1) BACS payment.
2) Cheque
For details contact as below.
Questions ? Call 01993 811975 or email sustainablewoodstockuk@gmail.com
insert content here