Climate Change
You can hear the three 2020 Reith Lectures delivered by Bank of England governor, Mark Carney at

https://www.bbc.co.uk/sounds/play/m000qkms
In the final episode How We Get What We Value From Climate Crisis to Real Prosperity, Mark Carney says:-
CO2 levels highest for over 800,000 years

Global temperature already 1 degree above pre industrial revolution. Last 5 years hottest on record

Oceans 30% more acidic than pre industrial revolution levels

Sea levels 20cm higher over past century (the rise has doubled in last decade)

Polar ice loss has tripled in last 10 years

Extreme weather events are now commonplace

We are now entering the 6th mass extinction

The last 50 years has seen loss of specieds diversity by up to 70%
But society is beginning to sit up and take notice and we need governments, business and finance to follow
To stabilise the climate we need to get to zero carbon

there is a recognised urgency but there is also complacency through consumerism and that is echoed in business and financial institutions.

Market failures through self-interest undermines the common good and can be catastrophic

Solutions require capital intensive re-engineering of the infrastructure towards a zero carbon business model

Such a model will provide massive new employment potential

Governments must lead and recognise societies burgeoning concerns about climate change

Financial institutions must provide the wherewithall to promote the capital investment and government policies

Every financial decision must take into account net carbon zero requirements

"Value must reflect Values"

All this requires more transparency of reporting; investors should have a say on sustainability as well as board room pay; investors should decline to invest in high carbon businesses; carbon offsets must be meaningful and carbon pricing realistic
LISTEN TO THE FULL BROADCAST ON BBC SOUNDS https://www.bbc.co.uk/sounds/play/m000qkms
Sustainable Woodstock

member and International lead at Global Strategic Communications Council, Ed King

, writes on the

Oxford based Climate Outreach report "Britain Talks Climate" - read Ed's take on the report and then read it in full here ....
Boris Johnson announces 10-point green plan: November 2020
The 10-point plan comprises:
A ban on combustion engine sales by 2030, with grants for electric cars, and funding for charge points. The sale of some hybrid cars and vans will continue until 2035.

A previously announced pledge to quadruple offshore wind power by 2030, to 40GW, enough to power every UK home.

Moves to boost hydrogen production, with the promise of a town heated entirely by hydrogen by the end of the decade.

Investment of £525m towards new nuclear power, based on "the next generation of small and advanced reactors".

£1bn next year for funds to insulate homes and public buildings, using the existing green homes grant and public sector decarbonisation scheme.

An extra £200m invested in carbon capture initiatives.

Support for greener energies in the aviation and maritime sectors, with £20m committed to the latter.

30,000 hectares of trees planted every year, as part of nature conservation efforts.

Moves to promote public transport, cycling and walking, although no new schemes were announced.

A pledge to make London "the global centre of green finance".
Greenpeace are calling it "a historic turning point for action on climate change" and WWF's CEO said:
"Today the Government has fired the starting gun on the action we need to see to really transform our transport, homes and economy to overcome the climate and nature emergency. The more we drive down emissions now, the more we will reap the rewards not just in tackling this crisis but in good jobs, cleaner air and a competitive edge for UK businesses in the growing global clean economy.
"We now need the Chancellor to live up to the ambition expressed today through a Spending Review that tests every line of public spending to ensure its compatible with meeting our climate goals. And as we replace EU farm subsidies, the Government must recognise and reward our farmers for their potential to be the frontline heroes of this emergency – because how we produce food will make or break our climate efforts."
Sustainable Woodstock member Ed King said, "My steer would be that it's better than we expected and better than anything that's come before: the cars stuff is genuinely game changing but the overall level of investment is underwhelming compared to what's required to be on track for net zero... so some good, some bad, but the bus is moving the right way!"
Alternatively, why not take a look at Ruth Davis' vision for a 10 point plan for bio-diversity at


https://ruthswriting.wordpress.com/2020/11/19/a-ten-point-plan-for-nature/

Ruth is a writer, campaigner, political analyst and conservationist with over twenty years' experience in the environment sector.
What Should the Post-COVID "New Normal" Look Like?
From The Guardian 18th June 2020.
The world has only six months in which to change the course of the climate crisis and prevent a post-lockdown rebound in greenhouse gas emissions that would overwhelm efforts to stave off climate catastrophe, one of the world's foremost energy experts has warned.
"This year is the last time we have, if we are not to see a carbon rebound," said Fatih Birol, executive director of the International Energy Agency.
"The next three years will determine the course of the next 30 years and beyond," Birol told the Guardian. "If we do not [take action] we will surely see a rebound in emissions. If emissions rebound, it is very difficult to see how they will be brought down in future. This is why we are urging governments to have sustainable recovery packages."
In a report published on Thursday, the IEA – the world's gold standard for energy analysis - set out the first global blueprint for a green recovery, focusing on reforms to energy generation and consumption. Wind and solar power should be a top focus, the report advised, alongside energy efficiency improvements to buildings and industries, and the modernisation of electricity grids.
Creating jobs must be the priority for countries where millions have been thrown into unemployment by the impacts of the Covid-19 pandemic and ensuing lockdowns. The IEA's analysis shows that targeting green jobs – such as retrofitting buildings to make them more energy efficient, putting up solar panels and constructing wind farms – is more effective than pouring money into the high-carbon economy.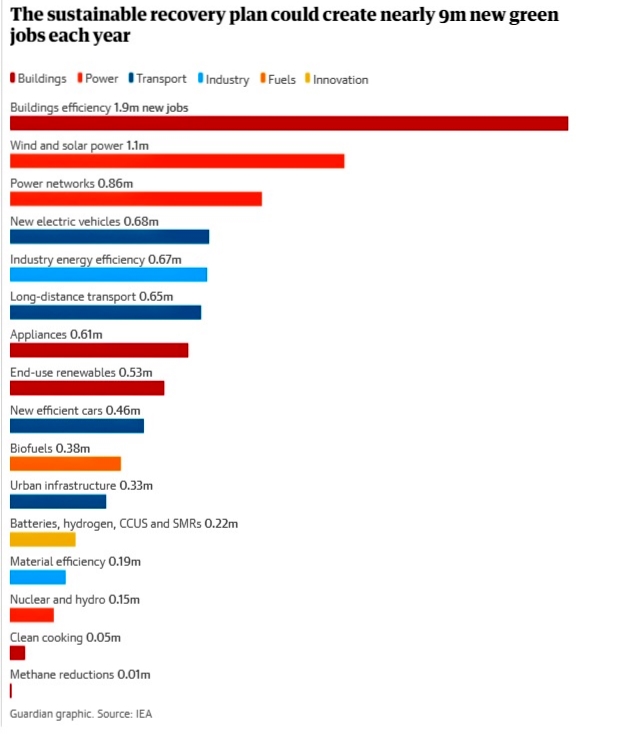 Climate Crisis
Banks are Pumping $2.66tn into extracting fossil fuels - From The Guardian weekly 27 March 2020
The world's largest investment banks have funnelled more than $2.66 trillion into fossil fuels since the Paris Agreement, new figures show, prompting warnings they are failing to respond to the climate crisis.
The US bank JP Morgan Chase, whose economists last month warned that the climate crisis threatens the survival of humanity, has been the largest financier of fossil fuels since the 2016 agreement, providing over £255 billion of financial services to extract oil, coal and gas. Analysis of the 35 leading global investment banks, by an alliance of US based environmental groups, said that financing for the companies most agressivey expanding in new fossil fuel extraction since the Paris agreement has surged by nearly 40% in the last year.
Using financial data and other sources to analyse loans, equity issuances and debt underwriting services from 2016 to 2019, the study was published in the Banking on Climate Change 2020 report. Although the last 12 months has seen many investment banks announce restrictions, the report warns that the business practice of financial institutions are not aligned with with the Paris Agreement.
"If world leaders choose to fail us, my generation will never forgive them" - Greta Thornberg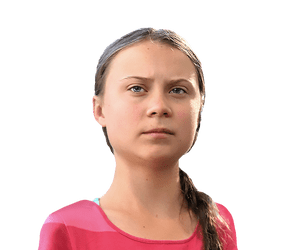 "This is all wrong. I shouldn't be standing here. I should be back in school on the other side of the ocean. Yet you all come to me for hope? How dare you! You have stolen my dreams and my childhood with your empty words. And yet I'm one of the lucky ones. People are suffering. People are dying. Entire ecosystems are collapsing. We are in the beginning of a mass extinction. And all you can talk about is money and fairytales of eternal economic growth. How dare you!
For more than 30 years the science has been crystal clear. How dare you continue to look away, and come here saying that you are doing enough, when the politics and solutions needed are still nowhere in sight.
With today's emissions levels, our remaining CO2 budget will be gone in less than 8.5 years
You say you "hear" us and that you understand the urgency. But no matter how sad and angry I am, I don't want to believe that. Because if you fully understood the situation and still kept on failing to act, then you would be evil. And I refuse to believe that.
The popular idea of cutting our emissions in half in 10 years only gives us a 50% chance of staying below 1.5C degrees, and the risk of setting off irreversible chain reactions beyond human control.
Sustainable Development Goals
Which country is the most sustainably developed country in the world? Read on .....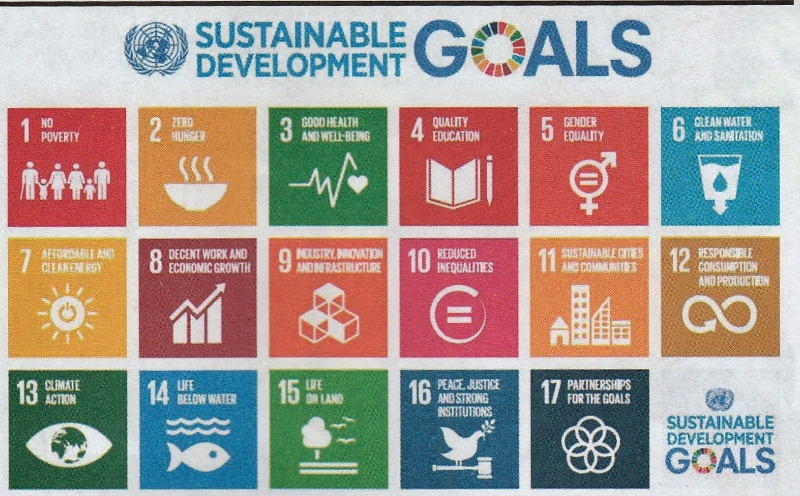 The Sustainable Development Index is calculated by dividing a nation's "human development" score (which looks at life expectancy, health and education) by its "ecological overshoot" (that is the extent to which a nations per capita carbon footprint exceeds the earth's natural limits). Countries with strong human development but high environmental impact (like the US, UK and most of Europe) score less well. Countries that have poor life expectancy and literacy rates also score less well even though they may have a low environmental footprint.
The countries that do best are those with good health and educational wellbeing AND whose carbon footprint is low.
Based on the most recent figures, from 2015, Cuba tops the list with a score of 0.859.
And how do we fare?
Britain is in 131st position while the US is in 159th position out of a total of 163 counttries
MUST DO BETTER!
More data from www.sustainabledevelopmentindex.org

MORE QUOTES:-

"The world is facing a climate catastrophe and businesses around the world must address it urgently or face the ultimate sanction for a public company, shareholders who refuse to back them any more".

Legal and General Investment Management

That is not a message from an environmental action group but from the largest money manager in the UK, Legal & General Investment Management, which manages £1 trillion worth of UK pension fund investments.

Its climate warning was the top of a list of concerns about the way companies are run.

Other red lights included the level of executive pay, lack of diversity in senior corporate roles, the role (and cost) of political lobbying and the poor quality of the financial information provided by auditors.

So who's listening?

Fossil fuels subsidised by $10million a minute, says IMF:
UK has biggest fossil fuel subsidies in the EU, finds commission

Switching just some of the huge subsidies supporting fossil fuels to renewables would unleash a runaway clean energy revolution, according to a new report, significantly cutting the carbon emissions that are driving the climate crisis.

Coal, oil and gas get more than $370bn (£305bn) a year in support, compared with $100bn for renewables, the International Institute for Sustainable Development (IISD) report found. Just 10-30% of the fossil fuel subsidies would pay for a global transition to clean energy, the IISD said.

The new analysis shows how redirecting some of the fossil fuel subsidies could decisively tip the balance in favour of green energy, making it the cheapest electricity available and instigating a rapid global rollout.

"Almost everywhere, renewables are so close to being competitive that [a 10-30% subsidy swap] tips the balance, and turns them from a technology that is slowly growing to one that is instantly the most viable and can replace really large amounts of generation," said Richard Bridle of the IISD. "It goes from being marginal to an absolute no-brainer."

The transition from polluting fossil fuels to clean energy is already under way. But progress is slow compared with the urgency required, said Bridle. "There is no question that renewables can power the energy system," he said. "The question now is can we transition quickly enough away from fuels like coal, and subsidy reform is a very obvious step towards that."

Reform of fossil fuel subsidies could have a significant impact on global heating. An earlier IISD study of 20 countries with large fossil fuel subsidies found that a 30% swap to renewables would lead to emissions reductions of between 11% and 18%.

Fossil fuel subsidies are most prominent in oil-producing nations such as Saudi Arabia, which subsidises petrol, and some coal-using countries such as Indonesia, which caps the cost of the fuel at 75% of the market rate. Some nations are making progress, with India cutting petrol subsidies by about 75% since 2014, according to the IISD
Generation Gap?
A PERSONAL VIEW FROM COLIN CARRITT, FOUNDER AND VICE CHAIR OF SUSTAINABLE WOODSTOCK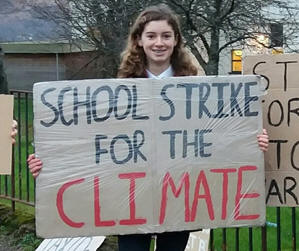 With Climate Change as with Brexit, there's a sense of a younger generation looking to their future versus an older group who still see life through some nostalgic golden age of Britain striding the world. If it was ever the case it was achieved over the backs of the sweated labour we exploited in our colonies around the world - all those pink splodges on the world atlases of our youth.
And as for climate change, the young really do get it. They foresee the crisis that will lead to mass global migration; the inundations of swathes of the world's great coastal cities; the millions of acres of wildfires and drought; the loss of pollinating insects that fertilize our food production; the endless exploitation of the world's natural resources that can never be replenished. They see it. They really do get it.
<![if !vml]>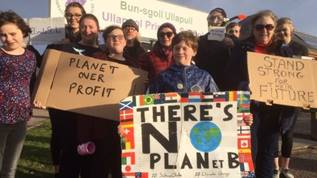 <![endif]>
And us? The Oldies (yes, I'm one)? Our mortgages paid, our pensions flopping through the letter box every month as reliably as the ten o'clock news. Do we get it? "It'll be alright," we say, "Technology will find a solution. The UK weather might be a bit less cold, so what? It'll save that fortnight in February in Tenerife."
But technology won't find a way. Technology won't stop the permafrost from melting; won't stop the release of billions of tonnes of methane into the atmosphere that has been safely trapped in the ground since the last ice age; won't stop global temperatures rising more than two degrees which will precipitate the very worst predictions of climate change; won't stop the biggest refugee crisis the world has ever witnessed, as millions seek a better life in a safer country.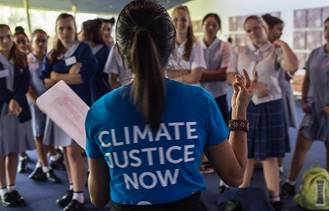 So yes, the young people who are downing their books and pens and leaving their school lessons to protest at the inaction of my generation to do something positive to address the crisis of climate change is commendable. Actually, it's not merely commendable, it's HEROIC. It's heroic and it deserves a response.
It demands the response of a massive switch from fossil fuels to renewable energy. It demands a reconfiguration of food production away from meat and dairy towards cereal, fruit and vegetables. It demands a switch away from the economics of growth and consumerism towards sustainability, cooperation and job creation. Above all it demands fairness, a closing of the equality gap, a recognition that no matter where they come from, the citizens of the world are our brothers and sisters and we reject them at our peril.
Colin Carritt
What will BREXIT mean for Climate Change and Sustainability?
The UK government won praise six months ago for taking a leading role in the Paris climate change conference which, for the first time, reached a legally binding agreement on cutting carbon emissions. With the Bexit vote the UK's future participation is called into question. But more seriously the Leave campaign's victory provides succour to those groups who oppose climate change action. It could conceivably delay the ratification of the Paris agreement beyond the date of the US election and, God forbid that Trump should win that particular race, a change of President in the US could scupper the agreement altogether. Jonathan Grant, director of sustainability at PwC said, "[the referendum outcome] is a major setback for the type pf collaboration needed to tackle global environmental issues such as climate change. The UK government has been a champion of climate action at home, within the EU, and in Paris. This leadership is now at risk, with many supporters of Brexit also opposed to climate policies such as carbon taxes and efficiency standards."
The Committee on Climate Change's (CCC) annual progress report said that emissions from electricity generation were falling fast but pollution from transport was rising and action on cutting carbon emissions from homes has gone backwards. National carbon emissions have fallen by over 4.5% per year since 2012 but almost entirely due to increasing use of renewable sources of energy generation. There has been virtually no reductions in the rest of the economy and the rate of installing insulation in homes has reduced by 90% and the government has scrapped plans to make all new homes zero carbon. The UK has no policies in place to meet more than half of the carbon emissions cuts required by law by 2030. The danger following Brexit is that without EU pressure the government will be even less inclined to adopt low carbon policies. The government's abandonment of research and development into Carbon Capture and Storage technology (CCS) will seriously jeopardise the UK reaching its 2050 carbon targets (see the positive news from Iceland on CCS here)
GreenpeaceUK Executive Director John Sauven added, "Many of the laws that make our drinking and bathing water safe, our air cleaner, our fishing industry more sustainable and our climate safer now hang by a thread …… There is a very real fear that Cameron's successor will come from the school that supports a bonfire of anti-pollution protections." Friends of the Earth said the group could "no longer rely on the EU to protect our nature and habitats," adding that clean beaches, air quality and protection of bees from pesticides were among issues put at risk by potential loss of EU legislation.
Greenpeace analysys also believe that rules governing restrictions on the amount of fracking could also be lifted.
So far as food is concerned it is likely that with a weaker pound food prices will rise. 30% of our food is imported from the EU and the UK's food production is heavily dependent on migrant labour. Some 38% of food manufacturing (the UK's biggest manufacturing industry,; bigger than cars or aerospace) is foreign born labour and there won't be much fresh fruit and veg without foreign pickers.
Politics, Power, and Economics cannot be excluded from the Climate Change Debate
Telesur reporter, Elliot Gabriel, spoke to Monthly Review editor John Bellamy Foster about climate change & the need to fight for an ecosocialist, revolutionary alternative to the profit-driven world capitalist system. Read more of this lightly edited version of an interview entitled "Capitalism, Exterminism and the Long Ecological Revolution"
Telesur is a Latin American multimedia platform oriented to lead and promote the unification of the peoples of the south. It is a space and a voice for the construction of a new communications order https://www.telesurtv.net/english/index.html .
CO2 turned into stone in Iceland in climate change breakthrough
- Guardian Report - 9th June 2016
Radical new technique promises a cheaper and more secure method of burying CO2 emissions underground instead of storing it as a gas
<![if !vml]>

<![endif]>Site close to the Hellisheidi geothermal powerplant, where CO2 was injected into volcanic rock. In two years it was almost completely mineralised. Photograph: Juerg Matter/Science
Thursday 9 June 201619.00 BST Last modified on Thursday 9 June 2016 22.00 BST
Carbon dioxide has been pumped underground and turned rapidly into stone, demonstrating a radical new way to tackle climate change.
The unique project promises a cheaper and more secure way of burying CO2 from fossil fuel burning underground, where it cannot warm the planet. Such carbon capture and storage (CCS) is thought to be essential to halting global warming, but existing projects store the CO2 as a gas and concerns about costs and potential leakage have halted some plans.
The new research pumped CO2 into the volcanic rock under Iceland and sped up a natural process where the basalts react with the gas to form carbonate minerals, which make up limestone. The researchers were amazed by how fast all the gas turned into a solid – just two years, compared to the hundreds or thousands of years that had been predicted.
"We need to deal with rising carbon emissions and this is the ultimate permanent storage – turn them back to stone," said Juerg Matter, at the University of Southampton in the UK, who led the research published on Thursday in the journal Science.
Matter said the only thing holding back CCS was the lack of action from politicians, such as putting a price on carbon emissions: "The engineering and technology of CCS is ready to be deployed. So why do we not see hundreds of these projects? There is no incentive to do it."
The Iceland project has already been increased in scale to bury 10,000 tonnes of CO2 a year and the basalt rocks used are common around the world, forming the floor of all the oceans and parts of the land too. "In the future, we could think of using this for power plants in places where there's a lot of basalt and there are many such places," said Martin Stute, at Columbia University in the US and part of the research team.
Testing has taken place in the Columbia River Basalts, extensive deposits in Washington and Oregon in the US. India, which has many polluting coal power plants, has huge basalt deposits in the Deccan Traps.
One potential challenge for the new technique is that it requires large amounts of water: 25 tonnes for each tonne of CO2 buried. But Matter said seawater could be used, which would be in plentiful supply at coastal sites. Another is that subterranean microbes might break down carbonate to methane, a powerful greenhouse gas, but this was not seen in the Iceland research.
The research, called the Carbfix project, took place at Iceland's Hellisheidi power plant, the world's largest geothermal facility. The plant pumps up volcanically heated water to run electricity-generating turbines but this also brings up volcanic gases, including carbon dioxide and nasty-smelling hydrogen sulphide.
The researchers re-injected 230 tonnes of the gas, which was dissolved in water to prevent it escaping, down into the basalt to a depth of 400-500m. They used tracer chemicals to show that over 95% of CO2 was turned into stone within two years, "amazingly fast" according to Matter. Edda Aradottir, who heads the project for Reykjavik Energy, said: "It was a very welcome surprise."
Members of the CarbFix science team handling rock core recovered during drilling at the CO2 injection site. Photograph: Juerg Matter/Science
The Iceland project has now begun scaling up to bury 10,000 tonnes of CO2 a year, plus the hydrogen sulphide which also turns into minerals. The Columbia University group are also investigating another rock type, found in Oman, which may be able to turn CO2 into rock even better than basalt.
In conventional CCS, the CO2 is stored as a gas in sedimentary rocks such as exhausted oil fields under the North Sea. Unlike basalt, these rocks lack the minerals needed to convert CO2 into stone. Such sedimentary reservoirs could potentially leak and therefore have to be monitored, which adds to costs.
They have also raised concerns from the public and projects on land in the Netherlands and Germany have been halted as a result. "In Europe you can forget about onshore CCS," said Matter.
Conventional CCS also requires the CO2 to be separated from the mix of gases emitted by power stations and industrial plants, which is expensive. But the basalt-based CCS does not require this. However, Matter said there would still be a role for conventional CCS in places where power plants are close to good reservoirs.
Stuart Haszeldine, professor of CCS at the UK's University of Edinburgh and not involved in the new research said it was promising: "This is terrific. It may well provide a low-cost and very secure remedy for parts of the world where the suitable rocks exist. [But] this needs to be used as well as all the existing propositions, because the problem to be solved of thousands of million tonnes of CO2 emissions per year in the world is immense and no single remedy is anywhere near big enough or fast enough."
The UN's Intergovernmental Panel on Climate Change has concluded that CCS is hugely important to tackling climate change in the most cost-effective way. Without CCS, the costs of halting global warming would double, the IPCC said, an assessment with which the UK government's advisers, the Committee on Climate Change, agrees.
However, the UK government cancelled a pioneering £1bn CCS competition in November. Globally, CCS has not developed as quickly as hoped, although some companies are using CO2 injection to drive more oil and gas from older fields. Haszeldine said there have been over 100 injections of CO2 gas in different countries worldwide since 1972, none of which are known to have leaked.
Other innovative approaches to CCS are being explored, including an ExxonMobil-backed project using fuel cells to make capturing CO2 cheaper and one from Ford which uses CO2 to make foam for use in their vehicles. Groups are also working on chemical advances to capture CO2 more easily.
Pictures of Sustainable Woodstock and friends at "The Wave" Climate Demo, London, 5th December 2009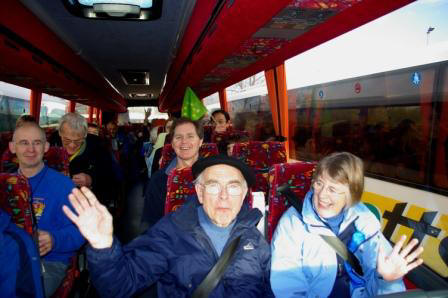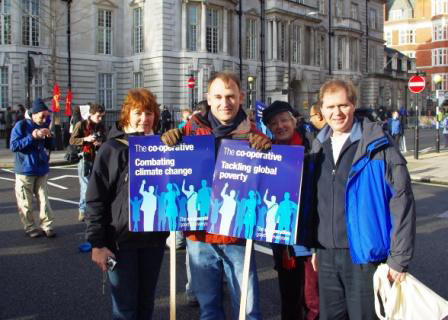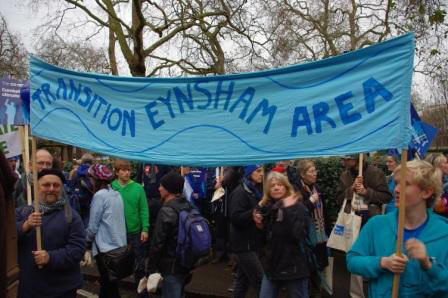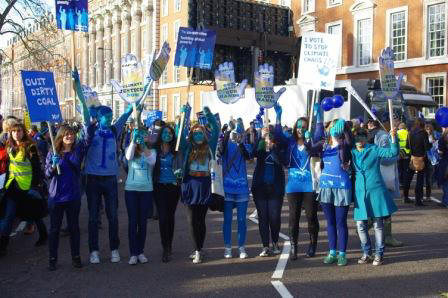 insert content here