Welcome to Sustainable Woodstock's
Home and News Page
To learn more about Sustainable Woodstock go to "About Us" page

To read Hilary's monthly news digest read on below:-
or Go direct to the Sustainable Woodstock Noticeboard for more info
Sustainable Woodstock News
October 2018
Hi Everyone,
In this issue, we discuss why we think it's a good idea for as many as possible to feed into the upcoming Community Plan in Woodstock so that our interests and priorities are heard. We also let you know about government grants available to those thinking of changing to an electric or hybrid car, we remind everyone to help reduce pollution by not idling, give you 9 reasons to refuse single-use plastics, introduce a new Zero Waste shop in Eynsham, and the UK government potentially encouraging farmers to grow more clover and other herbs to not only improve soil but also improve air and water quality. We're also saying thanks to the Bluebell planters and asking for any surplus tools and whether you'd like to sponsor a tree in the Community Orchard.

Hope you enjoy the autumn colours.
Hilary Brown Chair of Sustainable Woodstock.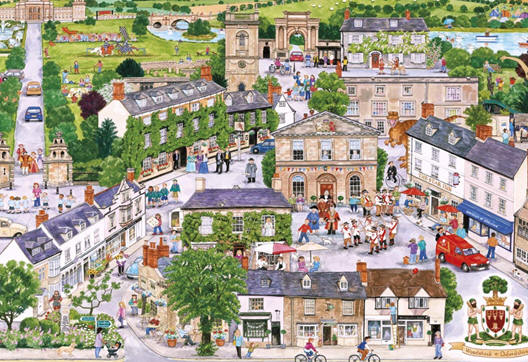 "Gibsons Wonderful Woodstock Jigsaw Puzzle, 1000 piece" available from
The Woodstock Bookshop
Making a Positive Contribution
How do you see Woodstock
in years to come - what are the missing pieces?
Common to sustainable development and democracy is participation – people coming together and getting involved in decisions about how we live and the goals, as a society, we'd like to achieve. Engagement with us, the public, can be hard work and requires certain skills but most of all it needs all of us to take an interest.

For any community planning to work it should be a long term and ongoing process of planning, delivering and reviewing and should aim to improve the effectiveness of public services for meeting people's needs, support the development of Woodstock and improve the quality of life for all of us.

The creation of a Community Plan for Woodstock has been proposed and the plan may help to prioritise money that will become available from the new housing development.

We should take up the opportunity for community and voluntary groups and local councillors to work together to ensure community needs are known, understood and hopefully end up being tackled. Woodstock Town Council September meeting minutes (WTC70/18) shows their willingness to facilitate meetings and the intention to engage with the community and they have appointed Cllr Mathew Parkinson to the Community Planning Steering Group.

Look out for future meetings, questionnaires, etc and participate where we can to help shape our futures in Woodstock.

"to carry a positive action we must develop here a positive vision" Dalai Lama
Ditch the Single-Use Plastics?
We're still planning for Woodstock to become a single-use plastic free town and so we continue to visit local businesses, schools, etc. This week we visited Marlborough School to hear how they are trying to make a difference. Woodstock Live is aware of plastic use at their event and will be looking at alternatives for next year. We took along our own re-useable glasses......any bright ideas from you will help them.

Here are 9 reasons to think about refusing single-use plastic.

We couldn't help notice how many exit our lovely local Co-op with a new single-use plastic bag, especially men it seems buying lunch. Come on guys - treat yourself to a re-useable canvas Sustainable Woodstock bag available from Martin's Newsagents, Hampers and the Post Office.
Other re-useable bags are available!

If you're finding it difficult how about starting with Fridays ...click on single-use plastic free Fridays .... and progress from there.
Does Clover Improve
Our Air & Water Quality?
Do our farming practices affect air and water pollution? The short answer is Yes!.
And in answer to ..... "will clover improve air and water quality"? The short answer again is Yes!. To halt pollution caused by chemical use and to improve our soils, experts recommend extending areas called nitrate vulnerable zones to the whole of the UK. This would reduce dependency on artificial nitrogen fertilisers that will improve water and air quality. A new Agriculture Bill emphasises the need to protect our air and waterways from pollution and government will hopefully encourage a wider shift towards ecological techniques.
Supporting crop rotations using herbal leys that include clover will increase the soil's natural nitrogen levels while offering forage for livestock.....much more sustainable. For more click the link HERE from the Sustainable Food Trust.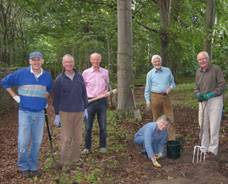 Thanks for the Bluebells
Woodstock in Bloom and Sustainable Woodstock thank all volunteers for their time....and their effort. A total of 4000 Bluebells have now been planted in the Community Woodland!
Zero Waste Shopping
Market Garden
is Open
Eynsham's Zero Waste shop is now open (see Eynsham's site by CLICKING HERE).
Look them up, next time you're passing.. Perhaps somebody is willing to consider opening a shop here in Woodstock?
Opening Times Monday-Thursday 9am-6pm; Friday 9am to 6.30pm Saturday 9am to 6pm

Contact /Address 01865 604571 41 Mill St, Eynsham, OX29 4JX
Quit Idling - Please - If you have to drive loved ones to school, work, etc - please turn off the engine when stationary ..... please don't idle. The things you can't see are doing just as much damage to your body.

We Want Your Seeds!
Watch this space and Facebook, etc - we hope to plant seeds in the near future....we'd love you to be in on it.
We plan to enhance the community orchard grassland with a range of locally collected native flowering plants that are known to be benefit bees, moths and butterflies.
Whatever comes up is likely to diversify the area over time and make it a more viable habitat.

Please try to keep seeds of different species separate, place in a re-used envelope, secure and label with species and locality of collection.

Call/text David Rees on 07801337382 or email
sustainablewoodstockuk@gmail.com
if you have seed to offer. If you would like to know more or get involved in some other way, lets talk.
Plastic Hint of the Month
...plus A5 for A4?
Please try not to laminate posters for noticeboards unnecessarily. Some are there for just a month and thrown away. Please use where necessary only e.g. permanent notices in cafeterias etc where they need wiping daily.
Try to use A5 notices instead of A4 and give all comers a chance.
Please pass it on.

Surplus Tools?
Can you donate any?

It's always satisfying to find a good home for tools no longer used or are surplus. If you have tools that you think might be of use in gardens, woodland or orchards and still in good order, please get in touch by CLICKING HERE
Would you like to sponsor a tree in the Community Orchard?
Over 50% now sponsored.
You can sponsor as a gift, amongst friends, colleagues or dedicate in memory of a loved one.
How to Pay? Costs £30 (single payment) 1) BACS payment. 2) Cheque For details contact as below.
Questions ? Call 01993 811975 or email sustainablewoodstockuk@gmail.com
Thinking of Going Electric or Hybrid?

Car dealerships and manufacturers can get grants to reduce the price you pay for brand new electric and hybrid vehicles. You do not need to do anything if you want to buy one of these vehicles - the dealer will include the value of the grant in the vehicle's price. Click on links for more info.


https://www.gov.uk/government/collections/government-grants-for-low-emission-vehicles



ALSO:- The OLEV Grant also known as Electric Vehicle Homecharge Scheme provides £500 off the cost of purchasing & installing a home charging point. Available for most electric cars and plug-in hybrid cars. You can claim one charging per eligible vehicle and up to two charging points per household. lick on links for more info. https://www.gov.uk/plug-in-car-van-grants

Sustainability is often defined as meeting the needs of present generations without risking the ability of futures generations to meet their own needs and should lead to a better quality of life for everyone, now and for generations to come.

Local actions are now influencing changes nationally and internationally and by working with our community, our projects and campaigns have a greater likelihood of success. We are interested in raising awareness on issues such as climate change