Welcome to Sustainable Woodstock's
Home and News Page
To learn more about Sustainable Woodstock go to "About Us" page

To read Hilary's monthly news digest read on below:-
or Go direct to the Sustainable Woodstock Noticeboard for more info

Sustainable Woodstock News
JULY 2019
Hi All,
Many ask what they can do differently to make any difference to climate change. It's confusing when there's so much to read. Have a go at changing something that you think you might succeed at ...and then move on to another. Food-wise, you might want to try eating less meat or even go without meat for a couple of days a week and start looking for local produce and eating seasonal fruit and vegetable...understanding better where your food comes from. There are hints everywhere on the internet - so go for it. Instead of worrying about the future ...... start doing things for the future ... think differently .... but think positively. Also start asking for things to be different and start trying different things.
Did you know that 2500 people are still asking for single-use plastic bags at the Woodstock Coop every week..... imagine the same at every supermarket around the country. ....... surely we can do better than that ... how simple is that to fix.... get yourselves a bag or encourage friends and family to change their habits.
Thanks to those who came along to talk to us at the the Razz Ma Tazz event in June.
Have a good summer everyone.
Hilary Brown Chair of Sustainable Woodstock.
What's All the Fuss about Growing Wildflowers?
Be bothered about insect numbers dropping?

Insects are part of our food web, eaten by everything from birds to small mammals to fish. If they decline, everything else declines as well. Three-quarters of flowering plants are pollinated by insects, as well as pollinating the crops that produce more than one third of the world's food supply. So "no insects means no food", National Geographic 2019.

Perhaps the foremost cause of the decline is habitat change by humans, such as deforestation, and natural habitats converted for agriculture. Then comes the use of chemicals like herbicides, fungicides, and pesticides in our agriculture. And climate change plays a big role, especially the extremes of weather.
Make a difference by collecting wildflowers seeds for us so we can develop our local wildlife in the community woodland and orchard. The video link shows how to collect seeds but please only take a fraction of the seeds. You can also help by feeding back to the Woodstock Community Plan the need for appropriate wildlife corridors ... don't just accept tokens of green. Why not also add wildflowers to your garden or have an area devoted to wildflowers in your garden.
If you'd like to donate wildflower seeds get in touch with us when you have collected. See the video link above for hints on how to collect
seeds
. Also, some suppliers at Countryfile Live sometimes give out free seeds ....perhaps you could collect as many as possible for us - that would be brilliant.
Email:
sustainablewoodstockuk@gmail.com

Do something positive - Brighten Your Place Up and Save those Seeds.
Plasticphobia - What is the problem?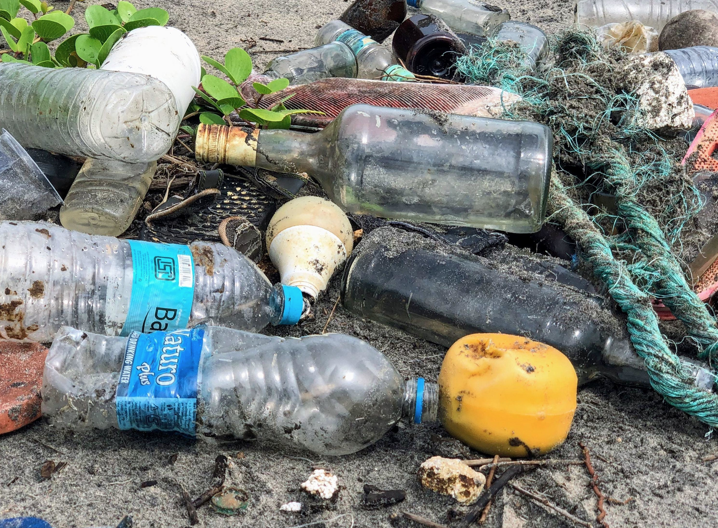 Colin Carritt, founding

member

of Sustainable Woodstock recommends we listen to:"Plasticphobia" on BBC Sounds. Alternatively you can read a brief summary of the programme here
Y
ou might also want to also listen to A Life Scientific on BBC Sounds. Richard Thompson, a marine biologist tells how he alerted the world to micro-plastics. The programme might also help those who wonder is it too late to change their career!!
(too late for me by far - ed)
Gate-Making
with David Rees
Saturday 13thJuly between 10am and 2pm.

Some of you mentioned how you miss the hand-made entrance gate of the Community Woodland .... sadly vandalized last year.
We're happy to say that David Rees, a founder member of
Sustainable
Woodstock, will be holding a gate-making session. He will make a replacement gate using traditional methods and locally-sourced coppice materials. Everyone is welcome to visit and take a look, particularly if you would like to try your hand at one or more of the techniques. No prior experience is required.
Please come and have a chat with us about the woodland and orchard.
If you wish to participate in the activities, please let us know in advance so that we may plan accordingly. We will supply all tools and materials and you will need to bring refreshments/lunch and old clothes. Participants under 18 must be accompanied by an adult.
The session is free and will take place in one of the Community Woodland glades. The entrance point on foot is close to the 30/50 mph signs on the A44 at the northern entrance to Woodstock.
Thank You Woodstock Fire Service
Thanks to our local fire service who helped replenish our water supply for the community orchard during their training evening. This will help the trees during future dry periods. Thanks guys.

The WOODSTOCK fire service are recruiting part-time officers and are giving full training. Click HERE for details if interested.


Enjoy Your Community Woodland
Summer's here! If you walk through the Community Woodland and on to the Orchard (and remember you can now walk on to the Oxfordshire Way), you'll see plenty of orchids, butterflies and other wild flowers dotted about. You'll also see we've been checking for pests, cutting competing grasses and mulching the fruit trees. In the autumn we plan to add more plants to encourage insects and bees that in turn will encourage more birdlife….….biodiversity in action.
It's good to see people beginning to use the woodland more and more for rambling, dog walking,
jogging
and family parties. Being close to nature benefits us all and we plan to optimize this potential in the woodland and orchard with your help. It's not just a green space but is a focal point for community activities such as picnics, dog walks and other events or as a green haven in which to relax or have fun with family and friends. In future there could be blossom picnics and
apple days
. The Woodland and Orchard can also be a resource for teaching about the importance of our environment and biodiversity of our wildlife.
Thanks to our volunteers who helped us plant, water and sponsor the orchard trees. 73% of the fruit trees are sponsored and if you think you'd like to sponsor a tree with a one-off payment send an email or call.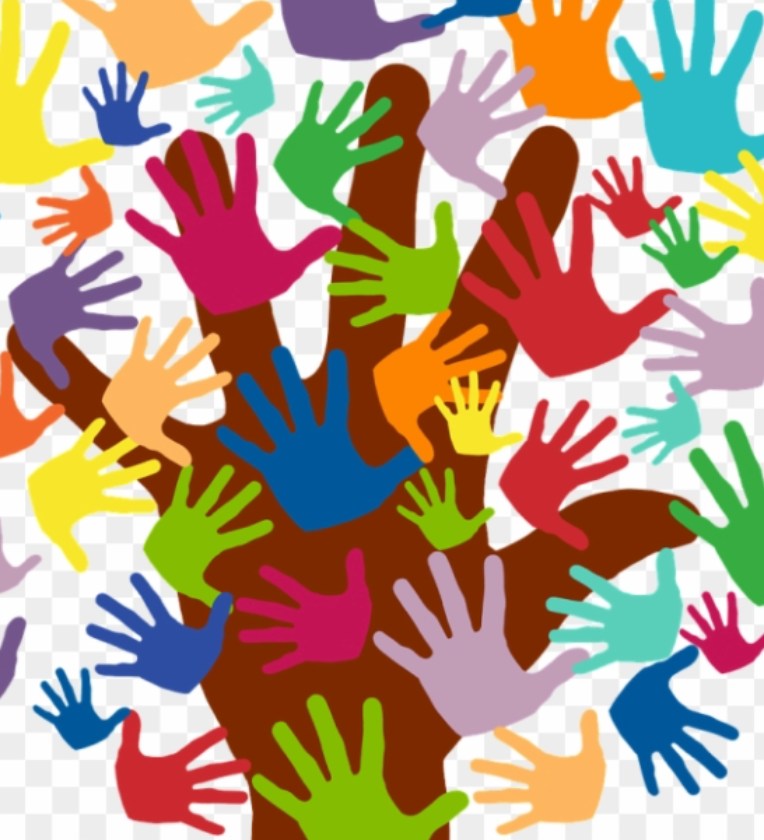 Volunteers?
We will be asking for volunteers throughout the summer to help with some EASY Community Woodland maintenance ….perhaps an hour at a time. You'll find the Woodland and Orchard just past Hill Rise on the left of A44, heading northbound. Under 18s need to be accompanied by an adult.

Please email us
sustainablewoodstockuk@gmail.com
or call 01993 811975 if you'd like to be emailed about helping occasionally. Have a fruitful summer everyone.
Calendar of GreenTech Events 2019
Check if you need to register
A range of upcoming Oxfordshire Greentech events, designed to help grow Oxfordshire's low-carbon economy. Visit www.oxfordshiregteentech.co.uk for more details and to register.
15th June Oxford Electric Vehicle Show
See above for Details
3rd July Creating sustainable and innovative business models*
Banbury Museum, 9:30am – 12:30pm
9thJuly The role of innovation for social enterprises*
The Old Fire Station, Oxford, 8:30am – 12:30pm
18th July Innovation and sustainability for the Built Environment
The Eco Business Centre, NW Bicester, 9am – 2pm
12th September What is the circular economy and how can you start to implement it?*
Oxford TBC
27th September OxFutures Annual Conference
Oxford Town Hall, 9.30-16:00
16th October Access to finance for innovative SMEs*
Harwell Campus TBC
These events are funded by the European Regional Development Fund (ERDF) under the Innovation Support for Business (ISfB) programme.

Happy to report that all the fruit trees survived last year's hot summer. Not by luck but as a result of the help we had from volunteers who watered during those hot months. If you walk through the orchard now, you'll see we've been checking for pests, ensuring they aren't inundated by the surrounding grasses that compete for the water and nutrients and we've been mulching see photos below). Thanks to the volunteers who helped us plant and to those who sponsored the heritage fruit trees in the Community Orchard. 72% of the trees are now sponsored so there are still a few left if you'd like to sponsor. If you'd like to sponsor or volunteer occasionally in the orchard get in touch by
emailing us.
Have you thought about a fruit tree for your own garden? A fruit tree filters the air, conditions the soil, provides shade, shelters wildlife, and attracts pollinators to your garden. And there are no transport impacts when growing fruit in your own garden. You can have all for very low cost and a relatively small amount of annual maintenance. For a map, see the woodland page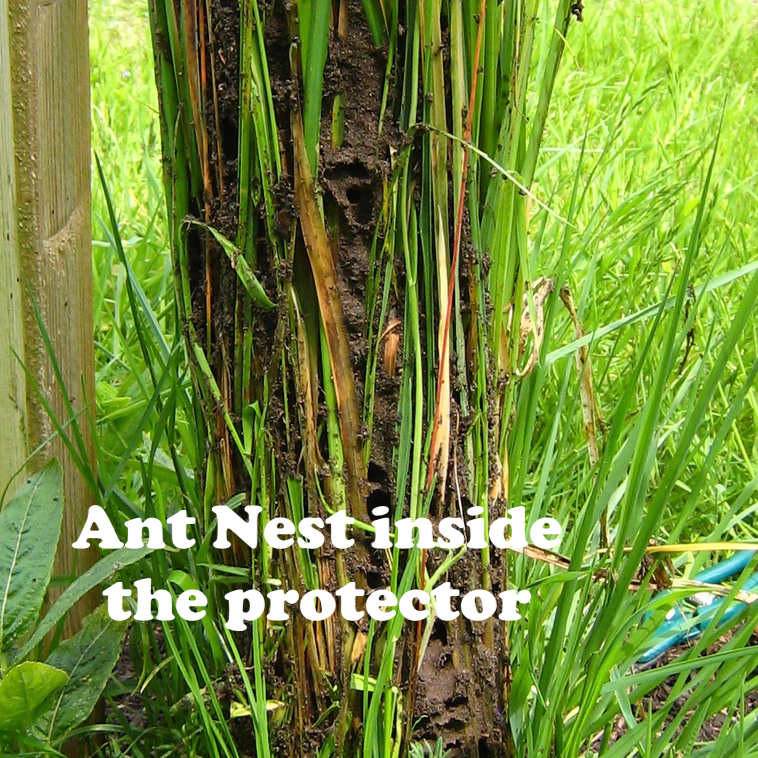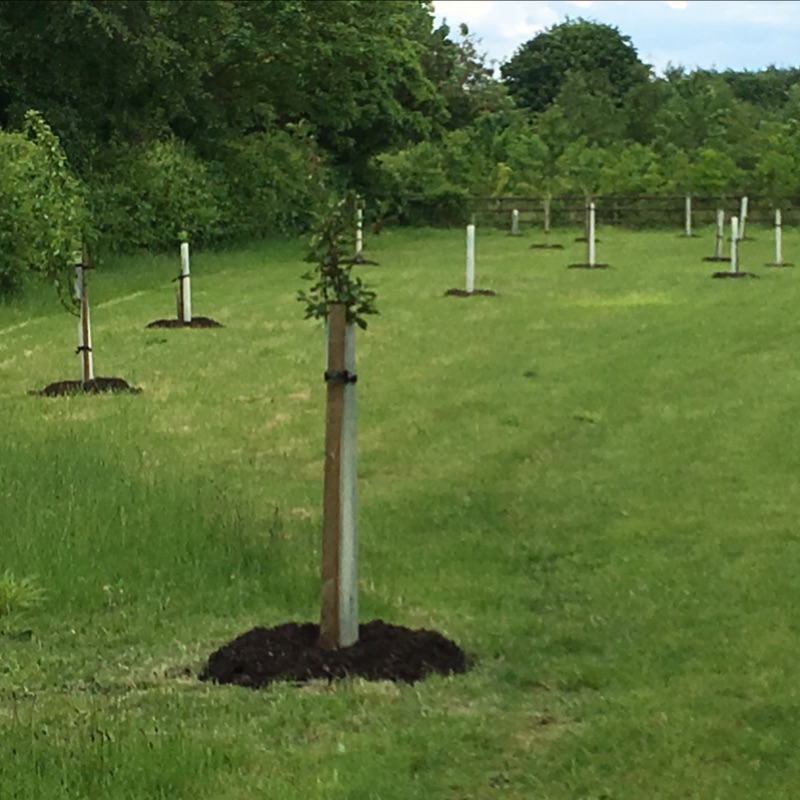 Allotment Plots Now Available in Woodstock.
Gardening is good for your health and your wellbeing and can be good for your social life too. And of course can provide you and your family with fresh fruit and vegetables over the year. You can choose to garden organically and avoid ingesting chemicals that are likely to be present on shop bought fruit and vegetables.
Woodstock Allotment Association
The waiting list for new applications is now open to people living in Woodstock. The rents are reasonable, water is available on site and all plot holders are made members of the National Allotment Society where items such as seeds, etc. can be bought at discounted rates. If you are interested you can apply to the Town Hall or directly to
raykinch@bt
internet.com

Bags.
Did you know that 50% of us are still asking for bags at the Coop
..... shame on us.
Try to ensure your events are single-use plastic free
Let's see if we can reward your business with a Plastic Free Champion certificate. We'll soon be visiting or revisiting your businesses, schools, etc to see how many changes have been made .... sharing problems and good news. What changes have you made to reduce your use of single-use plastic?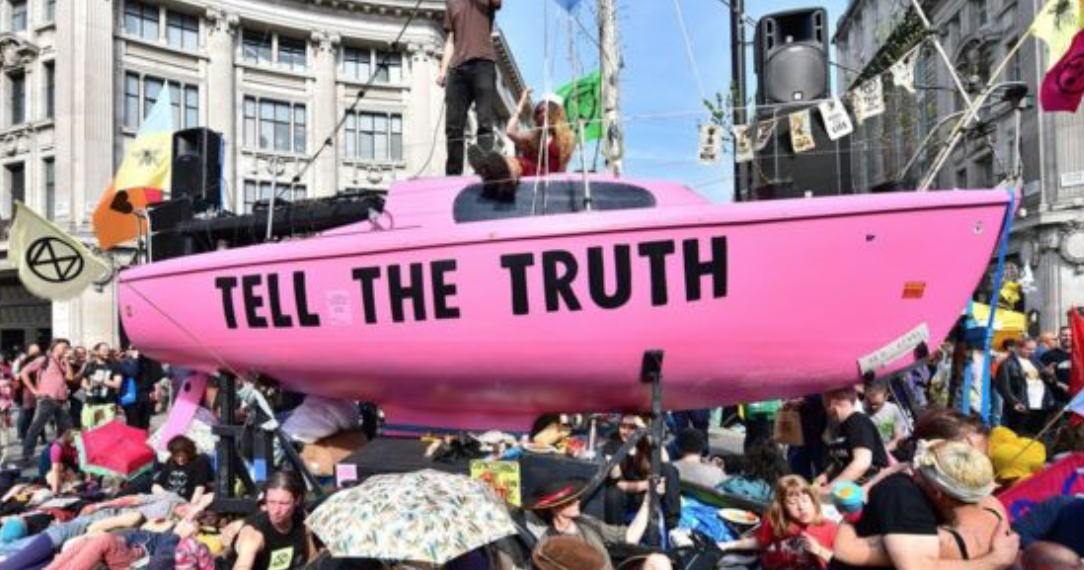 Extinction Rebellion XR What does it Mean?
Climate Change - the Facts
The public are waking up to the scale of the climate change crisis and pressure is now growing on politicians to act. Thanks to all those climate change activists who have sent their own time trying to speed up effective change that will make a difference to all our futures. If you think you don't understand climate change, how it affects us all and what we should all do now, then watch the recent David Attenburgh programme Climate Change - the Facts. Set aside, just an hour of your time to watch this programme that shows the result of inaction but what actions we can do to ensure that we and future generations have a future.
Schools Strike for Action on Climate Change. Colin Carritt, SusWoo Vice-chair, on why the striking schoolkids are heros
The Time to act is NOW
https://www.ecotricity.co.uk/news/news-archive/2018/how-to-combat-climate-change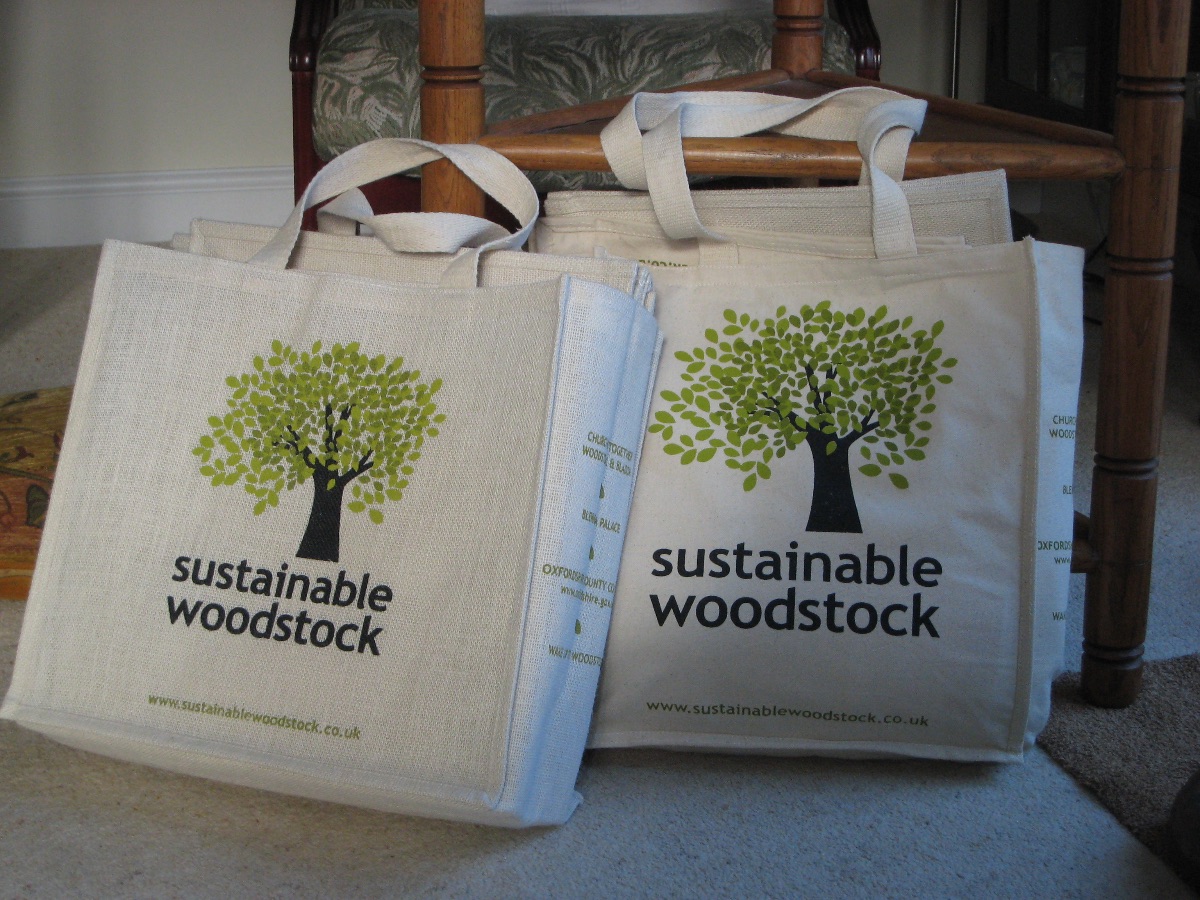 "Buy a Long Life Fairtrade Bag"
Sustainable Woodstock bags available from Mary & Martin's newsagent, our Post Office, Hampers and mnay other outlets.
AND AT THE FAIRTRADE COFFEE MORNING!
If you'd like some for your business email us at Sustainable Woodstock.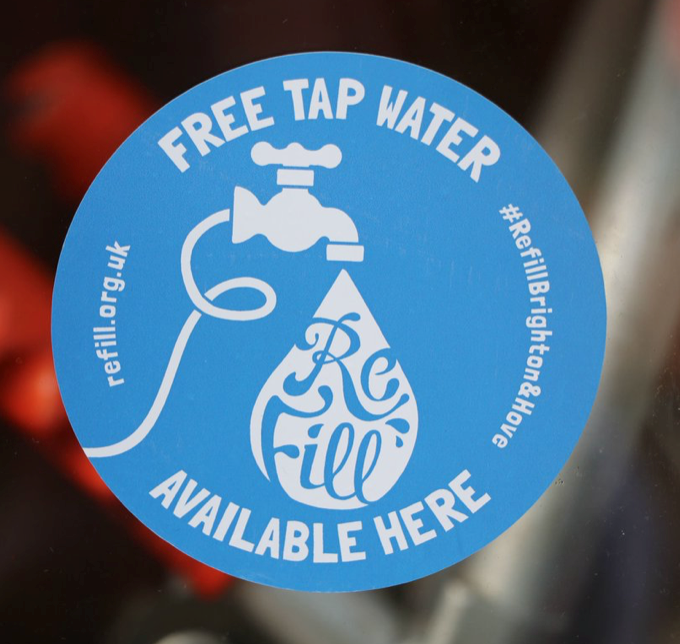 Thanks
Oxfordshire Museum, King's Arms & The Woodstock Bookshop
for Offering Water Refills.

Helping us kick the plastic
Join the Refill Revolution!
Refill is an award-winning campaign to prevent plastic pollution at source by making it easier to reuse and refill your bottle instead of buying a new one.
If you are a Woodstock business and wish to offer refills go online
https://refill.org.uk
. If you're feeling inspired, download the
Refill app
and make refilling the new normal!
Producing bottled water creates 500 times more CO2 than tap water. That's why Refill Oxford has created a network of Refill stations where you can fill up your water bottle for free to reduce plastic pollution. Look out for a business with Refill stickers. There are now over 14 thousand Refill stations all over the UK and if Woodstock restaurants, schools, cafes or pubs would like to sign up to be a Refill station and help reduce plastic pollution just email refill.oxford@gmail.com and they'll do the rest.

Refill Oxford is part of City to Sea's national campaign to promote the use of free tap water to reduce plastic waste. In Oxford, there is a network of nearly 150 Refill stations in places such as cafes, bars, pubs, restaurants, bus stations, hospitals, community centres and hairdressers all over the city. So now you can refill your water bottles whenever you need to, rather than buying a new plastic bottle.

Save money, stay hydrated and prevent plastic pollution at source by using the free Refill App on the go, OR look for the Refill droplet in shop windows. This will dramatically reduce the use of the billions of single-use plastic water bottles bought in the UK every year.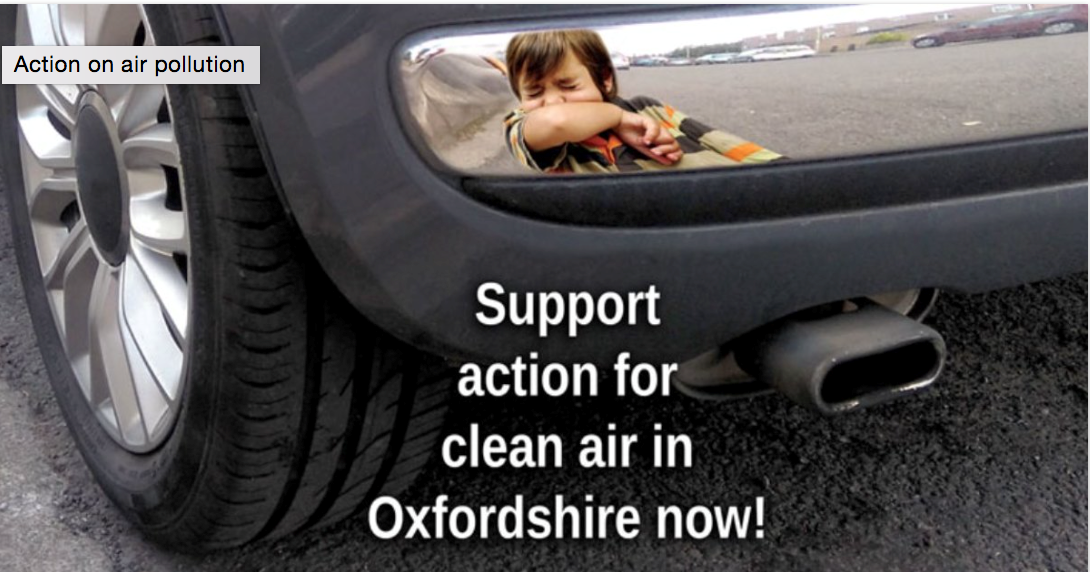 Be Prepared & Quit Idling

This winter remember to take a coat, hat and gloves the next time you know you will be sitting in a car for a while so that you can turn off the engine. The smoke and fumes you can see are bad enough but it's the gases you can't see that are doing even more damage to you and the environment.

Around our schools, our streets, our shops and just about everywhere..... please cut your engine. Remember.....Drivers who don't cut their engines are

actually breaking the law and risk being fined.
Invest in Green Energy?
If you're looking for investments
you may be interested in the Community Energy Fund.
Low Carbon Hub
wants to strengthen and grow community owned energy in Oxfordshire. Energy that's good for people, and good for the planet. Join almost a thousand like-minded investors and put your money to work tackling climate change.
- Earn up to 5% interest on your investment* - capped at 4% for the first four years of investment
- Help fund more solar panels on schools and organisations across Oxfordshire
- Keep money in the local economy through community ownership
- Tackle the global issue of climate change on a local level
- 100% of our surpluses support further local action on climate change
* INVESTMENTS CAN GO UP OR DOWN - TAKE ADVISE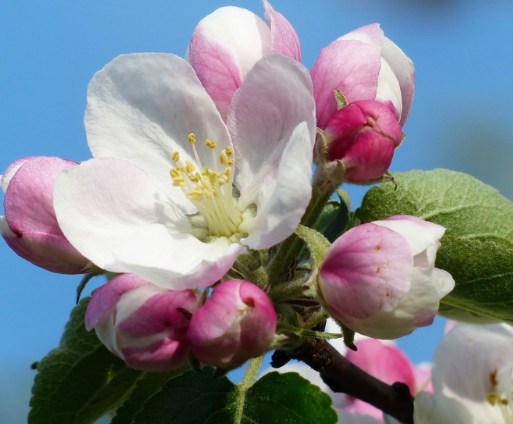 Sponsor a Tree in our Community Orchard?
Over 50% now sponsored. You can sponsor a tree as a group, with friends, colleagues. You will receive a certificate and can dedicate if you wish.
How to Pay?
Costs £30 (single payment)
1) BACS payment.
2) Cheque
For details contact as below.
Questions ? Call 01993 811975 or email sustainablewoodstockuk@gmail.com


Sustainability is often defined as meeting the needs of present generations without risking the ability of futures generations to meet their own needs and should lead to a better quality of life for everyone, now and for generations to come.
Local actions are now influencing changes nationally and internationally and by working with our community, our projects and campaigns have a greater likelihood of success. We are interested in raising awareness on issues such as climate change