Welcome to Sustainable Woodstock's
Home and News Page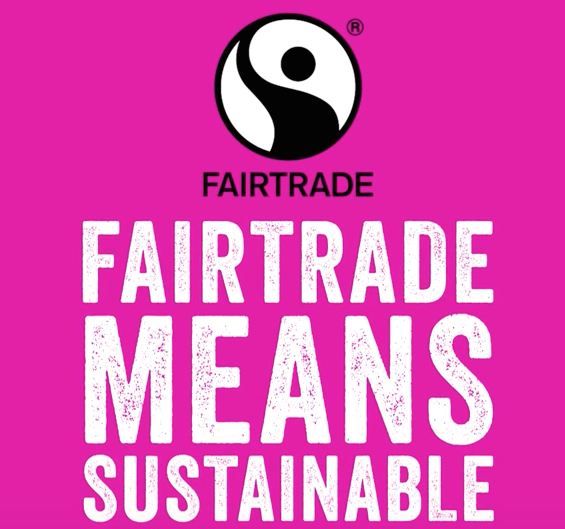 Fairtrade Coffee Morning with
Lots More than Coffee

In aid of local charities
Come before and after the Farmers' Market
Woodstock Town Hall
7 April 9:30 - Noon
CLICK ON image to find out more about Fairtrade.
Elizabeth Poskitt
Wildlife Benefits by Linking Fragmented Habitats with Wildlife Corridors.
Talk/discussion with Robert Crocker. Robert farms a 650 acre mixed organic farm in Freeland and would like to share the experience he has gained over the years. With a love of the countryside and nature, he's keen to promote the benefits to wildlife he has achieved. Come along if you are interested in how we and others can make a difference to our wildlife for future generations.
Wed 23 May 7:30 p.m. Woodstock Primary School, Shipton Road
To learn more about Sustainable Woodstock go to "About Us" page

To read Hilary's monthly news digest read on below:-
or Go direct to the Sustainable Woodstock Noticeboard for more info
Sustainable Woodstock News 2 April 2018
Hi Everyone
We have the final results of the Litter Pick and hopefully you have noticed the difference the volunteers made. The focus now should be to stop people throwing rubbish away and consider taking home and recycling or disposing properly. The government has increased on-the-spot fines from the beginning of April and so hopefully we'll pick up less next year ....and the year after that.
This month we'd like to focus on single-use plastics and wondering if Woodstock Town Council could be bold enough to follow Penzance and pledge to support local initiatives to reduce their use in the town? Earth Day is a global event on April 22 and is devoting the event to the reduction of plastic.... and you can sign up on their website and make a personal pledge. Maybe you feel you can't make a difference....but the smallest things will add up....and you can always try another small thing.
We're featuring the Fairtrade Coffee Morning next Sat 7 April in aid of local charities (postponed because of snow) and if you wondered why we feel the Community Woodland is important to us all, listen to the
Book of the Week
link (5 episodes, 15 mins each - available for next 15 days-need BBC iPlayer).
We've literally just been informed of a talk on sustainable aviation on April 18 organised by Sustainable Kirtlington which should be of interest to many. And some future events in May to look out for including the Razz Ma Tazz event and a talk by our very local organic farmer Robert Crocker on the great benefits of linking up wildlife habitats .
A reminder that we're a not-for-profit volunteer community group but happy to help you advertise and support your events that fit with the philosophy of sustainability. Click on the social media links below if you would like to get in touch. If you think a friend or family member would like to sign up ask them to email me.
Hilary Brown - Chair of Sustainable Woodstock

How Much Litter Could a Litter Picker Pick,

If a Woodstock Litter Picker Picked Litter?

More rubbish than you would have thought

. We did make a difference.
An excellent turnout, the weather was kind and we now have a nicer environment to enjoy.
Thanks to all the volunteer pickers…..old hands, new faces young and old including staff from Owen Mumford, Blenheim Palace and all those lone pickers out there who joined in the annual litter pick. Everyone enjoyed making a difference, especially when working together and seeing an immediate difference. The figures below differ from WOBL as there were some later sessions held after submission of WOBL News submission dates.
Statistics - Final
When 10 - 27 March 2018


Waste bags collected 70+
Volunteers 79
Hours spent 99
Rubbish
Mostly, plastics including many straws/bottles, tins, takeaway food/drink containers, glass bottles, laughing gas cylinders, etc and included a pair of curtains, traffic cones, hub caps, a. fly-tipped pushchair and two 25 litre oil drums (full).
Complaints
Cigarette butts a problem outside of some pubs and cafes.
Dog poo left or worse ... bags hung from trees leading to Lawn Cemetery and other green sites.
A44 from Stratford Lane/Oxfordshire Way junction (both sides) to Bladon Roundabout. Bladon Chains, Green Lane to the allotments, most of town including the Hensington Cemetery, most of Shipton Road (past schools and beyond), some of Water Meadow, Community Woodland and Orchard and other bits.
Sadly, most went to landfill as we weren't able to organise in this way as we were spread out around the town. Perhaps, UBICO will manage to recycle some but will check for next time.
Hopefully, managers and all of us will monitor and pick up outside of businesses and homes more frequently (where we're able) and report fly-tipping to WODC.

Dog owners/walkers - please carry a bag and bin it.

Talk about street pollution occasionally and encourage others to pick up by

example.
We often see waste reduction and climate change as two distinct issues, but in truth, they overlap greatly. For those interested in mitigating climate change, recycling and reducing waste are fundamental steps.
Join us in March 2019 and see if we really can start to make a difference.
Why is our Community Woodland Important?
Recommended Listening/Reading
The Wood - Book of the Week
Radio 4 (5 episodes of 15 mins each)
Relax and enjoy! Over twelve months, this is the story of Cockshutt Wood in Shropshire, representative of all the small woods in our landscape and the sanctuary they provide.
From January through to December, John Lewis-Stempel records the passage of the seasons in exquisite prose, as the cuckoo flits through the green shade in the silence and the wind of winter. He explores from the roots of the oak to its tips, under the black, spicy leaf mould of the woodland floor and up into the mysterious canopy.
It's a unique account of the animals that inhabit this refuge - the fox, the pheasant, the wood mouse and the tawny owl, among others - with the stories of their births, lives and deaths threaded through the book. https://www.bbc.co.uk/programmes/b09vzyd7