Sustainable Transport
<![if !vml]>
WOODSTOCK SAFE ROUTES PROJECT

<![endif]>

Safe and Sustainable Travel for Woodstock

Our aim is to campaign for safe and secure routes for cyclists and pedestrians within Woodstock and, locally, beyond the town.

We have three immediate aims:-
The provision of off highway alternative routes from Old Woodstock to the town centre and to the schools.

The provision of a safe route for cyclists and pedestrians between Woodstock, Bladon and Hanborough Railway Station.

The provision of 20 mph speed limits in both Woodstock and Bladon.
We also want to look at other cycle/footway possibilities that may be needed as a consequence of the planned expansion of the town.
<![if !supportLists]> <![endif]>Provision of more cycle racks in Woodstock particularly at Coop/Millennium Triangle

<![if !supportLists]> <![endif]>Safe cycle route between Old Woodstock and Judds Garage/B4437 junction

<![if !supportLists]> <![endif]>Improved signalised pedestrian crossings at Old Woodstock, the Causeway, and Oxford Road

<![if !supportLists]> <![endif]>Staggered speed limits 50/40/30 on A44 at entry points to the town.

<![if !supportLists]> <![endif]>Further cycle routes in Blenheim providing connectivity between Woodstock, Combe, Stonesfield and Wootton.
We believe that the town's imminent development provides a once in a generation opportunity to secure the best possible built environment for the town and that this should not fail simply through lack of funds from S 106 or through inadequate Local Government funding.

The "Woodstock Safe Routes" sproject will provide a platform for all with an interest in encouraging walking and cycling and to consider how we can improve people's ability to safely move about the town on foot or by bike. Walking and cycling reduces pressure on town centre parking and improves people's health and well being.

We would like to involve as many organisations as possible in our "conversation." We want to find out what is needed, where and how it might be provided, and, of course, how it can be funded. It is possible that some grant funding may be available and Sustainable Woodstock is looking further to develop these and other funding streams.

There are a number of groups currently campaigning for more sustainable travel options and in particular the provision of infrastructure for safer cycling. Among these groups are:-

As a result of the growing number of campaigning groups for better cycling and walking infrastructure in the area it is planned to hold an inaugural meeting of all the stakeholders early in the New Year to:-
provide mutual support,

to engage with property developers, Blenheim Estates and Gosvenor (developers for the proposed Eynsham Garden Village project),

to encourage all the local authorities, Town, Parish, District and County Councils, including their Members and officers, to ensure the issues of cycling and walking get sufficient attention,

to ensure that funding streams are identified and followed up, and

to provide a resource for the development of ideas including technical support, cost estimates and specifications
Comments from group members and others are on the Cycle Safe Routes page
The Problem:-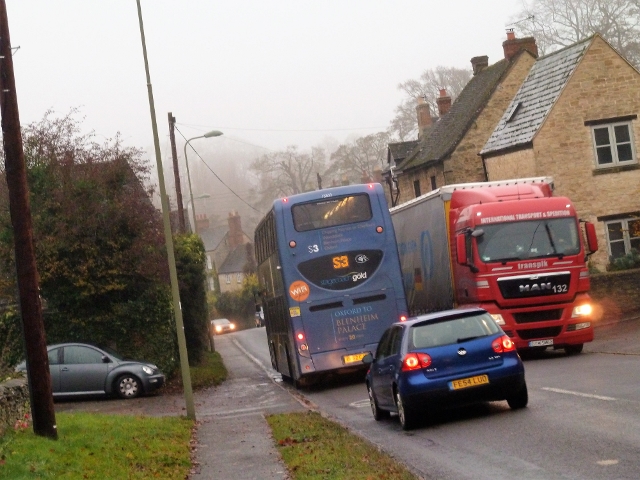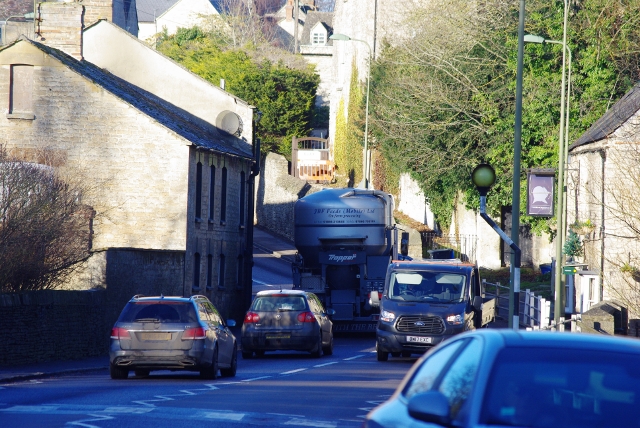 The narrow pavements and carriageway Old Woodstock and at The Black Prince pub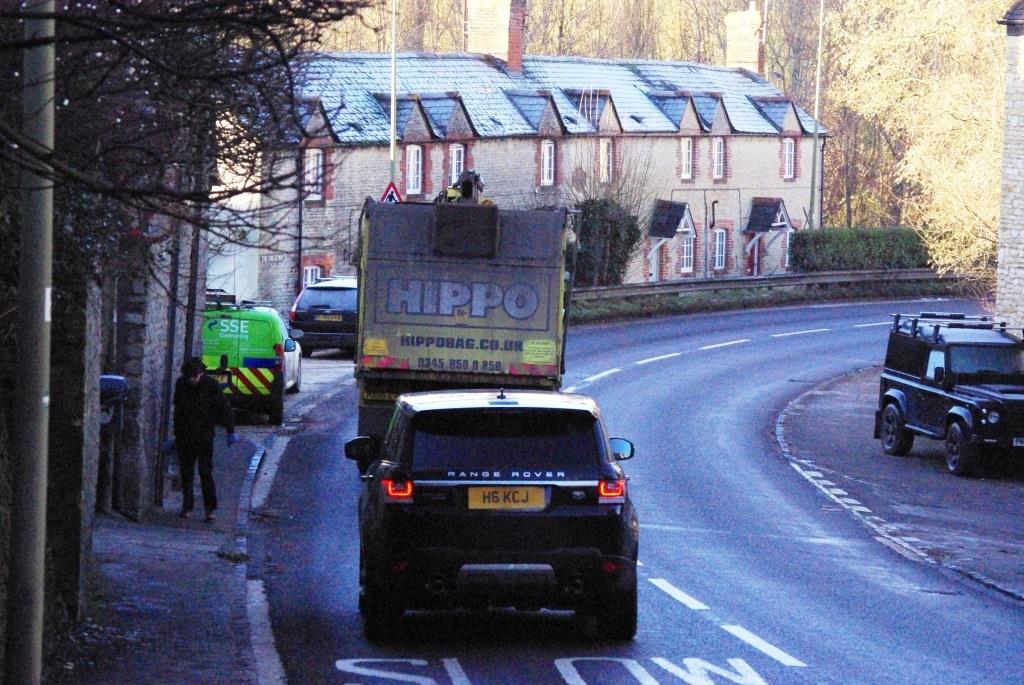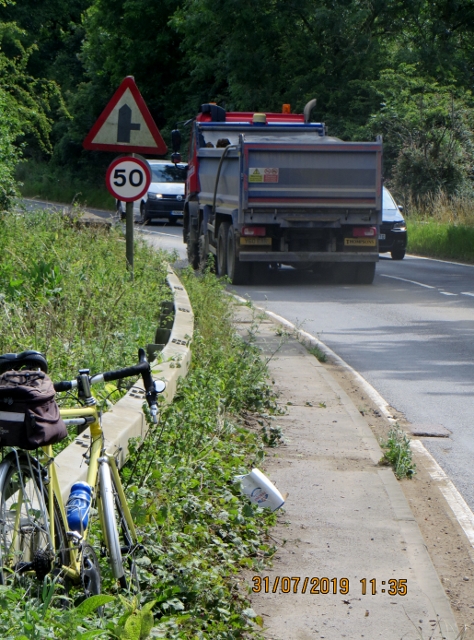 Left: Narrow pavements and carriageway at The Causeway Right: The A4095 Hanborough to Bladon
General Interest Items:
Want to see what good cycle planning can achieve?

This is the Greenway linking Aylesbury Parkway railway station to the National Trust's Waddesdon Manor. Funded by the Cycle Rail Working Group and the Department for Transport, the Greenway is part of a scheme to connect rural communities to their nearest rail station. Read more here or here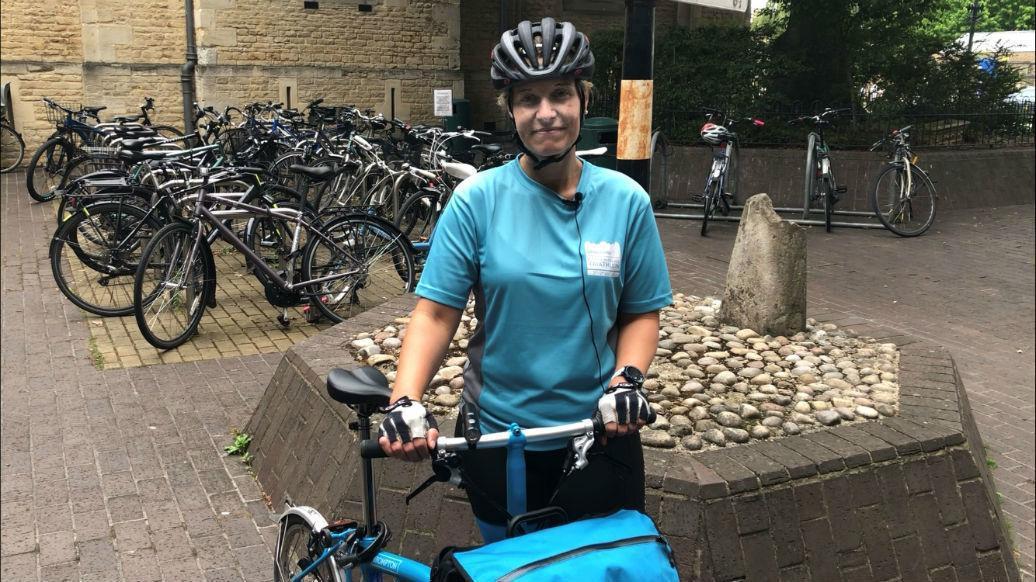 The county's cycling champion has called for improvements to a bike path on a major West Oxfordshire road. Suzanne Bartington wants 'long term' upgrades to cycling facilities on the A4095 between Witney and Woodstock, after flagging up a poorly maintained stretch near Bladon.
Suzanne said, "This is a KEY LINK from Hanborough to Blenheim Palace, where we have BBC Countryfile Live involving a lot of cars. Please can we really start prioritising active travel." The councillor now wants cyclists on the A4095 to be more 'protected', with potential measures including widening and improving the path, and has urged riders to complete the county council's cycling survey online. Read also: County council survey to improve cycling - have your say. County council spokesperson, Martin Crabtree, revealed the authority was looking into improving the route. He said: "There is currently nothing specific planned for the A4095, however we are exploring options along the route where it may be possible to widen or improve the path. "Currently there is no budget identified for this work so this will also need to be taken into consideration."
Two interesting articles sent to me by Sarah Watkinson from Bladon:-
Oxfordshire County Council's Local Transport Plan
Many of our demands closely match the policy aspirations of Oxfordshire County Council as set out in its Local Transport Plan:-
Policy 03 Oxfordshire County Council will support measures and innovation that make more efficient use of transport network capacity by reducing the proportion of single occupancy car journeys and encouraging a greater proportion of journeys to be made on foot, by bicycle, and/or by public transport.
Policy 17 Oxfordshire County Council will seek to ensure through cooperation with the districts and city councils, that the location of development makes the best use of existing and planned infrastructure, provides new or improved infrastructure and reduces the need to travel and supports walking, cycling and public transport.
Policy 19 Oxfordshire County Council will encourage the use of modes of travel associated with healthy and active lifestyles.
Policy 20 Oxfordshire County Council will carry out targeted safety improvements on walking and cycling routes to school, to encourage active travel and reduce pressure on school bus transport.
Policy 34
Oxfordshire County Council will require the layout and design of new developments to proactively encourage walking and cycling
, especially for local trips, and allow developments to be served by frequent, reliable and efficient public transport. To do this, we will [inter alia] ensure that developers promote and enable cycling and walking for journeys
insert content here